10 Things to Know Before Moving to Princeton, NJ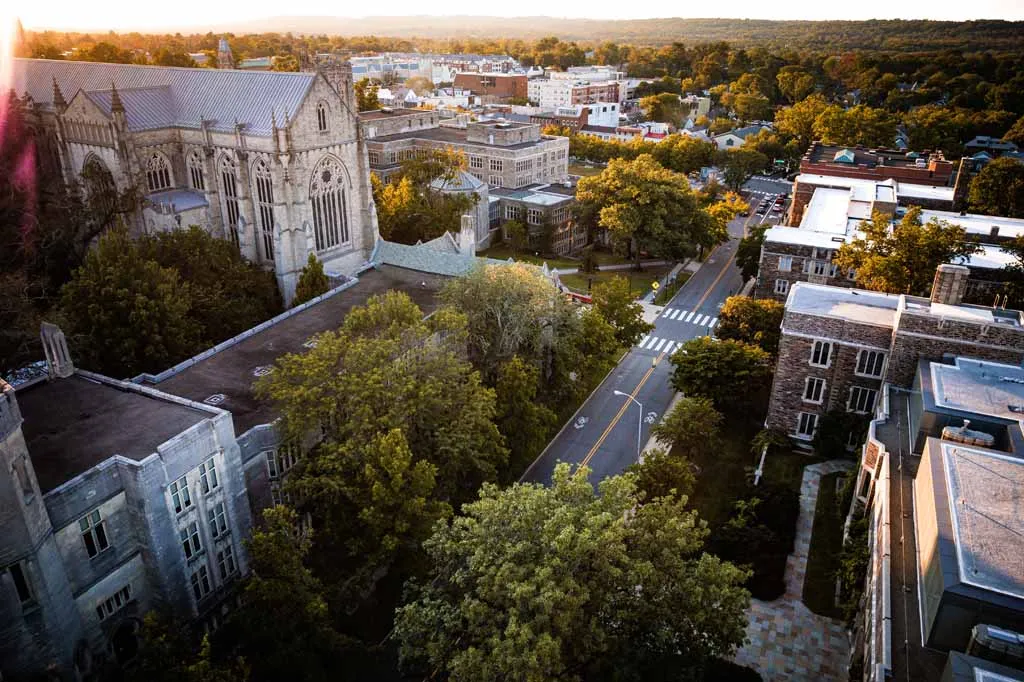 ---
Princeton, New Jersey, is a terrific city to live in thanks to its lively downtown, the presence of one of the best institutions in the United States, numerous lush parks, and proximity to major cities like New York and Philadelphia.
With its pleasant suburban atmosphere, safe neighborhoods, an abundance of attractions, friendly locals, and low crime rate, Princeton is a great place for families to settle down.
Ivy League Princeton University, with its Gothic-style architecture and University Art Museum's extensive collections, is a big part of why Princeton is widely regarded as one of the best locations to live in New Jersey.
Let's talk about 10 things to know before moving to Princeton, NJ!
1. An expensive cost of living
Not surprisingly, living on one of the world's most aesthetically pleasing campuses, with convenient proximity to pristine parks and a culturally rich central business district, is not cheap.
At roughly $825,000, the median home price in Princeton is considerably higher than that of the rest of the state and its neighboring areas. However, because of the higher average wages in the area, this price tag doesn't appear quite as steep to many locals. Princeton has an average household income of roughly $146,127, which is significantly more than the national average.
Compared to the other major cities in the area, the cost of living is reasonable because of the abundance of high-quality employment opportunities and attractive housing options within easy commuting distance of the city center. Make sure you have enough money saved up or a high enough salary before moving here to cover the additional living costs.
2. Princeton is a college town
One of the oldest universities in the United States, Princeton is a peaceful and picturesque community where locals and visitors alike can appreciate the university's rich history.
Over 8,000 students give the town its identity as a college town, and the establishments that serve them are a major draw. The students are fully integrated into Princeton life and many locals like the added energy they provide.
As befits a school with such a stellar reputation, many undergraduates at Princeton are dedicated to their academics and place a priority on earning the kind of respect they'll need both inside and outside of the university. Therefore, students are often well-behaved and contribute to the distinctive college town experience for themselves and those around them, no matter the activity they're engaging in.
There are many advantages for the neighborhood as a whole due to its proximity to Princeton University. The campus is one of the most beautiful and well-maintained in the country, and many of its resources—including parks, libraries, museums, and more—are accessible all year long.
3. The city has a rich history
Princeton has a long and illustrious history that can be seen in the city's many historical landmarks and cultural institutions. The town was founded in the late 17th century, and its rich history since then is well documented. Princeton is a crucial city in the development of the United States, having been the site of significant historical events and landmark buildings, including the location of major wars that altered the course of American history.
Some of the most significant events in this city's history include The Battle of Princeton in 1777, the establishment of Princeton University in 1756, and the signing of the Declaration of Independence in 1783.
4. The weather is diverse and beautiful
The town and school of Princeton are surrounded by colorful landscaping, with trees soaring overwalks to flower beds and lush green grass in the parks and fields. While you won't be able to count on year-round crisp fall and spring weather, you will get to appreciate the unique qualities of each season fully.
Princeton's average annual snowfall is 24 inches, making for a chilly, windy winter season. The winter months are December through March, and average temperatures are around 45 degrees.
From June through September, Princeton experiences warm summers with highs of 85 degrees and lows of 65. The wettest month, on average, is July, when it rains an average of 3.7 inches. The summers are hot, humid, and wet.
Partially cloudy skies and average temperatures in the 60s make the fall and spring seasons the most pleasant times to visit. The trees, flowers, and herbs planted throughout the city and university campus all come to life and display their full spectrum of hues throughout these times of the year.
5. It's easy to get around
Whether you choose to use public transit or your own car, getting around Princeton is easy. You can get to many destinations quickly and cheaply from this town because of its proximity to two large cities, New York City and Philadelphia.
Tiger Transit, Princeton Muni Transit, The Loop, NJ Transit, and many additional services provid e local public transit.
6. There are a ton of fun things to do
Excellent destinations and thrilling activities await you in Princeton. There's fun for the whole family, from inside exhibits to outdoor excursions at nearby parks and sites.
Some fun places to visit and have fun in the city include McCarter Theatre, Princeton Battle Monument, Battlefield State Park, Princeton University Art Museum, and many others.
7. A fantastic cuisine scene
Princeton's downtown is a culinary wonderland, full of delicious, one-of-a-kind restaurants. There is a wide range of dining alternatives in this city, from high-end restaurants perfect for a romantic evening to affordable fast-food joints loved by local families and students.
Within a mile of the downtown and university area, you can discover a wide variety of restaurants serving cuisines from across the world.
Agricola, Jammin Crepes, Blue Point Grill, Hoagie Haven, and Witherspoon Grill are just some of the most popular restaurants in town. Point is, there are enough places to eat to your heart's content in this city.
8. There are decent job opportunities
One of the largest employers of Princeton is, of course, Princeton University. Besides working as a professor, there are many administrative-level jobs throughout the university.
If you don't want to work for a university, there are plenty of other options. Besides working at Princeton or the other nearby colleges, the city is also home to several multinational companies and hundreds of small businesses ranging from retail to health & wellness.
While the city might not have as many large corporations as places like Jersey City, you can find jobs at places like Johnson & Johnson, Black Rock, and Bristol Myers Squibb.
9. Lots of other great schools
Princeton University is not the only stellar school in this town. There are six public elementary, middle, and high schools in Princeton. Princeton High School is frequently rated as one of the best high schools in New Jersey and one of the best 50 public high schools in the United States. Excellent teaching staff and a rich, rigorous curriculum help the state and parents consistently give the other public schools high marks.
The oldest and only coeducational Catholic school, St. Paul's Catholic School, is one of several private schools in Princeton. The Hun Schools of Princeton and the Princeton International School of Mathematics and Science are two other excellent private options in the area.
10. The city is relatively safe
The crime rate in Princeton is about 10 for every 10,000 residents, making it a relatively safe city. You can rest easy knowing that violent crime is rather rare in this area. However, property crimes constitute the vast majority of all criminal acts. You can prevent this by equipping your property with security cameras and placing signs alerting potential intruders that they are being watched at all times.
In Conclusion
Many things make Princeton a fantastic city to live in, such as the excellent educational options, fun things to do, and great food scene. The cost of living might be a drawback, but if you get a well-paying job, you'd be able to keep up.