10 Things to Know Before Moving to Plymouth, MA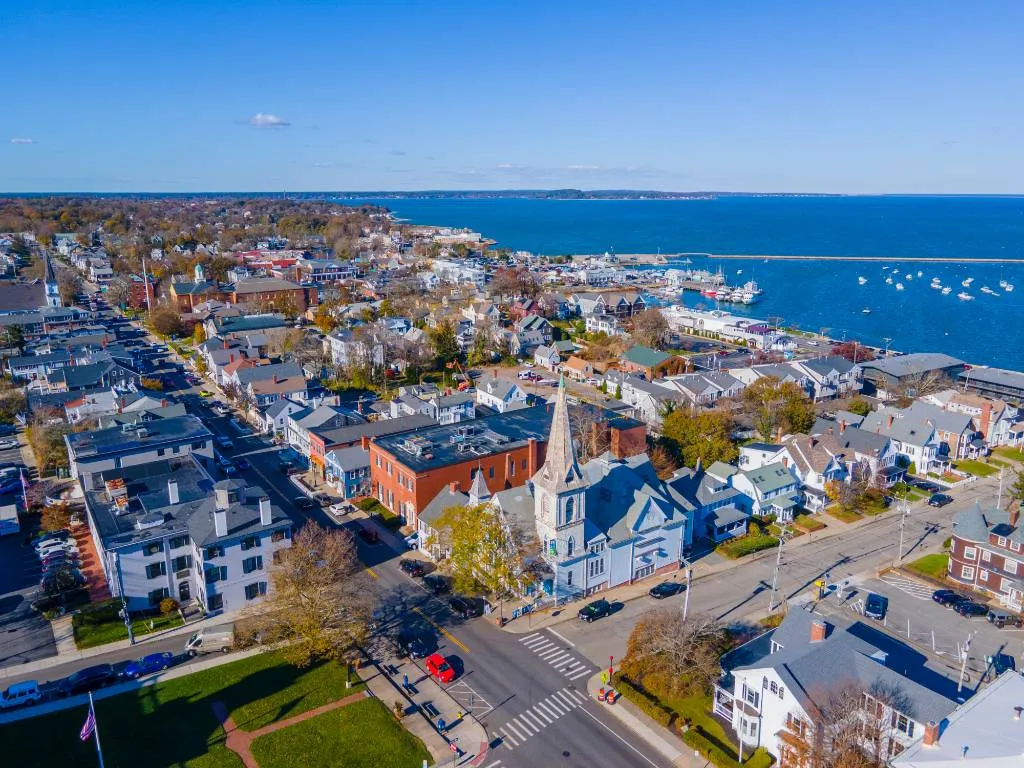 ---
Plymouth, nestled on the scenic coast of historic Massachusetts, has grown into a major fishing port, shipping center, and rope-making center over the years. Despite its long history and advantageous position, the port is still very much operational and has become a popular tourist destination.
Plymouth Rock, within this town, marks the spot where the Pilgrims landed when they crossed the Atlantic on the Mayflower in the 1600s. As a result of its significance to American history and the fact that its significance is currently emphasized in classrooms across the country, Plymouth is one of the most studied and well-known cities in the United States.
Let's discuss ten things to know before moving to Plymouth, MA.
MAF Widget
1. The city has a low crime rate
Is it secure to live in Plymouth? Yes! With 1,402 crimes per 100,000 residents, Plymouth was 2.9% more dangerous than the rest of the state but 40% safer than the rest of the country.
With a rate of 288 violent crimes per 100,000 residents, this area has a lower crime rate than both the state and the country. At 1,114 crimes per 100,000 residents, the rate of property crime is greater than the state average by 6% but lower than the national average by 43%. There are 128 police officers in Plymouth's force.
2. The cost of living is higher than the national average
The Boston metropolitan region has a cost of living index of 153.2, which is 53.2 points more than the U.S. average. Due to its proximity and easy access to Boston, the cost of living in Plymouth is also higher than the national average at 129.5. This means prices are almost 30% higher than the average prices in the US.
The Economic Policy Institute estimates that a family of four in Plymouth County would need an annual income of $112,438. The cost of childcare only averages $25,294 per year.
Redfin reports that the median house sale price in Plymouth is $539,000. Meanwhile, the median monthly rent is $2,666.
3. It snows a lot in this city
Plymouth has a humid continental climate, meaning that its summers are hot and muggy while its winters are cold and windy. Summertime highs typically top out at around 72 degrees Fahrenheit, while wintertime lows regularly dip below 31.
It rains a lot in Plymouth. While September boasts the fewest gloomy days of the year, 38 percent of that month are at least partly cloudy. Rainfall in this city averages over 50 inches each year, and more than a foot of snow falls annually. September is the ideal season to begin the relocation process to Plymouth because the skies are usually clear and the weather is pleasant.
Blizzards in Plymouth can dump over a foot of snow in just a day or two. High winds and hail from blizzards can knock out power and close roads.
4. Get a job in the retail or academic sectors
Plymouth is home to major employers in the retail, food service, and academic sectors. The fourth quarter of 2022 saw a 2.3% increase in wages, per Payscale. Businesses in Plymouth thrive off of the influx of visitors.
Starbucks, Best Buy, and McDonald's are the top three places of employment in the Plymouth area. The city is on the hunt for hardworking people to assist with a wide range of public endeavors, from repairs and renovations to building new infrastructure.
5. Attend Quincy College or Curry College
The city of Plymouth has its own public school system. The Plymouth North High School vocational programs have earned a strong reputation in recent years. Students at Plymouth South High School can take part in a variety of sports and extracurricular activities in addition to receiving vocational education.
Plymouth is home to an extension of Quincy College. Any high school graduate is welcome to enroll in the Associate of Arts program at Quincy Community College. Plymouth is home to Curry College, where you can earn your bachelor's or master's degree. Accounting, Criminal Justice, and Nursing are just some of the available majors.
6. Eat at Tavern on the Wharf or The Blueberry Muffin
Plymouth's restaurants have a variety of dining establishments to cater to your taste buds. Tavern on the Wharf is a waterfront American restaurant with breathtaking views. They serve a variety of seafood dishes with our cocktail, wine, and beer menus.
The Blueberry Muffin is a morning diner that serves up all the usual suspects, like omelets and French toast. The cafe has a calm and relaxed vibe, and it serves kid-friendly food like Mickey Mouse waffles.
At Rio Brazilian Steakhouse, you can get a variety of freshly prepared meats like chicken, sirloin, and short ribs. The restaurant provides a comprehensive drink menu with several options, including cocktails, whiskeys, and sangrias.
7. Play golf at Pinehills Golf Club or Old Sandwich Golf Club
Pinehills Golf Club is a public golf course in The Pinehills that features two 18-hole championship courses by Rees Jones and Nicklaus Design, as well as a Clubhouse where guests can enjoy drinks, meals, and special events.
Old Sandwich Golf Club, a private facility, is rated as the 38th best in the United States.
MAF Widget
8. Learn about the city's history at The Pilgrim Hall Museum
Plymouth is a paradise for history nerds. Plymouth has such a rich history, that numerous museums and art galleries are dedicated to the town's beginnings and growth.
The Pilgrim Hall Museum has been open to the public longer than any other American museum. This remarkable organization strives to preserve Plymouth's heritage for future generations to enjoy.
The artistic scene in Plymouth is another point of pride for the city. The Greater Plymouth Performing Arts Center (GPPAC) is a non-profit organization that promotes the arts by hosting performances and hosting educational activities. This landmark institution has become an integral part of Plymouth's flourishing tourism industry.
9. Cool off at Plymouth Long Beach or White Horse Beach
Properties that run down Plymouth's coast have often been in the same families for centuries, making many of the beaches there off-limits to the public. Plymouth Long Beach is the first of a handful of public beaches in the area. This beach is only a mile wide, but it's three miles long, there's a restaurant right on it, and a lifeguard is on duty. There is a public access point on White Horse Beach. However, in order to park there, you will need to have a valid resident parking permit.
Parkgoers can choose between the nearby Morton Park on Billington Sea Pond, which features a playground, picnic area, and restaurant; and Fresh Pond Park, which features a lifeguard and free parking. Located in the Myles Standish State Forest not far from town, College Pond is a popular spot for folks to go swimming in the summer.
10. It's close to other major cities
After moving to Plymouth, you'll quickly notice how convenient it is to get to other parts of the region, such as Boston and Cape Cod. In less than an hour, you'll be in the heart of Boston, where you can do some sightseeing, shopping, or dining. Downtown Boston is only 40 miles from Plymouth. If you don't feel like driving or parking in Boston, Plymouth & Brockton Street Railway Company operates buses that will get you where you need to go. During the week, you can catch a bus every 40 minutes that will get you to Boston in under an hour.
If you want to take a day trip to Cape Cod, you can go to Sandwich in under 17 miles, Chatham in around 47 miles, and Provincetown in about 75 miles from Plymouth. In just over an hour and a half, you can travel from Plymouth to Provincetown on the fast ferry PTown, which is also a more leisurely mode of transportation.
In Conclusion
Plymouth is a great place to settle down because it offers a taste of everything. Visit some of the country's most significant historical sites one day, and then play golf at a top course the next. And that's not even mentioning all the great restaurants and entertainment in the area! In addition, the city is a safe place to live, and it has a thriving economy. However, be prepared for the higher-than-average cost of living in Plymouth.
Learn More About Living in Plymouth, MA