15 Things to Know Before Moving to Phoenix, AZ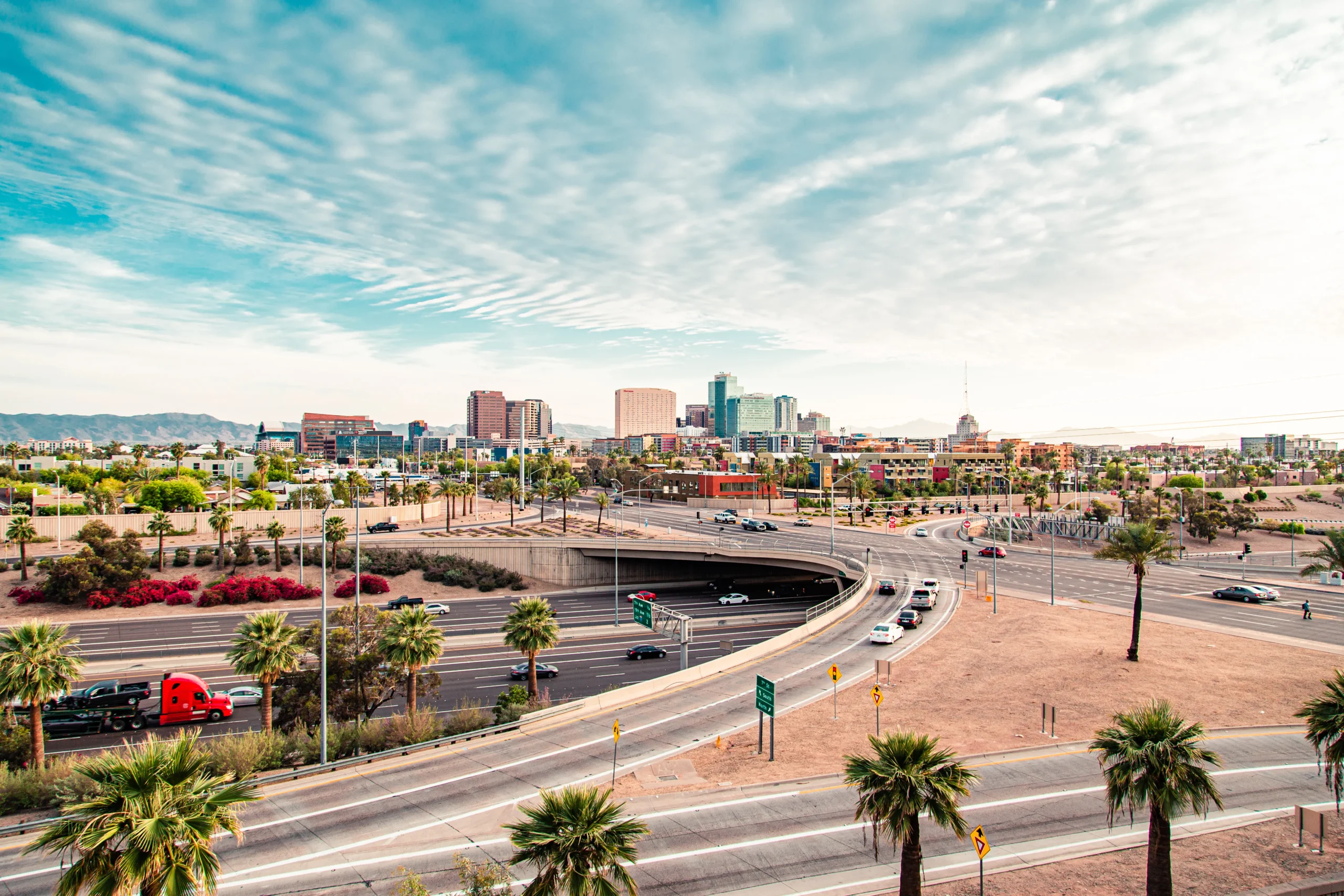 ---
The city of Phoenix, Arizona, is well-known for its pleasant climate all year round, as well as its many resorts, golf courses, and the world-famous Desert Botanical Garden.
Frank Lloyd Wright, one of the city's more famous residents, stayed there from the late 1920s until he died in 1959, leaving behind a legacy of stunning architectural works. Many of the area's most recognizable buildings were designed by him, including the First Christian Church, the David and Gladys Wright Mansion, and Taliesin West.
Here are fifteen things to know before moving to Phoenix, AZ!  
MAF Widget
1. It's called "Valley of the Sun" for a reason
The city of Phoenix, Arizona, is referred to as the "Valley of the Sun" because it has more sunny days (approximately 300) than any other major city in the United States.
The annual average rainfall is only eight inches, and the rain that does fall comes in the form of a handful of intense summer storms known as "monsoons." People worldwide go to Phoenix because of the city's beautiful year-round climate, but some find the summer heat unbearable.
Though the 70s are typical during the spring and winter, it is not unusual for the temperature to go above 100°F during the summer. From May and September, the average temperature is around 100°F, with highs averaging over 105 degrees. On June 26, 1990, a record high of 122 degrees Fahrenheit was measured. Be sure to bring sunscreen and leave the coats at home.
2. You'll have to endure haboobs
Dust storms, known as "haboobs," are common throughout the driest part of the year, from June to September.
Haboobs, named after the Arabic word for "blown," are massive walls of dust whipped up by the strong winds of a disintegrating thunderstorm. Sand and dust are blown around for around three hours during these events. If you hear that one is coming, you should take precautions because they can be quite enormous and hazardous.
3. The cost of living is 8% higher than the national average
Phoenix is much less expensive than major East Coast cities like San Francisco, San Diego, and New York City. Phoenix has a cost of living of 3% below the state average and 8% over the national average (considering that San Francisco's cost of living is 94%), as reported by RentCafe.
The city's median home price is $394,870, which is lower than both the state and national average.
4. Phoenix is not your typical desert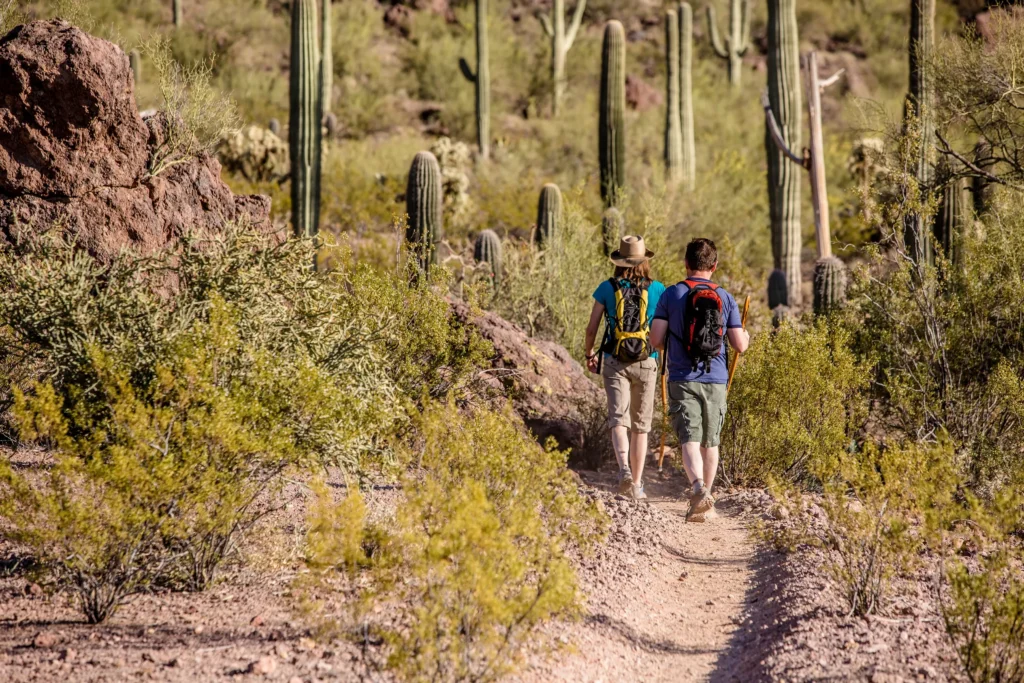 Phoenix is in the Sonoran Desert, which spans around 100,000 square miles and encompasses the majority of southern Arizona, southeast California, the majority of the Baja California peninsula, the Gulf of California, and a sizeable chunk of Sonora, Mexico.
Although the Sonoran Desert fits the stereotype of a dry, gray, flat piece of land with cacti and tumbleweeds, it has more to offer, at least in the spring. Because of the higher rainfall compared to other deserts, the terrain is lush with vegetation and wildflowers. You've come to the right place if you're hoping to catch sight of a cactus. There are also several of these in the Sonoran Desert. After all, we're still talking about a desert.
5. The well-planned road system reduces congestion
Walking is fun in Phoenix, but it shouldn't be your only mode of transportation. Driving isn't a complete nightmare, though, because of improvements like HOV lanes and grid roads that reduce traffic. The inexpensive light rail system and metro bus service are great options if you're looking for a greener mode of transportation.
The Bicycle Boulevard is a 4.6-mile long bike lane that residents and visitors to Downtown Phoenix use to get around town safely on two wheels.
6. Explore the nearby mountains and canyons
The urban sprawl of Phoenix doesn't prevent residents from getting their fix of nature, unlike in many other big American cities. Around the Valley of the Sun are mountains, canyons, and cacti you never knew existed in such abundance.
Enjoy the great outdoors without ever having to leave town since there are plenty of opportunities for outdoor recreation, from hiking and golfing to trail jogging, within easy reach. There are an almost infinite number of outdoor activities and sights to explore in and around Phoenix, from hiking Camelback Mountain to wandering the Desert Botanical Garden.
7. The presence of dangerous wildlife
Creatures of many shapes and sizes call the desert home, and occasionally one or more of them makes their way into more populous areas. For example, the most poisonous species of scorpion in North America, the Arizona bark scorpion, calls this city home. Although fatalities from their stings are quite uncommon, it is nevertheless a good idea to inspect your shoes before putting them on.
Always be cautious of your surroundings, whether hiking or walking your dog around the neighborhood, as you never know when you might come across a rattlesnake, coyote, bobcat, or javelina.
8. Check out the Phoenix Art Museum or join the First Fridays Art Walk
This city in Arizona has a thriving art scene and many more exciting attractions. Roosevelt Row, located just north of downtown, is a hub for the arts, unique retail, and exciting nightlife.
One of the largest free art walks in the country is the First Fridays Art Walk. Major draws to this Arizona city are its murals and other forms of street art. Visit the Phoenix Art Museum on North Central Avenue or the Heard Museum to learn about the city's rich cultural history indoors.
9. You might have trouble getting around during tourist season
Due to the pleasant climate, many people spend the winter months in Phoenix rather than elsewhere in the United States. This is especially true from October to March when the rest of the country is braving bitter cold.
Restaurants, spas, and even golf courses may be busier than usual, so it's a good idea to make appointments beforehand. During the peak season, you'll also notice more people on the road, so give yourself a little extra time to get where you need to go.
10. Parking is easy in this city
If you own a car and live in a major city like Los Angeles, San Diego, San Francisco, or New York, you know how difficult parking can be. However, if you live in or around the Phoenix metro area, you'll be living in parking heaven.
Most homes and apartments in Mostafa have free parking in a garage or driveway, and the ones that don't have either are nevertheless very walkable. You can park your car in one of the many convenient and inexpensive garages, lots, or on the street in Phoenix, with more than 25,000 available spots.
11. Get a job in the aerospace, finance, or healthcare industries
With Arizona's job growth expected to surpass the nation in the next decade, 550,000 jobs are expected to be added in the Phoenix metro area between 2019 and 2029, making it one of the top labor markets in the United States. The median pay in the city is $70,000, which is highr than the median salary in the United States.
The largest employers in Phoenix are located in a wide range of sectors, including aerospace, finance, healthcare, and more. Banner Health is the largest employer in Phoenix, with three hospitals and countless additional clinics and urgent care centers.
12. Explore the Greater Phoenix area
While the city itself boasts a wealth of entertainment options, it's also worth noting that the surrounding suburbs have their fair share of destinations that locals consider to be right at home in Phoenix.
Don't only focus on Phoenix proper; instead, consider the entire Salt River Valley. Several major communities in Maricopa County, including Mesa, Tempe, Scottsdale, Chandler, Gilbert, and Glendale, are part of the Greater Phoenix area.
MAF Widget
13. Study at the University of Arizona College of Medicine-Phoenix or the University of Advancing Technology
The state capital of Arizona is home to dozens of colleges and universities, from small community colleges to large research institutions, making it a preferred destination for higher education. The University of Arizona College of Medicine–Phoenix is a highly regarded medical school that has collaborated with the city of Phoenix to bring biomedical research and teaching to the central business district through the Phoenix Biomedical Campus. Grand Canyon University provides various undergraduate and graduate degree programs in business, management, the performing and digital arts, and educational administration.
Arizona State University (ASU) has 14 graduate degree programs ranked in the top 10 in the country, with campuses in Phoenix and Tempe. Phoenix College offers over 150 degree and certificate programs that can be used as a stepping stone to a four-year degree, professional development, or continued education throughout a student's life. The University of Advancing Technology is a STEM institution offering degrees in fields such as game studies, cyber security, and software engineering.
14. Enjoy the outdoors at Papago Park, Sonoran Preserve, or Piestewa Peak Park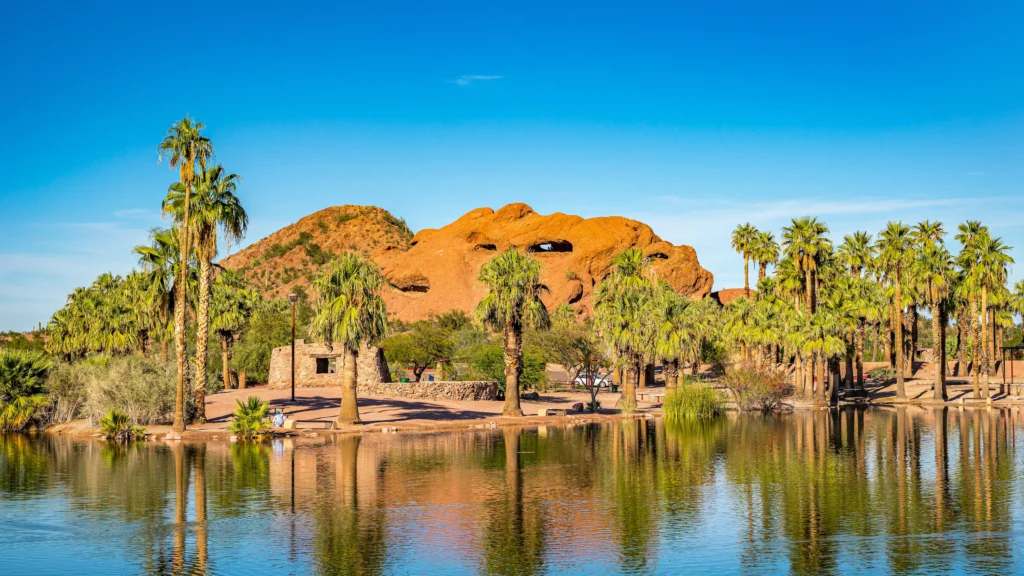 Some of the nicest desert scenery, camping spots, and trails in the country can be found just outside of Phoenix. To begin, head to Piestewa Peak Park, home to the 2,608-foot Piestewa Peak, from which you can see breathtaking vistas of the surrounding mountains and discover peaceful, hidden valleys.
The Desert Botanical Garden in Papago Park spans over 140 acres. It features thousands of plant species, including cactus, trees, and flowers from all over the world, in addition to frequent art exhibits and activities like the Flashlight Tour and Sunrise Yoga.
More than 9,600 acres of the Sonoran Preserve offer 36 miles of rugged trails, making it a prime location for some of Phoenix's best hiking. Estrella Mountain Regional Park features 65 acres of open space perfect for camping, horseback riding, and picnicking under the stars.
While trekking through South Mountain Park/Preserve, one of the largest municipally administered parks in the country, be sure to stop at the famous Fat Man's Pass, a narrow passage on the Hidden Valley Trail.
15. Downtown Phoenix is full of fun
At The Grand in Phoenix, you and your pals can chill in a coffee shop, bar, ballroom, beer garden, and in front of an outdoor stage. The Nash hosts concerts of both established and emerging jazz artists, as well as weekly jazz jam sessions, workshops, masterclasses, and clinics. Cityscape, Phoenix is home to Patriots Park Splash Pad, a 50,000-square-foot oasis with shade, a splash pad, water features, a wall of honor for American patriots, and an event plaza.
The Van Buren Phoenix is a former car dealership transformed into a music hall, hosting shows by acts such as Billie Eilish, Kacey Musgraves, Brockhampton, and many more. Phoenix's Japanese Friendship Garden spans 3.5 acres and features a koi pond with 300 fish, a 12-foot waterfall, a tea house and garden, and more than 50 plant species.
In Conclusion
Phoenix has a lot of amazing things to offer its residents. There's an abundance of jobs, outdoor recreational opportunities, great higher institutions, and the arts scene. However, there's also the intense heat, tourist problems, and dangerous wildlife.
Learn More About Living in Phoenix, AZ