10 Things to Know Before Moving to Newport News, VA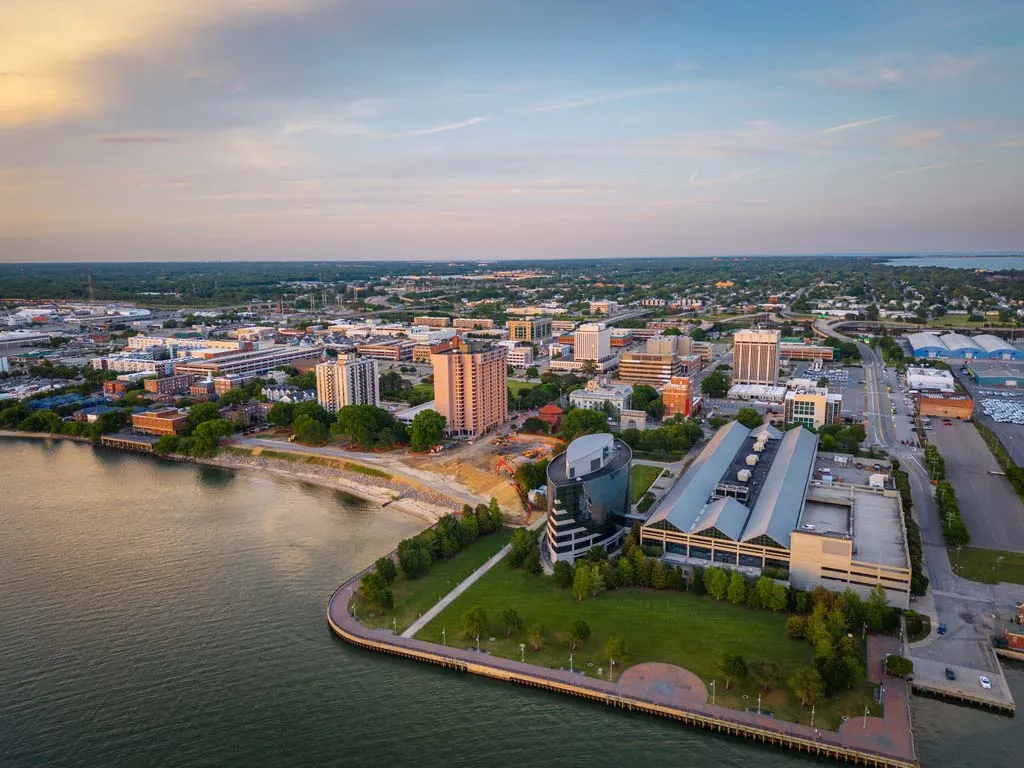 ---
Newport News is located at the tip of the Virginia Peninsula in the southeastern part of the state, in the metropolitan area known as Hampton Roads. The city is home to around 193,000 people, making it the state's fifth-most populous city.
The city has become an important shipbuilding hub. Supercarriers like the Enterprise, Kennedy, Washington, Vinson, and Roosevelt were constructed here. Newport News is one of the earliest names in the New World, with varying accounts of its naming origin. The name "Newport News" appears in the records of the Virginia Company as early as 1619.
If you're wondering what life is like in this city, keep reading as we check out ten things to know before moving to Newport News, VA!
1. The city is in a convenient location
Newport News is part of the bustling Hampton Roads metropolis and is conveniently located near other major tourist destinations like Virginia Beach and Williamsburg. The city enjoys a strategic location at the confluence of the James River and the Chesapeake Bay. There are around 23 miles of coastline in Newport News between the James River and Hampton Roads Harbor.
A lot of people are moving to the area of City Center at Oyster Point since it is being hailed as the new downtown. Hilton Village, Port Warwick, Kiln Creek, and Riverside are also highly sought-after areas.
2. The military sector is a major employer
The unemployment rate in Newport News is lower than the national average, at 3.5%. The aerospace, military, maritime, and shipbuilding industries all play significant roles in the city's economy.
The surrounding military facilities of Fort Eustis and the Newport News Marine Terminal provide employment for a large portion of the local population. Other major employers in the area include the Ferguson Enterprises plumbing hardware factory, L-3 flight International Aviation, the city's public education system, and several suppliers to the United States military.
3. Lots of options for public transportation
Residents who don't want to drive have a number of options for getting around Newport News. Newport News, along with the rest of the cities in the Hampton Roads area, is served by the metropolitan bus system known as Hampton Roads Transit.
From the terminal on Warwick Boulevard, you can take a Greyhound bus to one of the local cities. Four times a day, passengers can take one of Amtrak's trains from Newport News to either Norfolk or Virginia Beach. Commuters, including individuals and businesses, can take advantage of vRide's ride-sharing programs.
4. Attend Christopher Newport University or Old Dominion University
Five early childhood facilities, 24 primary schools, seven middle schools, five high schools, one middle/high combination school, and nine program regions comprise the Newport News Public Education system, which serves around 29,700 children.
The city also has 22 private educational institutions. Expelled students and troublesome kids can attend one of the system's alternative schools, which include programs in aviation and engineering, foreign education, and business. For publicly supported higher learning, consider Christopher Newport University, Old Dominion University, or Norfolk State University.
5. A lower-than-average cost of living
With a cost of living index of just 913, Newport News offers some of the lowest prices in the South. The cost of living, including housing, is quite low.
One-bedroom apartments typically cost around $970 per month to rent, while two-bedroom apartments cost around $1,140 per month. In Newport News, the average price of a home is $250,677.
6. Traffic is a major problem
Unfortunately, Newport News' traffic is a major drawback for residents. If you're familiar with the layout of Hampton Roads, you'll know that there are tunnels that lead from one side to the other. Newport News, like the rest of Hampton Roads, experiences occasional traffic congestion. Warwick Boulevard and Jefferson Avenue are two of the most important thoroughfares in Newport News.
These roads run nearly parallel to one another from one side of the city to the other. Both are extensively traveled and feature several stoplights, contributing to city congestion. The problem with Interstate 64 is still another. When traveling from the peninsula's edge to the south side, you'll likely encounter heavy traffic in one of the tunnels.
7. You have to register your car in Virginia
It is common knowledge among Virginians, but many out-of-staters are unaware that new residents must register their vehicles within 30 days of moving to the state.
Unregistered drivers risk a fine if they are stopped by law enforcement. You can register your vehicle by taking the title, proof of previous registration in another state, and an emissions inspection certificate to a local Department of Motor Vehicles office.
8. It rains a lot in Newport News
Summers in Newport News are hot and humid, while winters are mild and comfortable. It rains quite a bit in the city (approximately 45 inches annually), although hurricanes and tropical storms tend to avoid it. The heaviest precipitation occurs in the spring and summer, but annual snowfall averages about six inches.
On average, daytime highs are around 20 degrees Fahrenheit higher than nighttime lows all through the year. With an average high of almost 90 degrees, July is clearly the hottest month.
9. Don't miss the Mariners Museum
More than 35,000 relics can be found in the Mariners Museum in Newport News, making it one of the largest maritime museums in the world. The museum provides a variety of learning opportunities for students of all ages, as well as a comprehensive library, archives, and teaching materials.
Exciting tales honoring the freedom of the open sea can be found throughout the museum. You can learn about the Civil War's most recognizable gun turret at the USS Monitor Center, see small boats from all over the world, and marvel at the work of ship modelers Winnifred and August F. Crabtree. The museum is part of a larger park of 550 acres where visitors can go on a five-mile stroll along the Noland Trail or enjoy a picnic at Lions Bridge with views of the James River.
10. The city has a high crime rate
Some locals and visitors alike refer to the city of Newport News as "Bad News." That's typically due to people's preconceived notions about the city's crime rate. Crime tends to cluster in certain neighborhoods, giving the whole city a bad name.
If you live in Newport News, you have a 1 in 39 chance of being a victim of a violent crime or a property crime. According to FBI crime statistics, Newport News is not exactly one of the safest American cities. When compared to other Virginia cities and towns of similar populations, the crime rate is significantly greater than 92% of them.
Viewing crime maps might help you determine which parts of Newport News are safer than others.
Final Thoughts
There are many good things about Newport News that could make a move there ideal for you and our family. This city is suitable for relocation because of its pleasant climate, reasonable cost of living, excellent schools, and lower-than-average unemployment rate.
However, there are other factors to consider, such as the city's high crime rate and traffic problems.