15 Things to Know Before Moving to Macon, GA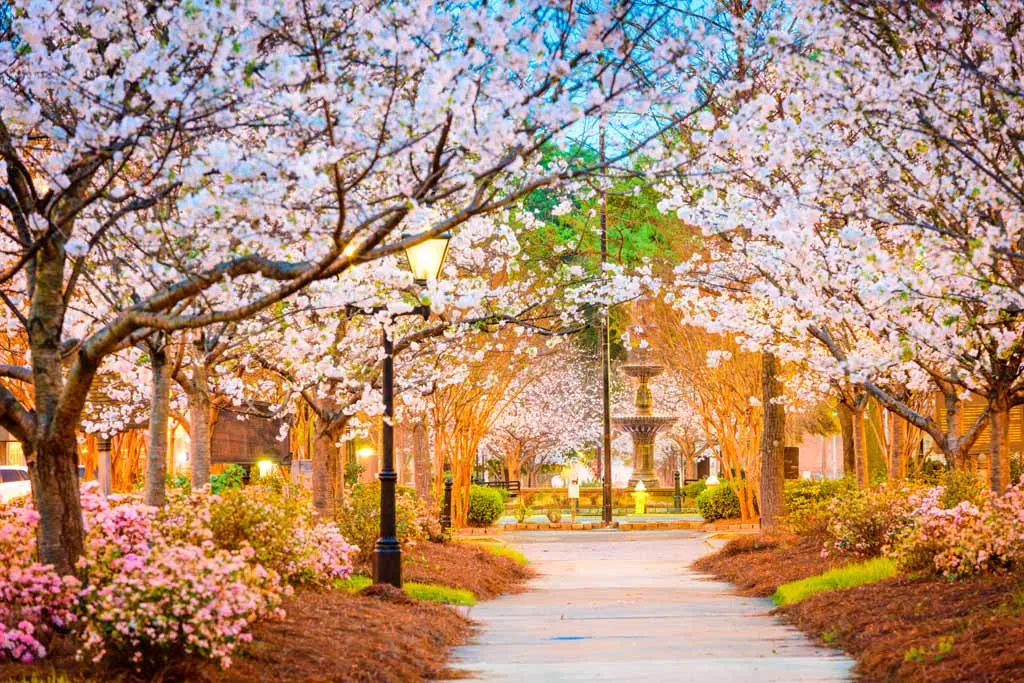 ---
Macon, the county seat of Bibb County, is situated in the geographic center of Georgia. Approximately 153,000 people call this city home, and they are always welcome to partake in the famous Southern hospitality that is a trademark of this area. Macon is rich in culture and offers various attractions, including museums, historic buildings, shops, and restaurants.
Macon is a city where history and culture come to life, with unforgettable sights, delicious soul food around every corner, and breathtaking vistas.
Let's check out fifteen things to know before moving to Macon, GA!
MAF Widget
1. The city has 14 historic districts
Macon was established in 1823 on the banks of the Ocmulgee River, not far from a frontier fort named Fort Hawkins. Humans have inhabited Macon for over 17,000 years since it was first settled by Native Americans. Ocmulgee Mounds National Historic Park still stands on the site. During the Civil War, Macon was the Confederacy's official arsenal, and in 1864, Macon City Hall was the temporary capital of Georgia.
More than six thousand homes and other buildings in Macon are listed on the National Register of Historic Places thanks to the city's fourteen historic districts.
2. A cost of living index of 76.6
Macon has a much more affordable cost of living compared to the rest of Georgia and the United States. Macon has a median house price of $141,860, which is significantly lower than the national average of $428,000.
Transportation, health care, and food all cost less than average in Macon. In Macon, 56% of people do not own their homes, while 44% are homeowners. The city is a lot more affordable than other cities of a similar population.
3. Enjoy the very best of soul food
Delicious options for dining can be found in Macon's many restaurants, many of which highlight regional ingredients and traditions.
Get your taste buds ready for some authentic soul food at H&H Soul Food. This eatery, which Thrillist.com once dubbed "Georgia's Most Iconic Restaurant," is famous for its tasty soul food and serves meals throughout the day. The Rookery is great for burgers and shakes, Dovetail offers a farm-to-table experience, and Natalia's serves up delicious Italian food, just to name a few of Macon's best restaurants.
4. The cherry blossoms make a beautiful sight
For a short period in March, Macon is home to more than 300,000 Yoshino Cherry Trees and hosts an annual International Cherry Blossom Festival to honor their beauty. It's hardly an exaggeration to say that everything becomes pink in this town at this time of year.
Everything from fountains to buildings to cars to the flowers on display in their windows is pink for this special occasion. In Central City Park, there will be a festival, including performances, charity events, and a fair.
5. The city has deep musical roots
Macon has a rich musical heritage; the Allman Brothers Band, one of the most influential bands in history, started there. From 1970 until 1973, the band made Macon home; to celebrate their legacy, the Big House Museum was established in their former residence. The record label that first signed the band, Capricorn Records, was also based in Macon.
The city continues to make good music today. Weekends at The Hummingbird Stage and Taproom include live bands and darts, while Envy Nightclub is where you can get down to the beats of local DJs.
6. Macon is a college town
Macon's reputation as a great place to go to college is on the rise. In Macon, at Wesleyan College, women had their first opportunity to enroll in a chartered institution of higher education. The Georgia Female College opened its doors in 1836 and is continuously enrolling new students today. The public is welcome to explore the huge, historically significant campus in north Macon, which is home to modern buildings and lush green fields.
In addition to Wesleyan College, the city is also home to Mercer University, a private Baptist school, and Macon State College. With the addition of Central Georgia Technical College, this small city boasts an outstanding array of higher education options, especially given its size.
7. It's easy to get away from the city
Macon has lots of things to do on the weekend, but if you find yourself longing for a weekend excursion, it's easy to go wherever you want to go.
Macon is conveniently located between two major interstate highways (I-75 and I-16), providing easy access to the nearby cities of Atlanta (to the north) and Savannah (to the southeast) for weekend excursions.
8. Journalism is a big deal here
The Center for Collaborative Journalism at Mercer University was founded a few years ago, and it has since been hailed by The New York Times as a groundbreaking initiative with the potential to revolutionize the news industry.
Macon's daily paper, The Telegraph, has been publishing out of the multimillion-dollar building since 2012. Students at Mercer University can now intern at the Telegraph and Georgia Public Broadcasting's radio stations to gain practical experience in the field.
9. Macon is a religious city
Macon is another city located in the Bible Belt, and it has a sizable Christian community.
Forty-seven percent of the people living in Macon are associated with some kind of religious congregation. 46% of them belong to the Southern Baptist church, 23% to the United Methodist Church, 23% to some other church, and 8% to the Catholic church.
10. Winters are mild here
The average high in Macon during the winter months of December and January is a comfortable 60 degrees.
Since it is in the southern section of the state, the city has milder winters and less snowfall than its northern counterparts. The city gets only about 1 inch of snow per year.
Macon's proximity to the Atlantic Ocean also contributes to its mild climate. The climate is warm all year round, and the winters are especially bearable.
MAF Widget
11. Springtime comes with allergies
Allergies are a sure thing come springtime in Macon. Many locals have to take allergy medication daily and keep tabs on the pollen forecast.
Mold and ragweed thrive in the city's hot, humid atmosphere, and the abundant trees create a wonderful habitat for pollen-producing plants.
That's why it's not uncommon to have a heavy layer of yellow powder in the air, making it hard to breathe and triggering symptoms like sneezing, itchy eyes, and runny noses.
12. Bugs are a menace
Those pesky pests have made Macon famous. Mosquitoes, termites, and cockroaches are just some of the insects that thrive in the region's humid environment and dense foliage. Most of these insects won't do any harm, but they can be a pain nonetheless.
Most insects are merely an annoyance, but mosquitoes can really spread dangerous diseases like malaria and the Zika virus. Consequently, it is important to protect yourself from insect bites if you plan on moving to Macon.
13. Highs of 90°F are common in summer
Macon is in the southeastern United States. As a result, during the summer, it is very hot and muggy. Temperatures in July average around 89 degrees Fahrenheit but frequently soar above 95 degrees Fahrenheit.
There is also a lot of humidity, usually well over 80%. Those who are not accustomed to the heat and humidity may find the conditions to be intolerable.
14. The numerous highways and interstates make traffic awful
Macon is notorious for its gridlock. Since the city has many highways and interstates, navigating them during rush hour might be difficult. Congestion in the city is further worsened by the numerous construction sites located around the area.
Before hitting the road during rush hour, make sure you've planned ahead and given yourself plenty of time. Secondly, if you can help it, try to stay away from locations with ongoing construction.
15. Explore the city and learn about its history
There are numerous opportunities to have fun and keep yourself entertained in Macon. Explore early Mississippian temple mounds, take a stroll down the boardwalk, see a Civil War battle site, and learn about the area's history at the Ocmulgee Mounds National Historic Park, a famous outdoor destination. Beaches, campgrounds, watersports, and hiking trails can all be found in Macon's Amerson River Park and Lake Tobesofkee.
Hay House, the Cannonball House and Museum, the Georgia Sports Hall of Fame, and more are just a few of the historical places that can be visited in the neighborhood. The Otis Redding statue is also open to the public.
Finally
Macon has a lot of amazing things to offer its residents. It has an affordable cost of living, a rich history, numerous entertainment opportunities, mild winters, and fun festivals.
However, you should also consider the hot and humid summers, notorious traffic, springtime allergies, and bugs.