Top 10 Pros and Cons of living in Peachtree City, GA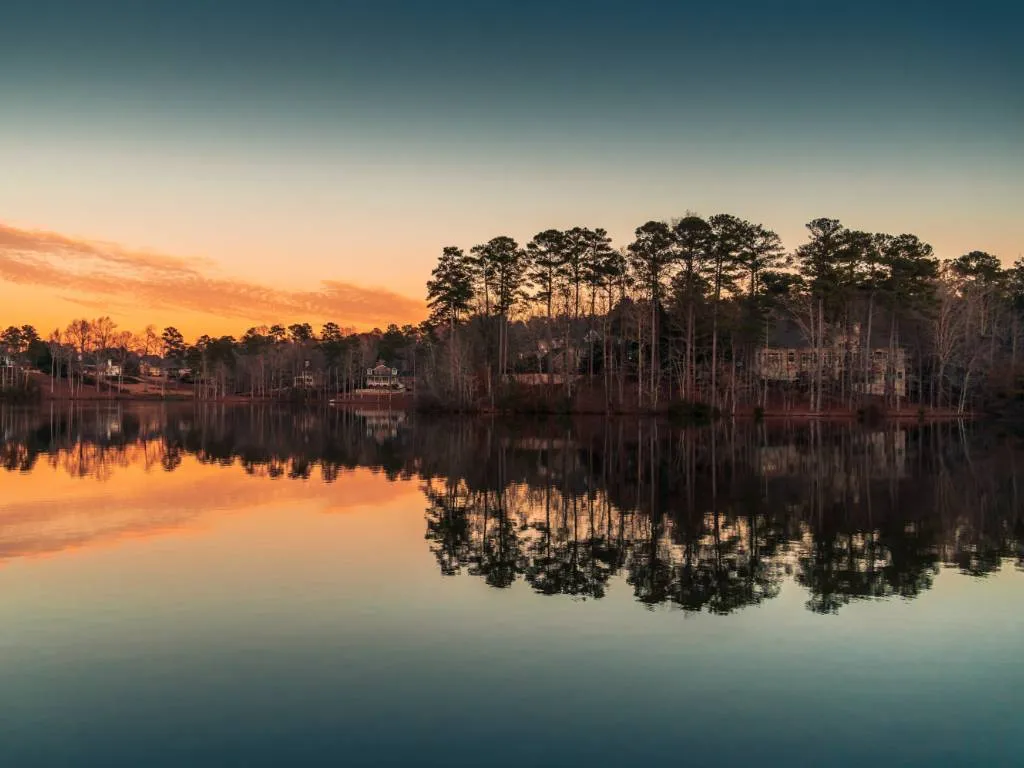 ---
Located in Fayette County, Peachtree City, Georgia, is a charming and vibrant city home to about 39,800 people. This city is well-known for its distinctive golf cart-friendly infrastructure and abundance of natural beauty.
However, while the city offers numerous advantages that make it an appealing place to live, it also has its fair share of drawbacks. Let's consider the top 10 pros and cons of living in Peachtree City, GA! 
MAF Widget
Pros
1. Peachtree has a unique golf cart culture
Peachtree City is known for its enormous system of golf cart pathways, which are over 100 miles in length. Because of this unique feature, residents can take advantage of a sustainable method of transportation.
In addition to being an environmentally friendly means of transportation, the golf cart is also a fun way to get around town. This culture fosters a sense of community and a closer connection between residents, as people often interact while cruising around the city on their golf carts. And because of this sustainable means of transportation, you can be sure to breathe fresh air in this city.
2. The city has beautiful scenery
It is no exaggeration to say that Peachtree City is blessed with an abundance of breathtaking landscapes, lush green spaces, and beautiful parks. The government in this city has made it a priority to protect the area's natural landscape so that its citizens can live in tranquility. Due to the extensive path and park system, residents can enjoy nature in all its splendor.
Here, you can enjoy activities like hiking, biking, running, fishing, and picnics. Spyglass Island, Somerby Woods Nature Area, and Line Creek Nature Area are some lovely places you can visit to immerse yourself in nature and enjoy some outdoor activities. If you're relocating from a major city, living in this city will give you a refreshing escape from urban life.
3. Peachtree is home to 27 public schools
Peachtree City prides itself on its exceptional school system, making it an ideal place for families with kids. There are 27 public schools in this city, which include preschools, middle schools, and high schools. These schools consistently rank well above average in state and national assessments, and they are known for their dedicated teachers, comprehensive curriculum, and strong emphasis on extracurricular activities. In addition, students have access to a wide range of academic programs, advanced placement courses, and extracurricular clubs and sports, fostering their personal and intellectual growth.
Some of these schools include Harvest Rain Early Learning Academy, Braelinn Elementary School, J.C. Booth Middle School, and Starrs Mill High School. Within an hour's commute are the prestigious Georgia State University and other higher education institutions in nearby cities.
4. Residents have a strong sense of community
Peachtree City fosters a strong sense of community among its residents. The city encourages community engagement through various initiatives, events, and organizations. Neighborhood associations play an active role in organizing social gatherings, community service projects, and fostering connections among residents.
This sense of community creates a supportive and inclusive environment where neighbors look out for one another and forge lasting relationships. Ultimately, you won't find it difficult to form great relationships with your neighbors, and you'll feel at home here in Peachtree City.
5. Access to quality healthcare facilities
Peachtree City offers convenient access to quality healthcare facilities. The city is home to a range of medical clinics, specialist offices, and hospitals that provide comprehensive healthcare services to residents. These facilities are staffed with skilled healthcare professionals who prioritize patient care and well-being. There are also healthcare facilities in nearby cities within a short commute. Some top healthcare centers in and near Peachtree City include
Piedmont Fayette Hospital,
Cancer Treatment Centers of America (CTCA), OrthoAtlanta, and Piedmont Physicians Group Peachtree City is also home to various convenient care centers, such as urgent care clinics and walk-in medical facilities. Living in a place like Peachtree City, where healthcare services are readily available, means that you can receive timely medical attention and support at any time.
MAF Widget
Cons
1. Limited cultural and entertainment options
Peachtree City has a wide range of amenities; however, it falls short when compared to major cities in terms of cultural and recreational opportunities. There are fewer opportunities to engage in various cultural pursuits and forms of entertainment due to the city's emphasis on family-friendly activities and outdoor recreation.
You might have to travel to a larger city to enjoy thriving nightlife, numerous cultural attractions, or specialized cultural events.
2. Limited employment opportunities
Although Peachtree City has a thriving business community and jobs have increased by 2.9% over the past year, employment opportunities in this city are limited to certain industries.
The city's economy is primarily driven by local businesses, healthcare facilities, and educational institutions. Due to these limited job opportunities, individuals seeking specialized or high-demand professions may need to commute to nearby metropolitan areas for better job opportunities. This can result in longer commute times and limited options for professional growth within the immediate vicinity.
3. Distance from major airports
One of the drawbacks of living in Peachtree City is its distance from major airports. The nearest international airport, Hartsfield-Jackson Atlanta International Airport, is approximately 30 miles away.
While this city is easily accessible by car, the commute can be time-consuming, especially during peak travel times. If you travel regularly by air, either for work or leisure, this can be inconvenient as it adds to your travel time and transportation expenses.
4. Limited public transportation options
While the golf cart paths in Peachtree City provide a unique and convenient mode of transportation within the community, the city lacks other public transportation options.
This limitation can make commuting to neighboring cities and traveling long distances more challenging, especially for those without personal vehicles. It is therefore necessary to own a car or any form of private transportation suitable for you, although this can be pretty expensive.
5. Summers are hot and humid
Summers in Peachtree City are hot and humid, just like in the rest of Georgia. The hottest summer month is July, with an average high temperature of 89°F and an average low of 69°F.
When the weather outside is too hot or humid to enjoy, staying inside, where it's cool and pleasant, becomes the best option. If you enjoy spending time outside in summer, you might not enjoy living here.
Finally
Living in Peachtree City offers numerous advantages, such as a unique golf cart culture, beautiful scenery, excellent schools, and quality healthcare facilities.
However, it is important to consider the limited public transportation options, hot summers, limited cultural events, and limited employment opportunities as potential drawbacks. 
Learn More About Living in Peachtree City, GA