10 Things to Know Before Moving to Lynchburg, VA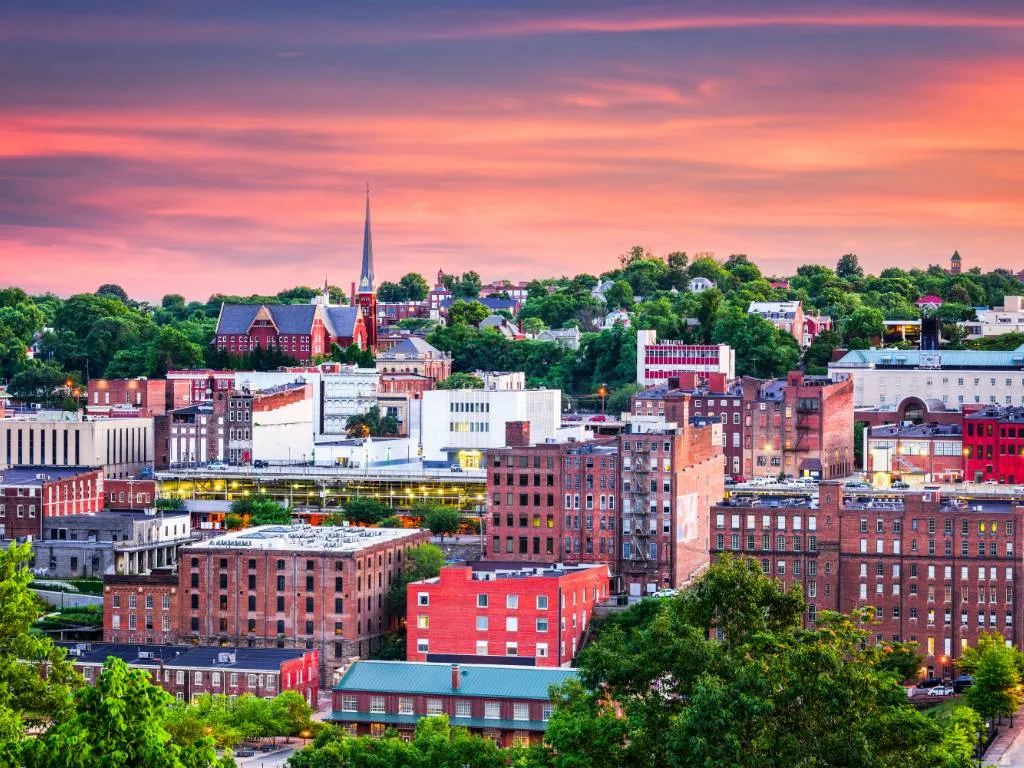 ---
Embarking on the journey of moving to a new city is both thrilling and challenging, especially when that city is Lynchburg, Virginia. Nestled in the picturesque foothills of the Blue Ridge Mountains, Lynchburg boasts a rich history, vibrant culture, and a unique blend of urban and natural beauty.
From its storied past as a pivotal center during the Civil War to its contemporary charm as a thriving community with a diverse population, Let's check out ten things to know before moving to Lynchburg, VA!
1. Lynchburg is surrounded by natural beauty
Located on the banks of the James River, at the base of the Blue Ridge Mountains, is the gorgeous City of Seven Hills. The city's location is ideal, as the world-famous Appalachian Trail and the beautiful Blue Ridge Parkway are only a short drive away.
James River Adventures gives you access to the water, and the Blackwater Creek Trail system and Liberty Mountain Trails beckon cyclists and hikers to the outdoors.
2. Ease of accessibility
Lynchburg's easy accessibility to major routes and interstates keeps the city's people mostly free from gridlock. Atlanta, Raleigh, Baltimore, Philadelphia, and New York are all within a day's drive from Lynchburg, while both Washington D.C. and Charlotte can be reached in under three hours.
Another option is to take the relaxing Amtrak ride. Fly directly to major destinations around the country from Lynchburg Regional Airport thanks to American Airlines' daily nonstop service to Charlotte. Virginia's wine country, ski resorts, and the beach are all easily accessible for weekend trips.
3. A healthy city to live in
Gallup-Healthways found that residents of Lynchburg experienced lower rates of stress, depression, and obesity than those of any other city in the United States, placing it in the top 10 happiest and healthiest places to live. Central Lynchburg General Hospital and Centra Virginia Baptist Hospital are two of Lynchburg's largest hospitals.
The city also features the cutting-edge Alan B. Pearson Regional Cancer Center. The University of Virginia Medical Center and the Duke University Medical Center are both located very close to Lynchburg.
4. A cost of living index of 82
The cost of living in Lynchburg is 18% cheaper than the U.S. average, so your dollar will go much further here. Kiplinger ranked Lynchburg among the "Cheapest U.S. Cities To Live In" for 2020, citing how residents there spend about a fifth less on housing than the national average and how they also spend much less on transportation and groceries.
The city's median home price is $243,618, almost half the national average.
5. Enjoy 200 sunny days in a year
The citizens of Lynchburg have it made year-round, with beautiful fall foliage and occasional snowfall, breathtaking springtime, and ideal summers marked by pleasant days and mild evenings. Locals enjoy the spray ground in the summer, the fall foliage on the Blue Ridge Parkway, and the gorgeous snow days, in addition to shopping at the farmer's market, which is open all year long.
Snowfall occurs in Lynchburg during the winter months. However, an average of only four days' worth of snowfall is usually seen per year. Since the city has more than 200 sunny days per year, residents and visitors alike can take advantage of the outdoors at any time of the year.
6. A fantastic place for higher education
In the same league as Cambridge, Massachusetts, and Ann Arbor, Michigan, Lynchburg has been rated one of the top ten college towns in the United States. Liberty University, University of Lynchburg, Randolph College, Virginia University-Lynchburg, Central Virginia Community College, and Sweet Briar College are just a few of the prestigious educational institutions located in the Lynchburg area.
The universities provide a highly educated and skilled labor force: 35.5% of the population has a bachelor's or higher degree.
7. Liberty University and Centra Healthcare are the city's biggest employers
Lynchburg has a lower unemployment rate than the national average because of its diverse economy. Liberty University is the city's biggest employer, with Centra Healthcare following.
The city has various industries, including government suppliers, energy companies, national retailers, and manufacturers. Businesses of all sizes can take advantage of Lynchburg's many resources for new and aspiring owners
8. Downtown has a new look
During the American Revolution, Downtown Lynchburg, which was founded in 1757, served as an important commercial hub. Downtown is better than ever, thanks to recent revitalization efforts and new conveniences.
Many older structures have been renovated and now house trendy eateries, breweries, bars, shops, hotels, and loft-style residences. Lynchburg Community Market is one of the oldest in the United States, having opened in 1783.
9. Take in the art at Riverviews Artspace or The Academy Center for the Arts
The Academy Center for the Arts is a gorgeous Beaux Arts theater located in the heart of downtown Lynchburg. Each of the "Big 5" art forms—opera, ballet, symphony, theater, and visual arts—are represented at the Academy Center for the Arts. National artists and touring Broadway productions aren't the only things the center helps fund.
In the same downtown area, the Riverviews Artspace features modern sculpture, abstract paintings, and multimedia installations. The exceptional collection of American painters, including works by Winslow Homer, Mary Cassatt, Georgia O'Keeffe, and Andrew Wyeth, can be seen at no cost at the Maier Museum of Art at Randolph College. You can also attend a musical or concert at Liberty University's Tower Theatre.
10. A relatively safe place to live in
The violent crime rate of Lynchburg is 18.1, which is lower than the national average of 22.7. The city has a crime rate of 35.3, which is almost the same as the national average of 35.4.
In comparison to other American cities the same size, Lynchburg's crime rate is relatively low. Some parts of the town may be riskier than others, but generally speaking, residents and workers have a secure place to call home and conduct their daily lives.
Final Thoughts
Moving to Lynchburg, VA, offers a blend of nature and city life, with the Blue Ridge Mountains and James River nearby. It's easily accessible, and residents enjoy a healthy lifestyle and a low cost of living. Lynchburg offers 200 sunny days a year, ideal for outdoor activities.
The city boasts excellent higher education options, a diverse job market, and lower crime rates compared to the national average. 
Learn More About Living in Lynchburg, VA