15 Pros and Cons of Living in Lakeland, FL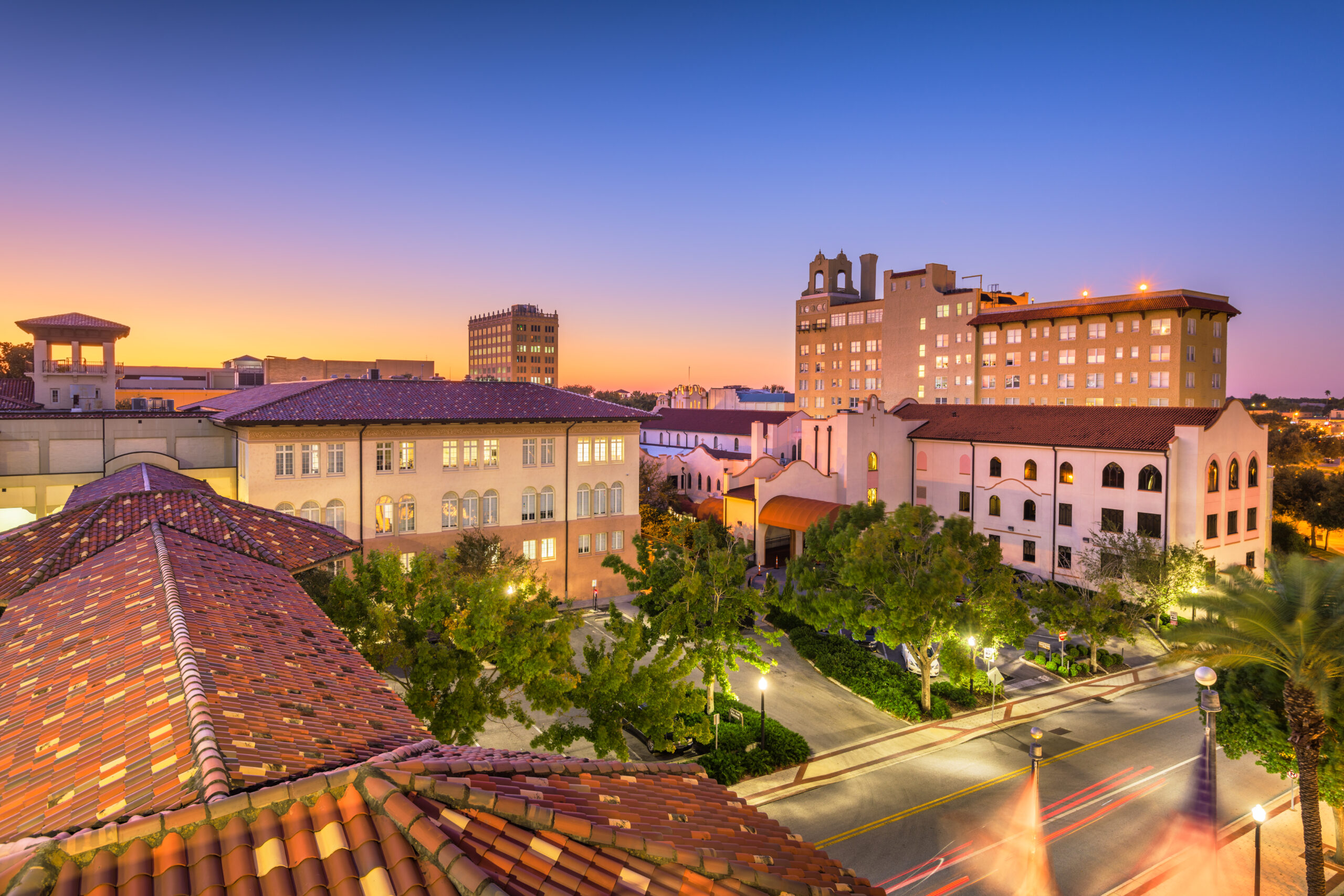 ---
Lakeland is a rapidly growing metropolis between two of Florida's largest cities, Tampa and Orlando. Given the city's abundance of lakes (38, to be precise), it's not hard to figure out where its name came from.
With a population of over 110,000, Lakeland is a thriving city that has attracted a diverse range of people to its affordable housing, expanding employment market, and proximity to some of Florida's most popular attractions.
But what is life like in this city? Is this place a good fit for everyone? What are the not-so-good aspects of this city?
Let's examine 15 pros and cons of living in Lakeland, FL!
MAF Widget
Pros
1. Lakeland is in a convenient location
Located an hour away from the Atlantic Coast beaches, Lakeland is conveniently located, which allows you to get to other cities in a short time. Orlando is an hour away, and St. Petersburg and Tampa are also close by.
When it gets boring in Lakeland, you can easily experience a change of scenery and vibes by visiting these nearby cities.
2. A reasonable cost of living
The average cost of living in Lakeland is 13% lower than the national average and 17% lower than the state average. Compared to other cities of similar size in the state and across the country, this is pretty reasonable.
The city's median home price is $299,281, which is less than the national average. So if you're looking for an affordable town, Lakeland fits right into that box.
3. Great employment opportunities
There are a wide variety of employment opportunities in Lakeland. The city's main economic drivers are the manufacturing, distribution, educational, healthcare, professional, and tourist sectors.
Employment in Lakeland is predicted to grow by 42% in the next ten years, which is above the national average of 33% estimated growth.
Publix Supermarket, Sykes, Florida Polytechnic University, Lakeland Regional Medical Center, and GC Services are just some of Lakeland's major employers.
4. A good destination for retirees
Ranked among the top 20 places to retire in the U.S., Lakeland is a good destination for retirees.
The ideal location for retirees would include better weather year-round, as well as affordable access to a wide variety of recreational opportunities and cultural attractions. Lakeland can provide that in full. If a retiree (or anyone else) is looking for a specific kind of lifestyle, they can find it in Lakeland.
The city has good medical facilities and golf courses, in addition to its relatively low cost of living and warm climate, so you'll enjoy it here as a retiree.
5. There's no state income tax
There is no state income tax in Florida, so this applies to Lakeland.
If you're moving from a place with high tax rates, then this is a welcomed development, as you get to save some more money. Lakeland's residents typically save thousands of dollars annually on their tax bills.
6. There are lots of lakes
The name Lakeland was given to this city due to the presence of many lakes in and around it. There are 38 lakes in Lakeland, the largest of which is Lake Parker. There's also Lake Mirror, which is surrounded by about 10,000 flowers.
The presence of these lakes adds to the scenery of the city and makes water-based activities popular.
7. There are lots of fun things to do
One thing about Lakeland, you'll never run out of activities. And no, they don't necessarily have to involve water.
When it comes to hosting a wide range of community events, Lake Mirror Park is where everyone comes together. Relax in the tranquillity of the Hollis Botanical Garden. Take the kids to Barnett Family Park to run about and play.
The Lakeland Flying Tigers are a minor league affiliate of the Detroit Tigers and a famous baseball team in the area. Their home field is Publix Field at Joker Marchant Stadium, and this is also where the big league team trains before the start of the season.
The Sun 'n Fun Aerospace Expo is an event you should definitely check out. This group is famous for the annual fly-in and aviation show it hosts at Lakeland Linder International Airport.
8. You enjoy pleasant weather
It never gets cold in Lakeland. This is because it is in a tropical climate.
While temperatures can rise to uncomfortable levels during the summer, as high as 90°F, breezes and afternoon showers usually help alleviate the heat. You would love this city if you imagined yourself living in a place where spring and summer last all year long.
9. Golfers would love it here
Part of what makes Lakeland a good retirement destination is the presence of several golf courses in this city.
Within Lakeland, there are about 26 golf courses, a few of which are public, and several others are private. The oldest golf course in Lakeland is the Bartow Course, which opened in 1921.
Also, within 20 miles of Lakeland are no less than 18 golf courses. So if you're a golfer, you'd love it here.
10. Lakeland has a rich history
Lakeland may have been established in 1885, but despite its rapid growth, it has retained its historical charm. The Polk Theater is just one of many old landmarks scattered throughout the city.
Downtown Lakeland has lots of historical landmarks and old buildings, as well as seven historic districts.
There are also many antique shops, art galleries, and museums in the city which showcase its history and culture. Some notable places include the Polk Historical Museum and the Florida Air Museum.
MAF Widget
Cons
1. Lots of insects and alligators
Coming across insects like cockroaches, palmetto bugs, and mosquitoes is a frequent occurrence in Lakeland. This is due to its year-round warm weather.
There are also plenty of alligators that can be found in the city too, as a result of the many lakes and freshwater habitats. If you can't tolerate the bugs and are afraid of alligators, you might not like to live in Lakeland.
2. The city experiences strong lightning and thunderstorms
Rain begins to fall in Lakeland around June, and it continues until October. It rains very often during the rainy season.
As a result, lightning strikes are common in Florida, earning the state the nickname "the lightning capital of the world." Of course, Lakeland is not exempted from these sudden bouts of lightning.
Furthermore, more individuals in the city and state are hurt by lightning than by any other type of weather-related event.
Fortunately, the rain and wind usually don't last long, and the sun returns quickly.
3. There's terrible traffic
Lakeland can get very crowded, and it can be hard to get around. This is especially common from February till June when all the retirees and tourists flock to the city. It's not uncommon to be stuck in traffic for an hour or more in Lakeland.
Another thing that contributes to traffic congestion is the absence of public transportation; hence, there are many cars on the road.
4. A high crime rate
Lakeland has a high crime rate and some parts of it are quite notorious for gangs and drugs.
The crime rate is higher than the state and national averages, and some of that can be attributed to Lakeland being a densely populated city. It has a violent crime rate of 3.66 per 1,000 residents and a property crime rate of 25.05 per 1,000 residents.
In terms of safety, Lakeland might not be the best place to live, but some parts of the city are safer than others.
5. There's little to no nightlife
Young adults looking for a vibrant nightlife scene may be disappointed, although retirees will find plenty to do.
Not many bars are available, and there aren't many after-work activities, such as live music performances, that appeal to young people's taste
If you're used to the vibrant nightlife of a larger city, you'll quickly notice that Lakeland is very different.
Finally
There's no doubt that Lakeland, FL, has a lot to offer. There's the proximity to other cities, an abundance of job opportunities, affordable living, and pleasant weather. Despite this, there are some drawbacks to living in this place, such as the interference from pests and bugs, the terrible traffic, as well as the high crime rate.
Learn more about living in Lakeland, FL