15 Things to Know Before Moving to San Diego, CA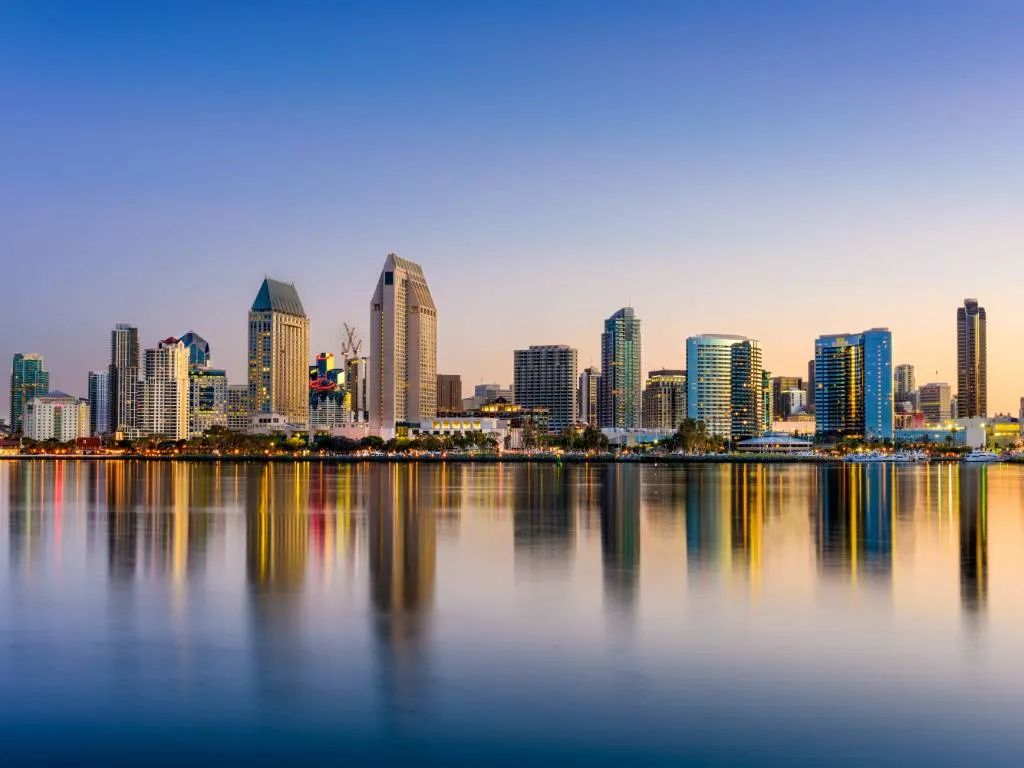 ---
If you're looking to live in a big city that has a relaxed and calm vibe, then San Diego, California, is the place for you.
Known as America's Finest City, San Diego has much to offer, from job opportunities to year-round sunshine, diverse neighborhoods, and exciting festivals.
Let's discuss 15 things to know before moving to San Diego, CA!
1. Work in the biotech or healthcare industry
San Diego has lots of job opportunities, particularly in sectors like biotech, healthcare, and the military. The job growth in this city has been positive, and jobs have increased by 1.4% over the past year.
Although the unemployment rate is 3.8%, slightly higher than the national average of 3.6%, San Diego is still a great place to find great job opportunities.
Some top employers in this city include Autoliv, Petco Holdings Inc., Senora Energy, and Sharp HealthCare.
2. The cost of living is 60.4% higher than the national average
While job opportunities are abundant in this city, the cost of living in San Diego is relatively high—60.4% higher than the national average.
Groceries are 12% higher than the national average. A loaf of bread goes for $4.34, a gallon of milk goes for $2.72, and a bunch of bananas is sold for $3.76. The median home price here is $939,059, which is also high compared to the national average of $428,000.
3. Proximity to Mexico
San Diego is situated approximately 15 miles north of the U.S.-Mexico border. This close distance makes it a vital border city with Tijuana, Mexico, its neighbor. The two cities are not only geographically connected but they are also connected culturally and economically, leading to a unique binational region known as the San Diego-Tijuana metropolitan area.
This proximity facilitates trade, tourism, and cultural exchanges between the United States and Mexico, contributing to the diverse and dynamic character of San Diego.
4. Participate in Comic-Con International and Halloween
San Diego is famous for hosting Comic-Con International, which attracts pop culture enthusiasts from around the world. At this festival, you can meet your favorite celebrities, attend panel discussions, and indulge in epic cosplay.
The city also embraces Halloween with spirited celebrations and haunted attractions. You can dive into spooky fun during Halloween with haunted houses and lively costume parties.
Overall, San Diego offers a thrilling blend of the eerie and the extraordinary, making it a must-visit destination for festival enthusiasts.
5. San Diego is prone to earthquakes
San Diego is situated in an area with some earthquake risk. The city is located near several fault lines, including the San Andreas Fault, known for producing significant earthquakes.
While San Diego has experienced more minor earthquakes in the past, it has not experienced any major destructive quakes in recent history. However, the region is prepared for seismic events, with strict building codes and emergency response plans in place to minimize potential damage and ensure public safety.
Ensure you familiarize yourself with earthquake safety measures and have an emergency kit ready, just in case.
6. Year-round sunshine
San Diego is renowned for its year-round sunshine. The city enjoys a Mediterranean climate characterized by mild, wet winters and warm, dry summers. With over 260 sunny days a year on average, you can count on ample sunshine.
This pleasant weather is one of the many reasons why San Diego is often referred to as "America's Finest City," making it a popular destination for outdoor activities and beach enthusiasts.
7. The city is prone to drought
San Diego has historically faced periodic drought conditions due to its semi-arid climate and dependence on limited water resources. The region's water supply relies heavily on imported water, making it susceptible to water shortages during dry spells.
To address this, the city has implemented various water conservation measures. These efforts help reduce the impact of droughts and ensure a more reliable water supply even during extended dry periods.
You should, however, be mindful of your water usage and follow local water restrictions when necessary.
8. An excellent public transportation system
The city offers a reliable and commendable public transportation system. This includes the San Diego Trolley, buses, commuter trains, and ride-sharing services like Uber and Lyft.
This network provides efficient connectivity throughout San Diego and neighboring regions, enhancing convenience for residents and visitors. Additionally, improvements in biking and walking infrastructure contribute to a well-rounded transportation landscape in "America's Finest City," and you'd find it easy to get around without a car here.
9. The crime rate is slightly lower than the national average
San Diego has a low crime rate compared to many other major cities. The property crime rate in this region is 31.4 per 1,000 people, which is less than the national average of 35.4, while the violent crime rate is 24.4 per 1,000 people, which is higher than the national average of 22.7 per 1,000 people.
Overall, the crime rate in this city is slightly lower than the national average. It is, therefore, important to take security precautions to ensure your safety while living here.
10. Live in Gaslamp Quarter or Pacific Beach
San Diego boasts a diverse range of neighborhoods, each with its own unique charm. From the lively Gaslamp Quarter to the beachside charm of Pacific Beach, the artistic vibrancy of Barrio Logan, and the family-friendly suburbs like Carmel Valley, there's something for everyone in this California city.
Whether you prefer coastal living in La Jolla or a vibrant urban scene downtown, you're sure to find the perfect fit.
11. Enjoy a great time out at Pacific Beach
Pacific Beach, or "PB," as it is often called by locals, is a vibrant beach in San Diego known for its youthful energy and lively boardwalk.
You can enjoy a great time here by participating in beach activities like swimming and sandhouse building. You can also dine on fresh seafood, relish stunning sunsets, and experience the vibrant nightlife.
Whether you're into active pursuits or laid-back relaxation, Pacific Beach has something for you to enjoy by the ocean.
12. Stop at California Burritos for a great Mexican meal
Make sure to stop at California Burrito in San Diego for a taste of authentic Mexican cuisine with a Californian twist. Their specialty in this restaurant, the California burrito, is a local favorite, featuring carne asada, fries, cheese, salsa, and more.
With an affordable menu, it's a popular choice for locals and visitors alike, offering a delicious and casual dining experience often available late into the night. Don't miss the chance to savor this San Diego culinary gem.
13. Visit the San Diego Zoo
The San Diego Zoo, located in Balboa Park, is a world-renowned attraction known for its vast and diverse collection of over 3,500 animals from more than 650 species.
Beyond showcasing wildlife, the zoo is a leader in conservation efforts, featuring interactive experiences, botanical gardens, and educational programs. This zoo is home to giant pandas and conducts vital research in animal sciences.
This family-friendly destination offers a unique blend of entertainment, education, and wildlife preservation in a beautiful park setting, and you don't want to miss that.
14. A great place for sports lovers
San Diego is a prime destination for sports lovers, offering many opportunities for enthusiasts. This city is home to several professional sports teams, including the San Diego Padres (baseball) and the San Diego Chargers (football).
From professional sports teams like the Padres to water sports along the coastline, golfing with ocean views, hiking and biking trails, marathons, college sports, and a vibrant fitness culture, San Diego provides year-round options for sports and outdoor activities, making it an ideal hub for you if you're passionate about sports and fitness.
15. It is home to the University of California, San Diego (UCSD)
San Diego is home to the prestigious University of California, San Diego (UCSD). UCSD is known for its academic excellence and research prowess, particularly in fields like science and engineering. The university's stunning coastal campus offers a beautiful and inspiring setting for students.
UCSD promotes diversity, innovation, and sustainability and actively engages with the local community. With its global impact and contributions to research and education, UCSD enhances San Diego's reputation as a hub for intellectual and cultural vibrancy.
If you are considering living in a city that gives you access to higher education, then San Diego is the place for you.
Finally
San Diego is a dynamic city filled with opportunities and experiences waiting to be discovered. While the cost of living may be high, the quality of life and the many amenities the city offers make it a fantastic place to call home. Just ensure you plan accordingly before making the move to San Diego, CA!