10 Things to Know Before Moving to High Point, NC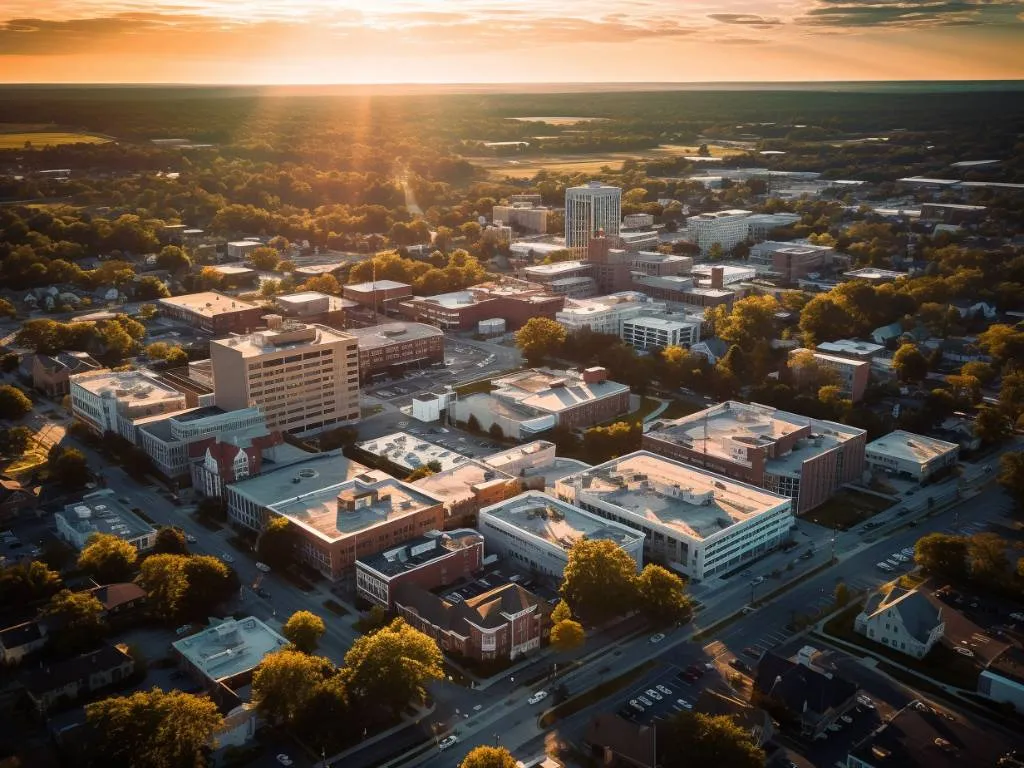 ---
High Point is located in Guilford County, with parts of the city extending into Davidson, Randolph, and Forsyth counties. This makes it the only city in North Carolina that is located in four different counties.
High Point is home to 115,347 people. From its thriving furniture industry to its vibrant community and quality education offerings, this city has a lot to offer.
Let's consider ten things to know before moving to High Point, NC!
1. The Furniture Capital of the World
High Point, known as the "Furniture Capital of the World," has a rich history deeply intertwined with the furniture industry. Its strategic location as a transportation hub, birth of the renowned High Point Market, and global impact in furniture manufacturing make it a global epicenter for furniture enthusiasts and industry professionals.
The city boasts a hub of expertise, exceptional shopping experiences, a strong sense of community and collaboration, and a commitment to sustainability and innovation, making it a must-visit destination for those passionate about furniture and design.
2. The cost of living is 19.5% lower than the national average
Compared to many major cities in the United States, the cost of living in High Point is relatively low. The city's cost of living is lower than the national average by 19.5%.
Groceries are less than the national average. A loaf of bread costs $2.77, and a carton of eggs costs $3.67. Healthcare costs are also less than the national average.
The median home price in this city is $230,221, which is higher than the national average of $416,000. Generally, High Point is an affordable place to live, and you'd be able to save more here if you're moving from a more expensive city.
3. High Point has 31 public schools
High Point offers a range of educational opportunities for residents of all ages. The Guilford County School District serves the area, and there are 31 highly rated public schools here.
Southwest Elementary School, Middle College at GTCC-High Point, and Kearns Academy are some of the public schools in High Point.
There are also several private schools in this city, leaving you with multiple school choices for your kids. For higher education, nearby Greensboro is home to several colleges and universities. Hence, living in High Point gives you access to quality education.
4. The furniture manufacturing, sales, and marketing industries are the major employers
Being a hub for furniture manufacturing, design, sales, and distribution, High Point's furniture industry is a major thriving industry, and it offers a wide range of employment opportunities.
If you're seeking job opportunities in this city, you can find opportunities in manufacturing, design and innovation, sales and marketing, logistics and distribution, retail, support services, and education and training. This industry provides stable employment and career growth prospects, making it a vital part of High Point's economy and identity.
Whether you're a craftsman, designer, salesperson, or logistician, High Point's furniture industry has a place for your skills and passion. Some of the top employers here include Heritage Home Group, Culp, and Marsh Furniture.
5. Strong sense of community
High Point embodies a strong sense of community that defines the city's character. This community spirit is evident through neighborly interactions, a vibrant calendar of festivals and events, active community engagement, support for local businesses, a commitment to education, green spaces for recreation, and a tradition of philanthropy.
Residents of High Point come together to celebrate their city's heritage, shape its future, and support one another, creating a welcoming and fulfilling place to call home. This sense of community is the heartbeat of High Point, fostering lasting connections and a sense of belonging among its residents. You'll enjoy calling this place home.
6. Experience all four seasons
In this city, you get to experience a humid subtropical climate with four distinct seasons. The summers are hot and humid, with frequent highs in the 80s and 90s Fahrenheit. Temperatures throughout the winter months often range between 40 and 50 degrees Fahrenheit. Spring and fall bring pleasant, comfortable weather, making them popular seasons for outdoor activities.
The city receives a moderate amount of rainfall throughout the year, with occasional snowfall in the winter months. Overall, High Point enjoys a diverse climate that showcases the changing seasons.
7. Most of High Point's residents own a vehicle
In High Point, personal vehicles, such as cars and trucks, take center stage as the primary mode of transportation. This preference is due to factors like the city's accessible road network, limited public transit options, suburban layout, weather considerations, cultural norms, and the convenience and flexibility that cars offer.
While efforts to promote alternative transportation exist, the reliance on personal vehicles remains a dominant trend in High Point. Carefully consider this before relocating to this city.
8. Relax at High Point City Lake Park
High Point boasts a variety of parks and recreational facilities. High Point City Lake Park is a great place to relax by engaging in diverse outdoor activities.
High Point City Lake Park covers 340 acres and is centered around an 80-acre lake. It offers a wide range of recreational activities, from hiking and fishing to picnics and playgrounds. However, it's not just about physical activities; the park provides a peaceful retreat for those seeking tranquility. It also hosts community events and festivals that bring people together, fostering a strong sense of community.
Also, High Point City Lake Park is conveniently accessible. It is the ideal destination for you if you're looking to escape the noise of daily life and connect with nature and fellow parkgoers in this city.
9. Access excellent healthcare facilities at High Point Regional Health System
Access to quality healthcare is essential, and High Point has several medical centers and hospitals to cater to residents' needs.
High Point Regional Health System, now part of Wake Forest Baptist Health, provides a comprehensive range of healthcare services, including emergency care, surgical procedures, maternity and women's health services, cardiovascular care, cancer care, diagnostic imaging, rehabilitation, pediatric care, mental health services, and access to primary care and specialty clinics.
Their offerings are designed to meet a wide range of medical needs in the community. The city is also part of the broader Triad region, which offers an extensive network of healthcare providers. Hence, you can rest assured that your health needs will be met while living here.
10. Don't miss the High Point Market
The High Point Market is a renowned trade show in this city and one of the largest in the world for the furniture and home furnishings industry.
Held biannually in the spring and fall, this event brings together industry professionals, designers, retailers, and manufacturers to showcase and explore the latest trends, designs, and innovations in the furniture and home decor market.
With numerous exhibitors and showrooms, it's a hub for networking, business deals, and gaining insights into the future of interior design and furnishings. The High Point Market is a must-visit for everyone, whether you're in the furniture and home decor industry or you're just seeking home improvement ideas and industry connections.
In Conclusion
Moving to High Point, NC, can be an enriching experience if you're prepared for what the city has to offer. From its furniture industry heritage to its affordable living costs and vibrant community, there's a lot to love about this city.
Ensure to consider all important aspects of living here before making the move to High Point, NC!