10 Things You Need to Know Before Moving to Hartford, CT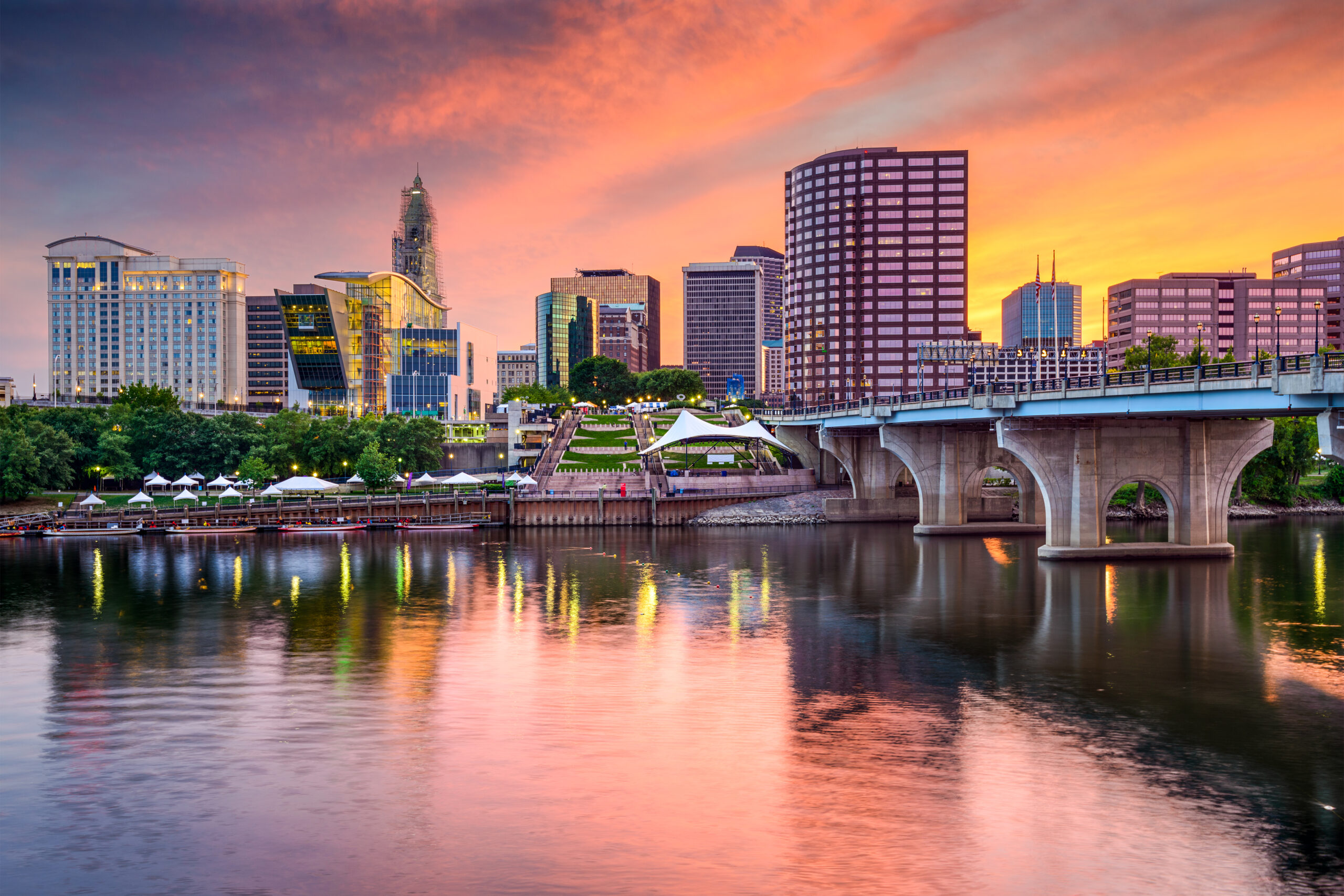 ---
Thinking of making Hartford your new home? The state capital of Connecticut is home to a thriving economy, excellent educational institutions, a low cost of living, and a wide variety of exciting attractions.
Hartford is a dense urban environment where people often live and work close to one another, and the pace of life can be quick. There are plenty of exciting dining and drinking options around the city.
Here are 10 things you should know before moving to Hartford, CT!
MAF Widget
1. An affordable cost of living
While Connecticut is known for its high cost of living, Hartford is actually quite affordable. With a typical home price of $157,860 and a median monthly rent of $914, Hartford has a cost of living that is 13% cheaper than the state average and 11% lower than the national average, respectively. So, if you're looking for a fantastic, low-cost city to call home in New England, consider Hartford.
2. An excellent public transportation system
People living in Hartford have a wide variety of public transportation alternatives to choose from. The CT Transit Bus System will get you where you need to go, and the Hartford dash Shuttle will bring you around Downtown Hartford for free on weekdays and at important events. Make use of CTfastrak, the first rapid bus transportation system in Connecticut, to get to and from Hartford on bus-only roads.
The New Haven, Hartford, and Springfield Rail Program (NHHS) provides a means of transportation between New Haven and communities in Connecticut and Massachusetts. You can also ditch the car and take the train from the Hartford Amtrak Station or the CTrail System to get to New York City or Boston.
3. A thriving economy and job market
Hartford is the place to be if you are pursuing a job in the insurance sector. Hartford, often referred to as "the Insurance Capital of the World," is home to more insurance industry workers than any other city in the United States. These offices and headquarters belong to some of the biggest names in the insurance industry, including Aetna, The Hartford, Travelers, United Healthcare, Lincoln Financial Group, and Cigna.
The area certainly offers more job opportunities than only those in the insurance industry. Hartford Hospital, Saint Francis Hospital, and Connecticut Children's Hospital are just a few of the hospitals in the state where you might work in the medical field. Or, if you're looking for a career in finance, there are companies like Conning or Prudential Financial.
4. Sports are a big deal
Are you interested in sports? The city of Hartford is a great place to support your local sports teams. Visit Dunkin' Donuts Park and cheer on the Hartford Yard Goats as a family. Visit XL Center to catch a Hartford Wolf Pack (AHL) game and see the puck whizz around the ice.
Dillon Stadium is home to the professional soccer team Hartford Athletic (USL), in Connecticut. Do you enjoy college sports more? The Hartford Hawks provide a wide variety of sports, from football and basketball to lacrosse and rowing.
5. An amazing performing arts scene
Fascinated by the stage? If so, you should move to Hartford. Visit Hartford Stage to see a play that has won a Tony Award or the world premiere of a new play. The Hartford Opera Theater is home to the Hartford Opera, a professional opera company. The Bushnell Center is where you can find tickets to the symphony, concerts, and hit musicals like Mean Girls and Hamilton.
Come to the Playhouse on Park for a comedy show or a class in acting. Donate to Theaterworks Hartford, a community theater that puts on free performances. Or, check out a concert by a major artist like the Backstreet Boys, Alanis Morissette, Meghan Trainor, or Tim McGraw at Xfinity Theatre's indoor or outdoor amphitheater!
6. Excellent opportunities for higher education
Considering applying to a university in the state of Connecticut? The city of Hartford is filled with excellent educational institutions. Both the University of Connecticut-Hartford Campus and the University of Hartford provide a wide variety of undergraduate degree options, with the former featuring more than 97 majors ranging from art history to civil engineering and the latter from English to business administration. Do you want to learn more about the law? One of the largest law school libraries in the world can be found at the University of Connecticut.
You can also enroll in courses in biology, computer science, and philosophy at Trinity College, Hartford's oldest liberal arts institution. You could also attend Capital Community College and get your associate's degree or health science certificate. Hartford is a great place to pursue higher education because there are courses available in nearly every field.
7. Enjoy the fun nighttime has to offer
When it comes to nightlife, Hartford has you covered, whether you're in the mood for a tasty cocktail or a lively weekend hangout. Visit The Russian Lady to shoot some pool and sample one of their one hundred types of vodka. Step into Irish pub Half Door for a Guinness and some live music, karaoke, or quiz night.
Enjoy dinner and a drag show at the LGBTQ+-welcoming Chez Est. Come to Casona and learn Salsa while sipping a margarita or glass of wine. Indulge in a night of great jazz at Arch Street Tavern. Are you in search of Hartford breweries? Head over to Hog River Brewing and sample some of the finest craft beer in the area.
8. Bask in the many beautiful parks
Hartford has a rich history, including the oldest continuously published newspaper in the United States (The Hartford Courant), thanks to Connecticut's place among the original 13 colonies.
Have you thought about visiting some of the local museums and monuments? The Harriet Beecher Stowe Center houses the original dining room table upon which Stowe wrote the famous Uncle Tom's Cabin. Take a tour of the childhood home of Noah Webster, the first dictionary's founder, and a prominent abolitionist.
Come see the place where Mark Twain and his wife made their home in the New England area at their historic home, Mark Twain's House. You can also explore tombstones from the 1600s by strolling through The Ancient Burying Grounds.
MAF Widget
9. A vibrant food scene
In Hartford, you can choose from a wide variety of excellent eateries. Stop by Story & Soil Coffee for a Spanish Latte and a Lox Sandwich to kick off your day. Stop by The Place 2 Be for some Cinnamon Apple Pancakes, a Bacon Cheddar Burger, and a Chocolate Cannoli Shake. Clam chowder, shrimp po'boys, and Alaskan king crab legs are just a few of the seafood dishes available at Chowder Pot.
Eat your fill of New York Strip and Prime Rib at Max Downtown and take advantage of the Whiskey Bar's happy hour specials. The Blind Pig Pizza Co. offers a variety of specialty pizzas, including the Marg, the Mac Attack, and the Smoked Wing. Black-Eyed Sally's also serves traditional southern fare, including fried okra and pickle chips, brisket and grits, and low-country shrimp and grits.
10. Hartford has a haunted house
Old State House is a great place to visit if you're interested in ghosts. Its reputation as a haunted house stems from the reports of people who have seen or heard ghostly apparitions or other supernatural events inside.
The Old State House was the focus of an episode of the SyFy show "Ghost Hunters" back in 2009. Strange noises were apparently recorded inside the building. No one was there when the microphones in the Senate Room picked up what sounded like a doorknob being opened, and the Steward Museum room recorded what could only be a woman sighing. Quite spooky, you'd agree.
Final Thoughts
Hartford is an amazing place to live, and for good reason. You get to save money because of the city's affordable cost of living, you don't have to worry about idleness because job opportunities are in abundance, and there are enough higher education institutions for you or your kids. Head over to this city so you can enjoy all of the great things it has to offer!