10 Pros and Cons of Living in Grapevine, TX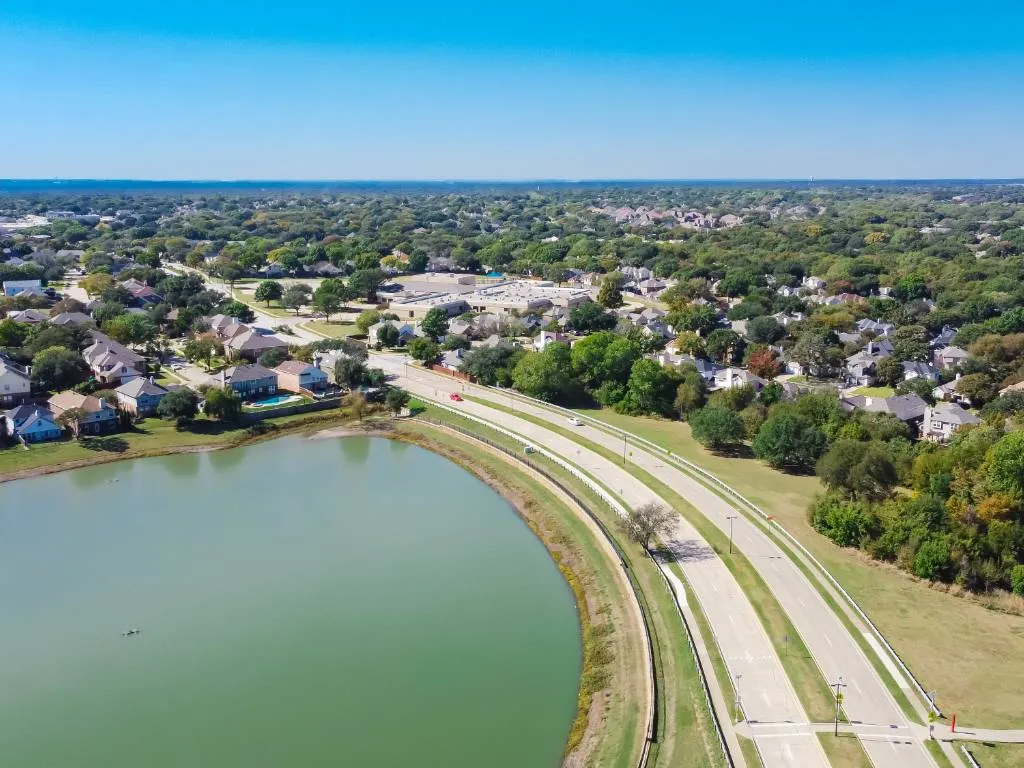 ---
Named after the wild grapes that once flourished there, the city of Grapevine is now a wealthy Dallas suburb located in Tarrant County between Dallas and Fort Worth. One of the best things about life in Grapevine is its proximity to Grapevine Lake, a massive reservoir with a gorgeous shoreline.
Grapevine has earned the nickname "Christmas capital of America" thanks to its many Christmas-themed activities and plenty of wineries and vineyards.
What are the benefits and drawbacks of living in this city? Here are ten pros and cons of living in Grapevine, TX!
Pros of Living in Grapevine
1. Enjoy 236 sunny days in a year
The weather in Grapevine is humid subtropical. Occasionally it will rain, although it seldom snows, and the summers can get rather warm. Temperatures range from a chilly 35 degrees Fahrenheit in the winter to a scorching 95 degrees Fahrenheit in the summer. The annual rainfall in Grapevine is precisely the same as the national average of 38 inches. Only about a single inch of snow falls each year in Grapevine.
It's the perfect place to enjoy the summertime, with 236 sunny days in a year.
2. Eat at Esparza's Mexican Cuisine or Pappadeaux Seafood Kitchen
In addition to its many attractions, Grapevine also features various delicious restaurants.
Experience exquisite Tex-Mex cuisine at Esparza's Mexican Cuisine in a charming Victorian setting. Don't miss the excellent margaritas and sports bar while you're there, either.
Even though Grapevine is located quite far to the interior, seafood lovers need not fret; Pappadeaux Seafood Kitchen serves you sumptuous and delectable seafood meals in the classic Cajun way.
True Americana can be found at Tolbert's Restaurant. Indulge in delicious steaks, chile, and other traditional foods of the American Southwest.
3. Work in the professional or tourism sector
Grapevine is a little city but packs a big economic punch thanks to its location at the intersection of major highways, the presence of the Dallas-Fort Worth International Airport, and the presence of significant tourism and travel companies. Payscale reports that "Project Manager," "Operations Manager," and "Financial Analyst" are the three most sought-after professions.
Grapevine is home to several well-known businesses, including Cotton Patch Cafe, Toll Brothers, Inc., and GameStop Corp. In Grapevine, Texas, the median annual pay is $68,000, and the median hourly wage is $17.52.
4. The city is served by two school districts
The Grapevine-Colleyville Independent School District (GCISD) serves most of the city of Grapevine. There are 11 elementary schools, 4 middle schools, and 2 high schools supported by the district. The Grapevine area's northwest is included in the Carroll Independent School District. Both of these school systems are top-notch, and many families relocate specifically to take advantage of them.
The Grapevine Public Library is open to everyone in the community, not only students.
5. Live in one of the luxurious neighborhoods
Restoration of historic buildings from the 19th and early 20th centuries has made Grapevine famous. However, the city also features several new developments with modern houses and neighborhoods.
Prices in Walker Farms range from $650,000 to $850,000, making it one of Grapevine's most expensive neighborhoods, along with High Point Farm Estates. The homes here are spacious and modern, so they're in excellent condition.
High Point Farm Estates is one of the most expensive areas in Grapevine, with median home costs of $600,000 and median property values of $750,000. This is a great place to raise a family, as it is close to some of the best schools in the area and has spacious, beautiful homes. High Point Farm Estates is unquestionably a good investment if you can afford it.
Lakeview Estates is located in the middle of the Grapevine real estate market, with median home values ranging from $350,000 to $500,000 for the neighborhood's many homes built between 2003 and 2005. Lakeview Estates is a popular area in Grapevine because it is in a desirable school district, has reasonably priced homes, and offers a wide range of home sizes.
6. Visit Sea Life Grapevine Aquarium or LEGOLAND Discovery Center
In Grapevine, there are a ton of places to have fun with the family. On weekends or holidays, hop in the car and go see all the city has to offer!
It's hard to find someone who doesn't like LEGOs. The LEGOLAND Discovery Center has stores selling toys, exhibits, rides, and 4D films that are sure to be a favorite with the kids.
The Great Wolf Lodge Water Park in Grapevine is an incredible destination since it combines the best of a resort with an amusement park. The water park alone is almost 80,000 square feet in size, and there are also many dry attractions to enjoy! The setting is ideal for a relaxing weekend getaway.
The Grapevine area is home to a fantastic aquarium called Sea Life Grapevine Aquarium. One of the exhibitions even has a walking tunnel underneath one of the pools, which is guaranteed to astound visitors of all ages.
7. The property and crime rate is lower than the national average
When compared to other major U.S. cities, Grapevine is near the top in terms of safety. When compared to the national average of 22.7, Grapevine's violent crime rate, at 13.5, is significantly lower.
Grapevine also has a slightly lower property crime rate than the rest of the country, at 35, compared to 35.4 nationally. Both violent and property crime figures indicate that Grapevine is a relatively safe place to live.
Cons of Living in Grapevine
1. A higher-than-average cost of living
The low cost of living in Texas is a major draw for newcomers, but Grapevine is an exception. Due to the community's wealth, many of the costs associated with daily life will be higher than usual. Grapevine has a higher cost of living index than the rest of the country by 17%. Grapevine has a median house price of $527,000. RentCafe reports that the median monthly cost of a Grapevine apartment is $1,785.
A family of four requires an annual salary of $78,434 to maintain their current standard of living, as reported by the Economic Policy Institute.
2. It doesn't have a lot of nightlife options
Grapevine isn't the place to be if you want to party all night long. The town's population is just over 26,000, making it only ideal for individuals who wish to get away from the rush of the big city.
Don't plan on staying out late because there aren't many places to eat and drink at night. But if you're looking for a location to calm down and appreciate life, Grapevine is the perfect destination.
3. Inadequate public transportation system
There is a DART bus system in Grapevine; however, it only operates during the work week. There is also the DART rail system, which exclusively serves Dallas and Fort Worth. Grapevine's lack of public transportation means that getting about necessitates a car or a ride-sharing service like Uber or Lyft. For locals without ready access to a personal vehicle or a consistent budget for ride-sharing, this can be a major source of frustration.
However, the city is improving its public transit choices, which is great news. They are currently working on the blueprints for a new light rail route that will run from Grapevine to DFW Airport and the rest of the Metroplex. This would be incredibly helpful for locals and tourists alike, as it would significantly improve travel across Grapevine and contribute to the economic growth of the city.
Final Thoughts
There are numerous reasons why Grapevine, Texas, is a fantastic place to call home. The economy is booming, crime rates are low, and the schools are excellent. However, there are a few drawbacks to life in Grapevine. It is expensive to live there, there is not much to do at night, and public transit is scarce.
Learn More About Living in Grapevine, TX