10 Pros and Cons of Living in Gig Harbor, WA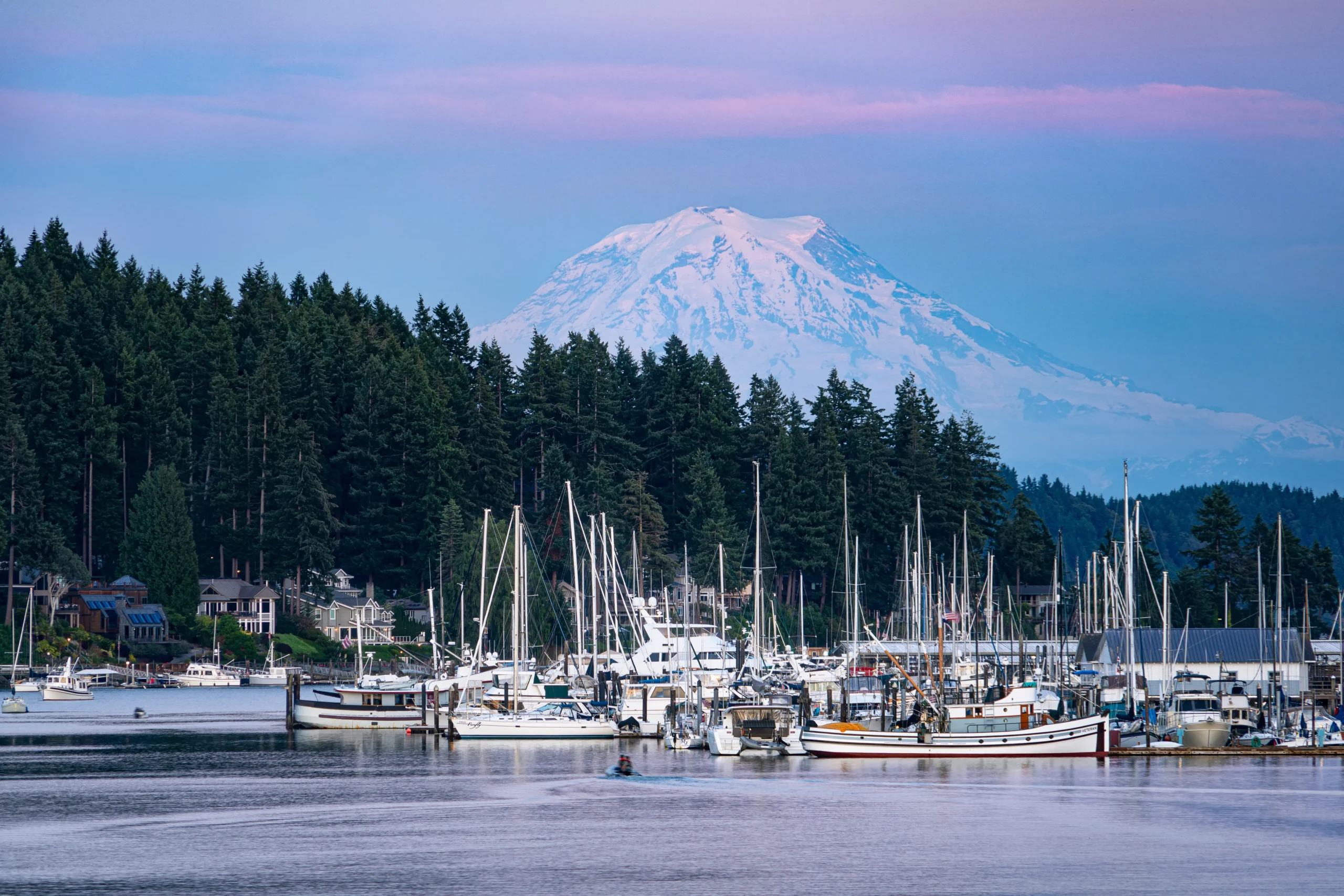 ---
Is the Washingtonian way of life appealing, but you're not keen on the hustle and bustle of nearby Seattle or Bellevue? Gig Harbor could be the perfect destination for you if that's the case. This small city on the Sound side has a population of just over 10,000 people. It is known for its stunning surroundings, captivating appeal, and wide variety of artistic styles and gourmet cuisine.
The atmosphere of Gig Harbor residents is unmistakably coastal. The people who live here have breathtaking views of Mount Rainier and the Olympic Mountains and are surrounded by water and the environment. Gig Harbor is rapidly expanding, despite its humble beginnings as a fishing hamlet.
Some of the most beautiful houses in Pierce County can be found in Gig Harbor, where you can choose from exquisite homes in planned communities, homes on acreage, and luxury view residences with saltwater access. Coastal Life and other publications have recognized the region for its high quality of life.
Here are ten pros and cons of living in Gig Harbor!
Pros of Living in Gig Harbor
1. The city is surrounded by beautiful forests
If you're a fan of Washington's gorgeous pine forests, you'll be pleased to know that Gig Harbor is home to some of the state's finest trees.
Modern housing, retail, and office spaces may be present in Gig Harbor, but they can't compete with the area's abundant native vegetation. The area is still home to a plethora of verdant vegetation, including those sturdy, towering pines.
Hiking trails, parks, and natural preserves abound, so you'll never be at a loss for places to spend time in nature. If you're looking for hiking options within a half-hour drive of Gig Harbor, check out these spots: Kopachuck State Park Nature Loop, Cliffside Nature Preserve and Trails, McCormick Forest Park Loop, and Cushman Trail.
2. Participate in events like the Easter Egg Hunt, Halloween Fest, or Christmas Tree Lightning
Easter Egg Hunts, Summer Cider Swigs, Halloween Festivals, Christmas Tree Lightings, and Menorah Lightings are just some of the many holiday celebrations that keep Gig Harbor residents and visitors busy.
The Outdoor Summer Concert Series is only one of many summertime events in Gig Harbor, including farmer's markets and other outdoor performances. In addition, Gig Harbor has many exciting and intriguing events every year, including the Dragon Boat Race, Christmas Boat Parade, and Lighted Car Parade.
3. Enjoy easy access to the shores
If you're drawn to the coasts and waterways of the Pacific Northwest, you'll be happy to know that Gig Harbor offers lots of opportunities to get soaked.
Similarly to Seattle, Gig Harbor is not on the coast. The actual 'harbor' of Gig Harbor, however, is a connection to Puget Sound. The water, docks, and numerous arriving and departing boats are all easily visible from everywhere in the downtown area.
Photographers from all over the South Sound get together to take images of the stunning scenery, including the gorgeous sunsets, the little rivers, and the majestic residences that line the coastlines.
The waterfront is accessible from more than just downtown Gig Harbor. If you're looking for someplace to soak up the sun and relax, there are several great public beaches in the area, including Kopachuck State Park, Sunrise Beach Park, Bella Bella Beach, and Narrows Park. Gig Harbor is a haven for watersports enthusiasts thanks to its various beaches and calm waters.
4. Tacoma and Seattle are a short drive away
Gig Harbor is conveniently near Seattle and Tacoma, as well as the quaint towns of Poulsbo and Bainbridge Island.
Olympic National Park on the Olympic Peninsula, the historic Victorian Seaport Village of Port Townsend, numerous coastal settlements, and beautiful Mount Rainier are just a few of the many options for day trips to appreciate the natural beauty of the Pacific Northwest.
In less than an hour, you can travel from Gig Harbor to Seattle-Tacoma International Airport. If you're looking to expand your horizons, Gig Harbor is a great place to start.
5. Enjoy a nice drink at Seas Brewing, The Hub, or Morso
Gig Harbor is no exception to the widespread proliferation of craft brewers. There is a Heritage Distilling Company tasting room in the heart of the city, and their handcrafted spirits have won numerous accolades. If you're in the mood for a refreshing pint, Gig Harbor is home to three excellent breweries: 7-Seas Brewing, The Hub, and Wet Coast Brewing Company.
The city is home to several wine bars like Morso for those who prefer vino, as well as wineries like Ollala Vineyard and Winery and Trillium Creek Winery for those who want to drink their vino straight from the source. They're both conveniently located close to Gig Harbor.
6. The locals are friendly and there's a deep sense of community
The people who live in Gig Harbor are some of the nicest you'll ever meet. It's not uncommon for strangers to talk to you at the supermarket or for neighbors to bring you cookies and introduce themselves when you relocate here from the Seattle Freeze culture of the north. The locals are warm and welcoming, and the sense of community is strong.
The baristas, waitstaff, business owners, and neighbors here all know the regulars. There are many possibilities to get out and meet new people thanks to the abundance of churches, fitness centers, mom groups, and gardening clubs in the area.
7. There's little or no traffic
Coming from a larger city like Bellevue, Seattle, or Los Angeles, you will be pleasantly amazed at how quickly you can get from one end of the Harbor to the other.
It will take you much less time to get around Gig Harbor than it would to do the same in Seattle, where a trip of only three miles might take as long as forty minutes due to heavy traffic and the twenty minutes it takes to find a parking spot.
8. Satisfy your taste buds at Tides Tavern or Brix
It's easy to satisfy any craving in Gig Harbor, as the city is home to various dining options. You can't get much closer to the water than at Tides Tavern, which is located on the Gig Harbor docks and serves excellent fish and chips. Brix, Anthony's, Morso, and Green House are some of the best fine dining options in the area.
If you drive for just 15 minutes to Tacoma, you'll find even more options for satisfying your hunger pangs in restaurants serving various cuisines. Foodies will have a blast sampling South Sound's diverse cuisine.
Cons of Living in Gig Harbor
1. There's little or no access to nightlife
Businesses in Gig Harbor close early, so if you're searching for lively nightlife, this isn't the best place to be. But with easy access to Seattle and Tacoma, evening entertainment is never far away. If you want to go out at night, you'll just have to make more effort to get across the bridge.
Yet, for Gig Harbor's retired and family-oriented population, this is perfect.
2. The cost of living is higher than the national average
Living expenses in Gig Harbor are much higher than the national average, with a cost of living index of 141.8.
These numbers are based mainly on the price of housing rather than food, healthcare, or transportation. The city's median home price is $733,209. There is a slight increase in transportation costs, but it is manageable.
The median family earns $74,159 annually, while the median annual income for individuals is $43,349.
In Conclusion
Living in Gig Harbor has a lot of great things to offer, some of which include easy access to beaches and forests, proximity to major cities, absence of traffic, and excellent wining and dining opportunities.
However, one should equally consider the cons, such as the lack of nightlife and the high cost of living.