10 Pros and Cons of Living in Folsom, CA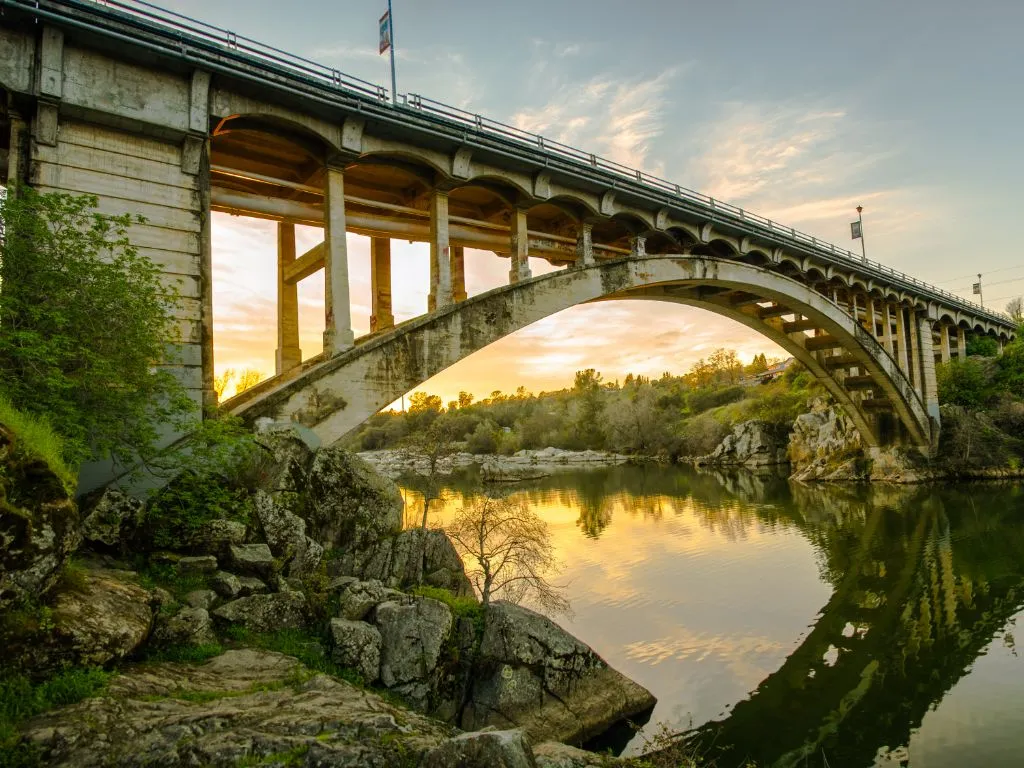 ---
Folsom is an unincorporated community in Sacramento County, California, 24 miles northeast of Sacramento. It is best known as the home of Folsom Prison and the inspiration for Johnny Cash's classic song "Folsom Prison Blues."
George W. Folsom, who started farming there in 1856, inspired the town's name. Folsom enjoys breathtaking views all year thanks to its location on the banks of the American River and its picturesque surroundings.
The city's motto, "Distinctive by Nature," is well-deserved, as this affluent town on Folsom Lake and the Sacramento River is home to stunning bridges, breathtaking natural beauty, the nation's last 12-inch gauge railway, and the historic Sutter Street. In addition to being one of the most secure places to raise a family, there is always something interesting to do here.
Let's check out ten pros and cons of living in Folsom, CA!
MAF Widget
Pros of Living in Folsom
1. Enjoy mild year-round weather
Folsom is a wonderful spot to call home if you enjoy year-round temperate temperatures. Warm summers and mild, rainy winters characterize the city's Mediterranean climate. Over 270 days of the year are bright and sunny, and winter temperatures rarely drop below freezing. As a result, this area is ideal for those who like to spend time outdoors and take in the beauty of California.
The city sits on a hilly landscape because of its proximity to the Sierra Nevada mountains. Because of its relatively high altitude (almost 500 feet above sea level), the weather is often temperate and considerably cooler than in the rest of the state, and the breezes that result offer a welcome feeling of bliss.
2. Shop at Folsom Premium Outlets
Folsom is a fantastic place for shopping lovers. In addition to the Folsom Premium Outlets, the city is home to several more fantastic shopping destinations. It's a favorite among both locals and visitors for its affordable designer labels.
Folsom also has many smaller shops and boutiques for people who desire a more personal shopping experience. Everything from vintage clothing to one-of-a-kind antiques can be found here. There are also many farmer's markets in the city where you can get fresh, locally grown food.
3. Get a job at Intel or Oracle
Folsom is home to several major corporations like Intel, Oracle, and VSP Global, which contribute to the city's booming economy. The city boasts a thriving small business community in addition to the large corporations that help sustain it.
California State University Sacramento and Sacramento City College are only two of the many colleges and universities in the city. Because of this, college-bound kids are increasingly drawn to the Folsom area.
4. Visit Folsom Lake with the family
Folsom has a unique blend of urban living and natural beauty that is often overlooked. If you move here, you'll quickly discover the abundance of parks the city has to offer. In addition, there is a huge lake that attracts a lot of visitors. Located on the American River, this is Folsom Lake, a reservoir.
You can take your family on a trail ride around the lake, go horseback riding, or cool off with some water sports at the recreation area.
5. Folsom is a safe place to live in
This is one of the best cities in California to settle down in if you value your safety. Property crime and violent crime are uncommon in this area, making it one of the safest in the country. No resident of Folsom has ever reported feeling threatened while out and about. The cops are quick to respond to any situation and provide assistance.
Folsom's overall crime rate is 34% lower than the U.S. average. In contrast to other cities in the state, this one has very little gang activity.
6. The city is close to Sacramento
It would take around 30 minutes to drive between Folsom and Sacramento, which is roughly 23 miles away, if there were no traffic.
From Folsom to Sacramento, you can take the train for only $2, and it will take you 47 minutes to get there through the fastest route. Head over to this city when it gets boring in Folsom.
MAF Widget
Cons of Living in Folsom
1. The cost of living is 48% higher than the national average
Living in Folsom won't come cheap. There is a substantial rise in housing costs compared to the rest of the country. This might make it tough for people living paycheck to paycheck.
The city's cost of living index is 148, which is 48% higher than the national average. The median home price is a whopping $735,106, much higher than the national average.
2. The air quality is not the best
In Folsom, air quality is quite poor. The pollution is more concentrated here because of the local climate.
This is typical of most of the Golden State and is something you can expect to see in Folsom. If you have asthma or another breathing problem, living there may be challenging.
3. Hay fever is a problem here
There are more cases of hay fever in Folsom. The urban and the rural coexist together here. However, spring arrives with full force, which can aggravate allergy symptoms for those who already suffer from them.
If you're quite susceptible to hay fever, the pollen in the air may have a negative effect on your health.
4. Folsom State Prison might make newcomers feel uncomfortable
This city is home to Folsom State Prison. The background of this place lends it a certain degree of notoriety. Inmates have turned against guards and there has been a history of gang violence in this facility. But not to worry, there is no cause for alarm! There is no way a prisoner could ever escape from this facility.
Although Folsom is a very secure community, the presence of the prison may put some newcomers on edge.
Conclusion
Folsom has a lot to offer its residents, such as its thriving economy, pleasant weather, shopping opportunities and lots more. However, keep in mind that living in this city is quite expensive, and it's not the best place for people with allergies. 
Learn More About Living in Folsom, CA