10 Things to Know Before Moving to Essex, CT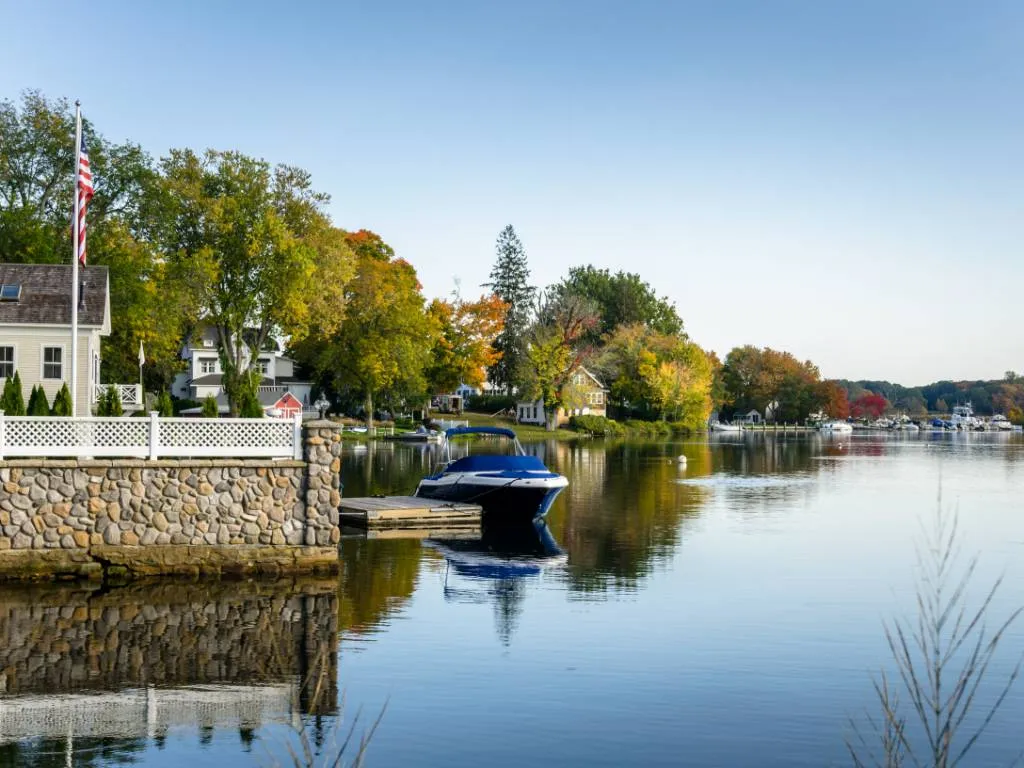 ---
"The Perfect Small American Town" and one of the country's top 100 small towns, Essex, Connecticut, has earned a reputation as a desirable place to live. Even though it only has a population of around 6,600 people, Essex is packed with amazing landmarks and exciting opportunities for recreation.
If your goal is to move to Middlesex County, think about making this classic tiny town called Essex your new home because of the fantastic quality of life it offers.
Here are ten things to know before moving to Essex, CT!
1. There are three villages in Essex
Each of the three communities that make up the town of Essex—Essex Village, Centerbrook, and Ivoryton—has its distinct downtown area and historical background.
Because of its proximity to the Connecticut River, Essex Village was formerly a major center for shipbuilding. The harbor remained the center of the town even as new homes were built after the Civil War. Several significant neighborhoods and the town hall can be found in Essex Village today. Even now, the port is a popular place for folks to spend time at leisure.
Originally an agricultural hub, by the middle of the 1700s, Centerbrook had become the de facto town center. Some of the historic farmhouses here were erected by famous citizens and have survived to the present day. Centerbrook is now the economic center of Essex, with numerous companies calling it home. In addition to its central station for the Essex Steam Train, it also features two churches.
Located in western Essex, Ivoryton is a well-preserved company town that played a significant role in the ivory trade in the 1800s. The Ivoryton Historic District features numerous surviving structures from this period and is listed on the National Register of Historic Places. While the modern town of Ivoryton is primarily residential, it is home to the renowned Ivoryton Playhouse.
2. There are very few educational options within town
Essex, like Deep River and Chester, is too tiny to support its own school system, so all three communities are part of Regional School System #4. Centerbrook is home to Essex Elementary School, the only public school in town.
When students enter seventh grade, they have to move to John Winthrop Middle School in Deep River, which is located 3.4 miles away. They will then attend Valley Regional High School, less than two miles from Ivoryton, for grades nine through twelve.
Putting your children through school in Essex won't leave you with many options, but at least you can count on good quality and manageable class sizes.
3. Get around using Amtrak or the Shore Line East commuter rail
The public transportation system in Essex makes getting around a breeze. All three of Essex's hamlets, as well as nearby Old Saybrook, Middletown, and Chester, can use public transportation thanks to the 9 Town Transit Service.
You can continue your trip from Old Saybrook with Amtrak or the Shore Line East commuter rail. Commuter trains connect Essex to major employment hubs such as West Haven, Bridgeport, and Stamford, allowing residents to avoid the hassle of daily car commutes.
4. Attend the Groundhog Day Parade or the Burning of the Ships Day Parade
Every year, from Essex Boatworks to the peak of Main Street, Essex Ed, a gigantic papier-mâché groundhog, is driven in the annual Groundhog Day Parade. People line the streets to "wake" the groundhog as it travels through town.
Locals also hold a parade every year on April 2nd, Burning of the Ships Day, to remember the day in 1814 when the British invaded Essex and sank every ship in the harbor. A drum corps and people dressed in period garb will march down Main Street as part of the parade.
The annual Shad Bake is held on the shore in Essex Village and features a beer garden, live music, and, of course, shad cookery. Guests will enjoy traditional preparations of shad, a highly sought-after fish, during the Colonial era.
5. Explore Canfield Woods or Falls River Park
There are many trails to explore in Canfield Woods, and you could launch a boat onto Mill Pond from Falls River Park. Safe Harbor Dauntless Shipyard, Safe Harbor Essex Island, and the Essex Yacht Club are all good places to keep larger ships while they're not in use.
These marina locations are highly sought after due to the Connecticut River's proximity to Long Island Sound.
6. Visit prominent landmarks like the Connecticut River Museum, The Steamboat Dock Site, or The Essex Freight Station
The Ivoryton Playhouse, the Connecticut River Museum, and the Essex Art Association Gallery are just a few of the cultural institutions that call Essex home.
The Essex Savings Bank, one of the country's oldest banks, was first founded in 1851 and is only one of several historic structures in the county.
The Steamboat Dock Site, the Essex Freight Station, the Benjamin Bushnell Farm, the Pratt House, and Hill's Academy are among significant landmarks.
7. The city might get boring for young people
At the age of 22, you probably won't enjoy living in Essex. It's a nice place to live, but there aren't many people that age living here alone. Very few people live here, and there's not much of a party scene. Families and retirees make up the bulk of the town's population, with younger families preferring nearby Ivoryton.
However, volunteering is a great way to meet people and build relationships. The library, garden club, English Language Teaching, and Audubon all rely heavily on volunteers. There's hardly a single person who isn't helping out in some capacity.
8. It snows a lot in the city
It's a humid continental climate, so summers in Essex are hot, and winters are frigid. Essex has hot and humid summers, with average highs in the mid-80s Fahrenheit, and cold, snowy winters, with lows in the single digits.
Annual precipitation averages 45 inches, with the majority of rainfall falling in the spring and fall. There is a lot of snow in the winter, usually around 54 inches. Despite all this rain, coastal locations in Connecticut generally get more sunshine than inland ones, and Essex is no exception.
9. The cost of living is 23% higher than the national average
With an index of 123, living costs in Essex are 23% higher than the national average. A single adult in Essex Village can expect to spend $41,573 a year on basic necessities, including housing, food, child care, transportation, health care, taxes, and entertainment.
In addition, the city's median home price is $542,291. This indicates that Essex is not a cheap place to live, and it's best to be prepared for that.
10. Job opportunities are limited
Essex is a small town, so it is not surprising that job opportunities are limited. The small city's economy is mostly driven by the retail and hospitality industry, as there are a lot of historic landmarks that people from all over the world come to visit.
Projected job growth over the next decade is 20%, which is much lower than the national average of 30.54%. It's important to consider the available job openings before moving to this city.
In Summary
Despite its modest size, Essex is packed with exciting opportunities. If you're looking for even more things to do, you can always travel to one of the nearby cities or towns. Additionally, Essex is peaceful, located near the water, and has an excellent shared public school system.
However, the city has a high cost of living, winters can be chilly, and job opportunities are limited.