15 Things to Know Before Moving to Duluth, MN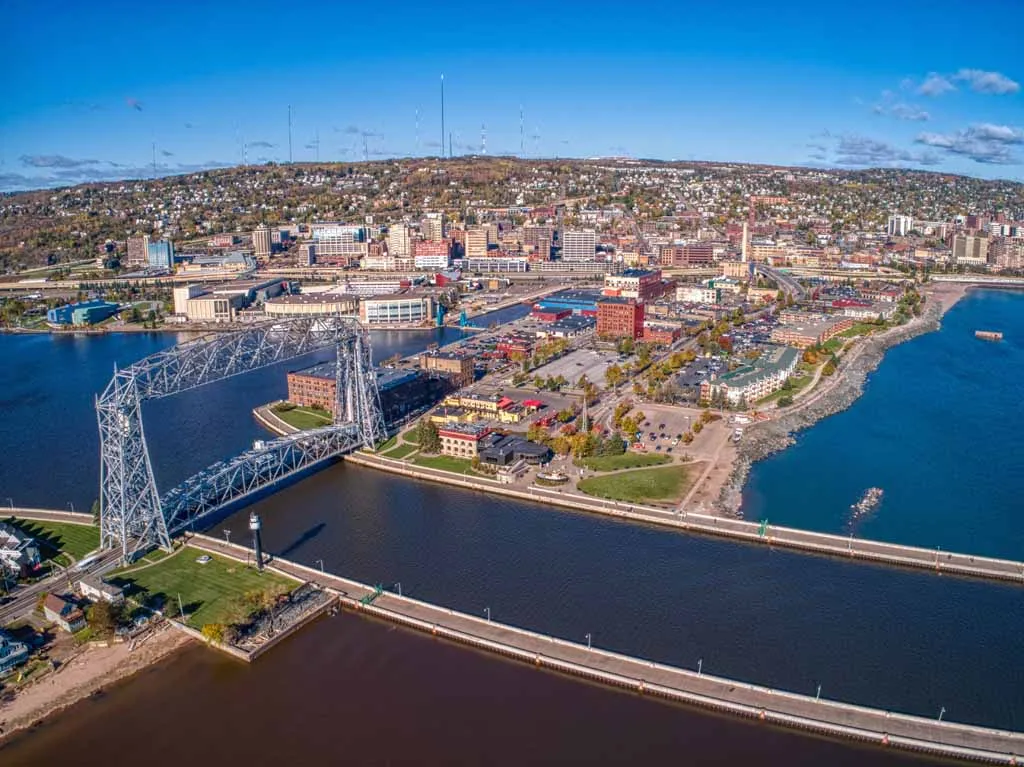 ---
Duluth, Minnesota is located on the shore of Lake Superior, the largest and westernmost of the Great Lakes, and boasts thousands of acres of open space and woodlands, making it home to breathtaking landscapes.
Duluth is a city where everyone interested in the outdoors, nature, history, or music can find something (or many things) to enjoy. Let's talk about 15 things to know before moving to Duluth, MN!
1. It is easily accessible
You will be impressed by how easy it is to get to Duluth from anywhere, whether by car, plane, or boat. One highway, I-35, gets you downtown, to the crowded lakefront, to the majestic Skyline Parkway, or to the picturesque North Shore Scenic Drive.
MAF Widget
Delta Air Lines operates multiple flights per day between Duluth International Airport and Minneapolis/St. Paul. From Duluth to the Windy City, passengers can choose between nonstop flights on United and American.
Duluth's harbor is most frequently visited by cargo ships transporting iron ore and grain, but the city and its agencies are making preparations to welcome cruise ships as well.
2. The city is beautiful
Duluth, tagged the "Tourist Destination of the Midwest," is an attraction that accommodates over 3.5 million tourists every year.
The presence of Lake Superior adds greatly to the beauty of the city. There are also six parks along the shoreline in Duluth, all of which offer spectacular views of the lake.
Duluth is undeniably beautiful, thanks to the stunning landscape and wonderful tourist attractions located in and around the city.
3. A high quality of life
This city has a high quality of life and is one of the most livable cities in the country.
Duluth is a great place to live, work, study, and, of course, have fun. There are arrays of recreational centers, beautiful scenery, and cultural events, and most importantly, it has a large area of land that is enough to accommodate its residents and the large number of visitors that tour the city each year, so it does not feel crowded even at the highest seasons.
The city has a livability score of 73%, which is great; you'll enjoy living here.
4. A diverse population
Duluth is home to over 86,000 residents. Ethnically, the largest group is Caucasians, but there is a well-established American Indian community, and many native American tribes like the Dakota, Cree, Assiniboine, and Cheyenne peoples.
The diversity is beautiful and makes fitting into the city easy for anyone.
5. Quality healthcare facilities
Duluth's residents have access to great healthcare services and quality healthcare facilities. Two major hospitals in the city are St. Luke's Hospital and Essentia Health St. Mary's Medical Center.
These hospitals provide a whole range of medical care, from emergency to intensive, as well as specialized care in areas including cardiology, orthopedics, pediatrics, neurology, and gastroenterology. The city also has a large number of clinics distributed in its many neighborhoods. You won't need to travel far to get specialized medical care when you need it.
6. Lots of fun things to do
With more than 120 parks, there are lots of fun things to do in Duluth. You can participate in outdoor activities such as hiking, biking, kayaking, running, camping, climbing, snowboarding, fishing, skiing, and sledding. There are about 80 well-optimized trails to hike and bike in the city.
You can also follow Duluth's Huskies baseball team. Other great places to visit include the Duluth Superior Symphony Orchestra, the Duluth Art Museum, the Lake Superior Zoo, and Wander Canal Park.
If you're more of an event person, there's the Festival of Sail and the Bayfront Blues Festival, both of which attract a big crowd every year.
7. Tons of neighborhoods to choose from
There are tons of neighborhoods in Duluth, so you have a variety of options to choose from.
Every neighborhood in the city is distinct and has its peculiarities, although two things are common to all the neighborhoods: the beautiful Lake Superior view and the historic houses.
You can find nice modern houses that fit your budget, and there are also nice restaurants, pubs, and stores that give each neighborhood its specific flavor.
8. Excellent educational opportunities
There are many educational opportunities in the city, which is a reflection of the high value its residents' place on education.
There are many schools of all levels in Duluth, such as the Montessori School of Duluth, the Stone Ridge Christian School, and the Ojibwe Language Immersion School.
There are also opportunities for higher education. There's the University of Minnesota, Duluth, which has a medical school, and Lake Superior College.
9. Housing is relatively affordable
With a median home price of $262,783, which is less than the national average, housing is relatively affordable in Duluth.
You can get a house that suits your taste and fits your budget, or you can rent a condo. Imagine living in a condo close to Lake Superior, waking up every day with a "vacation" feel in your home. If this appeals to you, then head to Duluth, MN!
10. It snows a lot
Be sure to stock up on winter clothes when coming to Duluth because it snows a lot here and it can be very cold during the winter.
Duluth has about 100 days of freezing temperatures as low as 11°F, which could be rough on anyone who's not used to it. To avoid getting bored in this season, you could learn some winter outdoor activities or practice a hobby to keep you relaxed if you'd rather be indoors.
11. Ample employment opportunities
As a tourist attraction site with millions of visitors every year, there are ample employment opportunities in the tourism sector for both skilled and unskilled workers in Duluth. Duluth's health sector also provides a lot of employment opportunities for many residents of the city.
MAF Widget
The employment opportunities aren't limited to these two sectors, as there are many industries in different fields in the area. They include but are not limited to banks, manufacturing industries, retail stores, and paper mills.
If you're an entrepreneur, Duluth is a good place to grow your business; you only have to be strategically positioned.
12. The crime rate is an issue
Duluth is not the most dangerous place to live, but it's certainly not the safest place.
With a violent crime rate of 2.96% and a property crime rate of 37.19%, Duluth has more reported cases of property crime than violent crime. If you still decide to move to Duluth, ensure you take the right precautions to keep your property safe. And research the neighborhoods that you would want live in beforehand.
13. The roads are a little rough
Most major roads in Duluth have potholes, and this is caused by the harsh winter conditions. If you're new to Duluth, it will take some time to learn how to maneuver your way on the roads without damaging your vehicle. And the bad roads affect everyone, so traffic can also be an issue during rush hour or accidents.
14. You get to enjoy all four seasons
You get to enjoy all four seasons in Duluth. While winter can be too cold, the temperature warms up in summer, but it never gets too hot in Duluth, which is why it is nicknamed "the air-conditioned city." With an average high temperature of 67 degrees Fahrenheit, summer is pleasant in Duluth.
If you'd love to live in a city that never gets too hot, then Duluth is your haven.
15. There's a lot of good food
It's not surprising that Duluth has a lot of good food because of its diverse population. Residents of Duluth boast superb local and classic restaurants and coffee shops. These restaurants have delicious meals with vegan and non-vegan options, such as Kimchi, Cranberry Wild Rice, Grilled Salmon, Duck Gumbo, Vegan Okonomiyaki, and Yummy Pancakes.
To Sum it All Up
Duluth, MN, is a great place to call home, but you need to consider both the benefits such as the high quality of life and the job opportunities, as well as the drawbacks, such as the winter cold and the crime rate.