15 Things to Know Before Moving to Chattanooga, TN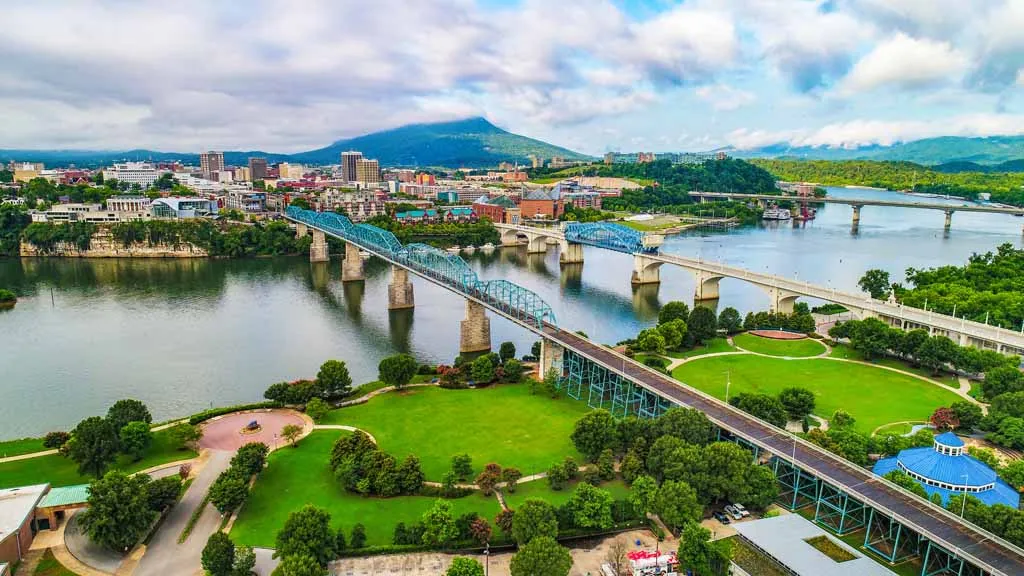 ---
Chattanooga is sometimes overlooked in favor of more well-known cities in Tennessee like Nashville and Memphis. That, however, should not fool you. Chattanooga is an amazing city with many exciting opportunities, from its hidden dining scene to its beautiful trails for outdoor recreation. Here are 15 things to know if you plan to move to Chattanooga, TN!
1. A perfect place to start a flourishing career
Seeking employment in the Chattanooga area? In addition to Erlanger Health System and BlueCross BlueShield of Tennessee, other major employers in Scenic City include the Hamilton County School System, the Tennessee Valley Authority, Volkswagen Group of America, and the Tennessee Valley Authority.
MAF Widget
Employment opportunities exist in many fields, from the automotive industry to the medical field.
CHI Memorial Hospital, a major employer in the healthcare industry in Chattanooga, is often considered to be among the finest medical facilities in the state of Tennessee. Companies like Netflix, Spotify, and Stripe have set up branches in Chattanooga because the city's tech hub is growing and expanding.
It's easy to see why so many people are choosing to make Chattown their permanent home — the city is constantly expanding and improving.
2. An affordable cost of living
Thanks to a cost of living that is 9% cheaper than the U.S. average, Chattanooga is one of the most affordable cities to live in Tennessee. The city has a median home price of $288,088 and a median rent of about $812, both of which are below the national average. So if you're looking to live in a city where your dollar goes a lot further, Chattanooga just might be the city for you.
3. Numerous outdoor activities
Nearby Chattanooga is teeming with outdoor opportunities for those of all experience levels who love spending time in nature. Go hiking on Lookout Mountain's Big Daddy Loop, which consists of seven different routes. Explore North Chickamauga Creek's rapids, waterfalls, and rock formations along the Cumberland Trail and set a camp at the Stevenson Branch campsite.
Explore over six miles of cavern tunnels beneath Raccoon Mountain. High Point ZIP Adventure has a zipline that will take you 700 feet above the forest floor. Deep Creek is a great place to go rock climbing on sandstone formations and swim. Check out the Tennessee River while paddle boarding at one of Chattanooga's premier paddling spots.
4. Opportunities for higher education
Are your kids planning to go to college? There are over 40 degrees they can choose from at the University of Tennessee (UTC). In addition to UTC, there are a number of other institutions in Chattanooga.
Chattanooga State Community College offers associate degree programs with majors and certificates for every interest, from culinary arts to drone technology, while Chattanooga College offers degrees in aesthetics, cosmetology, dental assisting, and practical nursing.
5. A booming tech sector
Chattanooga was the first in the United States to implement a citywide gigabyte network, giving its citizens access to lightning-fast, low-cost internet.
The city has become a center of technological innovation thanks to its cutting-edge infrastructure and lightning-fast internet, which have attracted tech companies and entrepreneurs searching for an affordable alternative to New York City and San Francisco.
Startup assistance programs like the INCubator at the Hamilton County Business Development Center and the success of local companies like Branch Technology, FreightWaves, and Bellhop have made Chattanooga a desirable location for tech startups.
6. Downtown is amazing
There is a wide variety of places to eat and shop in the heart of downtown Chattanooga. Take advantage of CARTA's no-cost Downtown Electric Shuttle to commute quickly and easily across the city center. You can find a variety of handmade goods, baked foods, locally grown flowers, activities for children, musical performances, and more at the Chattanooga Market.
The local shops; Blue Ivy Flowers, Rivercity Apparel, Belle Rive Boutique, and K: A Boutique by Katherine Roberts are all worth supporting, so spend a day shopping there. West Village is a redeveloped downtown neighborhood that features restaurants, shops, and the world-famous umbrella sculpture.
7. There are fun things to do with the family
Chattanooga is a great place to live with kids because of all the fun family-friendly activities available. At the Creative Discovery Museum, you can play a game of enormous chess, create a three-dimensional sculpture from discarded materials, or get your hands dirty in the museum's rooftop garden.
Visit the Chattanooga Zoo and feed a giraffe or come face to face with a sand tiger shark at the Tennessee Aquarium. Visit Chickamauga and Chattanooga National Military Park and ride horses! Coolidge Park has a vintage carousel you can ride. Or go on a ghost search in Chattanooga!
8. A thriving art scene
Theaters in Chattanooga are great places to spend an evening if you enjoy live performances, movies, or other forms of live entertainment. The Soldiers & Sailors Memorial Auditorium plays host to a variety of performances, including those from the performing arts, comedy acts, and local events.
The Tivoli Theatre is a great place to see concerts and classic Broadway shows like "Cats" and "Les Miserables." Experience locally produced plays like "The Scarlet Letter" and "The Tempest" at the Ensemble Theatre of Chattanooga. Enjoy family-friendly performances of classics like "Charlotte's Web" at the Chattanooga Theatre Centre.
9. Attend lots of festivals
Although Chattanooga is a relatively small city, there is certainly no lack of entertainment options. Various events and festivals take place throughout the year. Some of them include Riverbend Festival, Chattanooga Nightfall, Grateful Gobbler Chattanooga Balloon Festival, Chattabrewga, YA-Hoo Fest, and many others.
10. There's great food in Chattanooga
Chattanooga has an excellent restaurant scene. You can find a restaurant in Chattown that serves whatever it is you're craving, whether it's a full brunch or fried chicken in the Southern way.
Some of the best restaurants in the city are Champy's Chicken, Urban Stack, St Johns Restaurant, Flying Squirrel, Alleia, and lots more.
11. A high poverty rate
It is estimated that about 1 out of every 5 individuals in Chattanooga live below the poverty line. Much higher than the national average.
This indicates that many people are unable to afford adequate accommodation and are instead forced to make do with cramped quarters and meager incomes.
MAF Widget
12. The crime rate is a source of concern
Poverty and criminal activity tend to go hand in hand, and this place is no exception. Certain areas of the city are risky due to gang activity.
On the other hand, since crime is concentrated in specific zones, if you live in a safe neighborhood, you don't have to worry much.
Consequently, picking a good spot is crucial. Keep doors locked and valuables hidden as you would normally.
13. Not a good place for seasonal allergy sufferers
Due to the abundance of trees, bushes, and flowers, as well as the abundant rainfall, high humidity, and extended spring into summer, pollen concentrations can rise to dangerous levels. In other words, people who suffer from seasonal allergies will have a difficult time adjusting to city life here.
14. You can't miss the waterfalls
Having so many waterfalls is a great perk of living in Chattanooga, which is a city known for its heavy rainfall. Lula Falls, a waterfall that plunges 110 feet into Lula Lake, can be seen by hikers along the Lula Lake Land Trust.
Laurel Snow State Natural Area features a six-mile walk with stunning views of two waterfalls, Laurel Falls (80 feet) and Snow Falls (35 feet). Greeter Falls, located along the loop route of the same name in Savage Gulf, is a waterfall that drops over three different ledges.
Or you can travel 260 feet underground to a cavern containing Ruby Falls, the highest and deepest underground waterfall in the United States, which is buried beneath Lookout Mountain.
15. Nightlife is amazing in Chattanooga
In Chattanooga, you can pick from a wide variety of exciting after-dark activities.
Grab a grilled pimento cheese sandwich and a pint at Brewhaus, Chattanooga's first German-American gastropub. Have a good time at The Comedy Catch's hilarious stand-up shows. Visit Proof Bar & Incubator for a distinctive drink like the Vanilla Bay Old Fashioned or Hot Flash.
In Conclusion
From the entertainment scene to the affordable cost of living, to the flourishing economy, living in Chattanooga comes with several benefits. If you'd rather live in a place with a low crime rate, however, or you suffer from allergies, this city might not be the best for you.