10 Pros and Cons of Living in Roswell, GA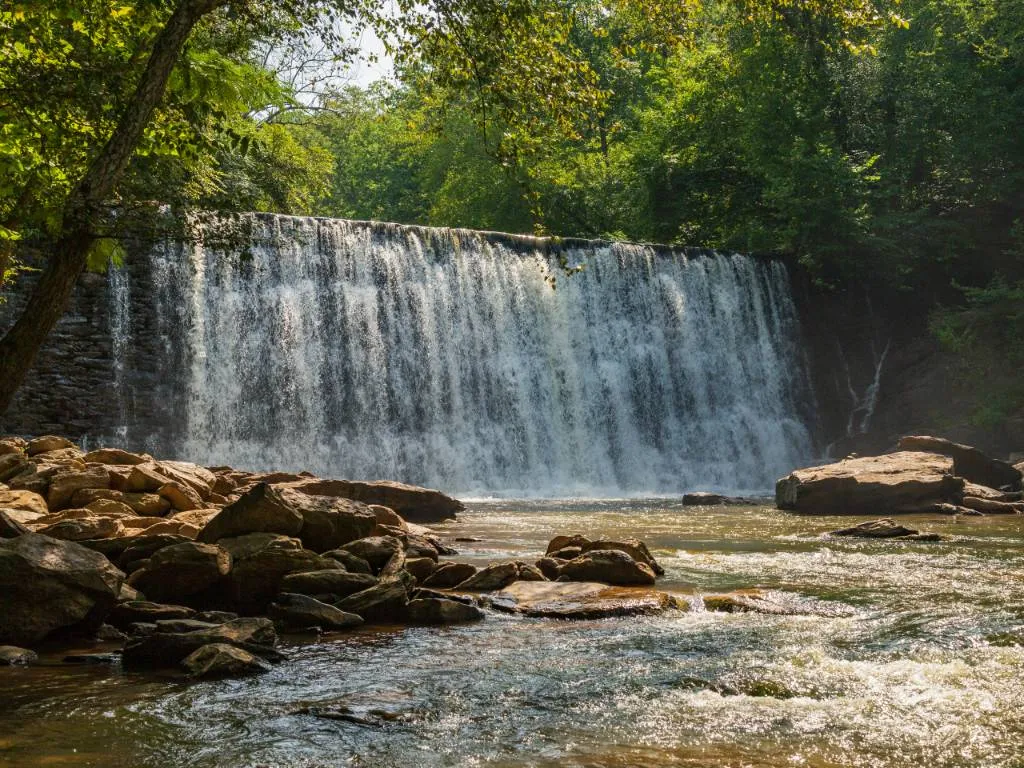 ---
Roswell, Georgia, was founded in the 1830s when one of the largest cotton mills in Georgia was established there. This was the catalyst for the city's subsequent growth and development.
You can have the best of both worlds in this city, as it is both a charming small town and a convenient commute to Atlanta, where you can find a wide range of employment and other options. Roswell is known for its welcoming population and its proximity to scenic natural areas.
Here are ten pros and cons of living in Roswell, GA!
MAF Widget
Pros of Living in Roswell
1. Work in the science, retail, or hospitality sector
With an unemployment rate that is significantly lower than the national average, 2.6%, people of Roswell have several options when it comes to finding gainful employment. The city's average family brings in $93,006. About 50,200 individuals contribute to the economy of Roswell, with the largest employers being in the sectors of professional, scientific, and technical services; retail; and accommodation and food services.
The city of Roswell, the Kimberly Clark Corporation, and the WellStar North Fulton Hospital are three of the main employers in the area.
2. Enjoy 221 days of sunshine
The pleasant year-round climate is just one more perk of calling Roswell home. The average annual rainfall in the United States is 38 inches, whereas this city receives 52 inches of rain, so it rains a lot here. However, the town still has roughly 221 days of sunshine, which is significantly more than the 205 days of sunshine seen in the typical American state. The city only averages two inches of snowfall per year, so you won't be getting a lot of snow here.
July is often the warmest month of the year, averaging 87 degrees. In January, average lows during the winter months hover around 30 degrees.
3. Eat at Table & Main or Mill Kitchen and Bar
Roswell restaurants are known for their warm, Southern friendliness, which is evident from the moment the server brings out the menu. Places like Table & Main, Mill Kitchen and Bar, Vin 25, and Adele's, among many more, are just a few of the many in the city that serves delicious cuisine.
Canton Street is where you'll find a wide selection of restaurants serving anything from Italian to Cajun to seafood.
4. Play golf at the country club
The 18-hole course at the exclusive Country Club of Roswell plays to a par of 71 and a maximum distance of 6,570 yards from the tips. Currently, the course rating at this venue is 71.9, and the slope rating on Bermuda grass is 133. It's in the posh neighborhood of Willow Springs, surrounded by water and greenery.
Other golf courses in the area include Nancy Lopez Golf Course and Brookfield Country Club.
5. It's a safe city to live in
Roswell has a significantly lower crime rate compared to the rest of the country, both in terms of violent and property crimes. In comparison to the national average of 22.7 per 100,000, violent crime is 10.9 times more common in Roswell.
Roswell's property crime rate of 28.9 per 100,000 residents is also lower than the national average of 35.4 per 100,000 residents. This suggests that Roswell is, on the whole, a safe place to live.
6. The city is dog friendly
Roswell is a terrific area to take your dog for a stroll because it has several pet-friendly establishments. Many people own dogs in this city, so there are a ton of parks and other public spaces with provisions for your pet. If you're looking to move with your furry friend, you can rest assured that the city will happily accommodate them too.
Roswell's Farmers & Artisans Market welcomes leashed, well-behaved dogs so their owners can shop amongst a wide selection of locally grown fruit, handmade goods, and more. Many dog owners enjoy visiting here with their pets, so your dog is likely to meet a lot of new pals.
7. Shop at Downtown Roswell
Canton Street, in downtown Roswell's historic district, is lined with eateries, sidewalk cafes, and quaint shops. This street offers many interesting shops and restaurants, so take the time to explore it during the Alive in Roswell event (which runs from April to October). This region has so much to offer; there are unique apparel boutiques, antique shops, restaurants serving delectable cuisine, and even pet stores selling tasty treats.
8. Public schools have a student-teacher ratio of 15:1.
A family's decision to relocate is heavily influenced by the quality of the local schools. Fortunately, both the public and private school systems in Roswell consistently score very high. Roswell's tiny population means that the school district can maintain a student-teacher ratio of only 15:1.
Fulton Sunshine Charter, Sweet Apple, and Mountain Park are three of the best primary schools in the Roswell area. Roswell High School is one of two local high schools ranked among Georgia's top 20 and is another option to consider. Baptist, Evangelical, and Catholic schools are all available alternatives to public education for people of different religious beliefs. 
MAF Widget
Cons of Living in Roswell
1. Traffic is a problem
Roswell is a suburb of Atlanta, and its traffic isn't any better than the rest of Atlanta's. The average Atlanta commute takes 27 minutes. Residents report the worst traffic congestion to occur between 5:00 and 6:00 in the afternoon and again in the morning.
As more people move to the area, traffic in and out of the city, as well as Atlanta, becomes more congested every year.
2. The cost of living is 25% higher than the national average
Roswell's overall cost of living is 125.5, which is higher than the state average of 93.4 and the national average of 100. A year's living expenses for a single person in Roswell come to $39,443. This includes rent or mortgage payments, groceries, child care, gas for the car, medical care, insurance, and taxes.
With a median home price of $604,000, housing expenses in this city are just as exorbitant.
Final Thoughts
Roswell is a lovely suburb with a thriving economy, shopping opportunities, great schools, safety, and amazing weather. However, the city has traffic issues, and the high cost of living is also a problem. 
Learn More About Living in Roswell, GA