8 Things to Know About Moving to Bennington, VT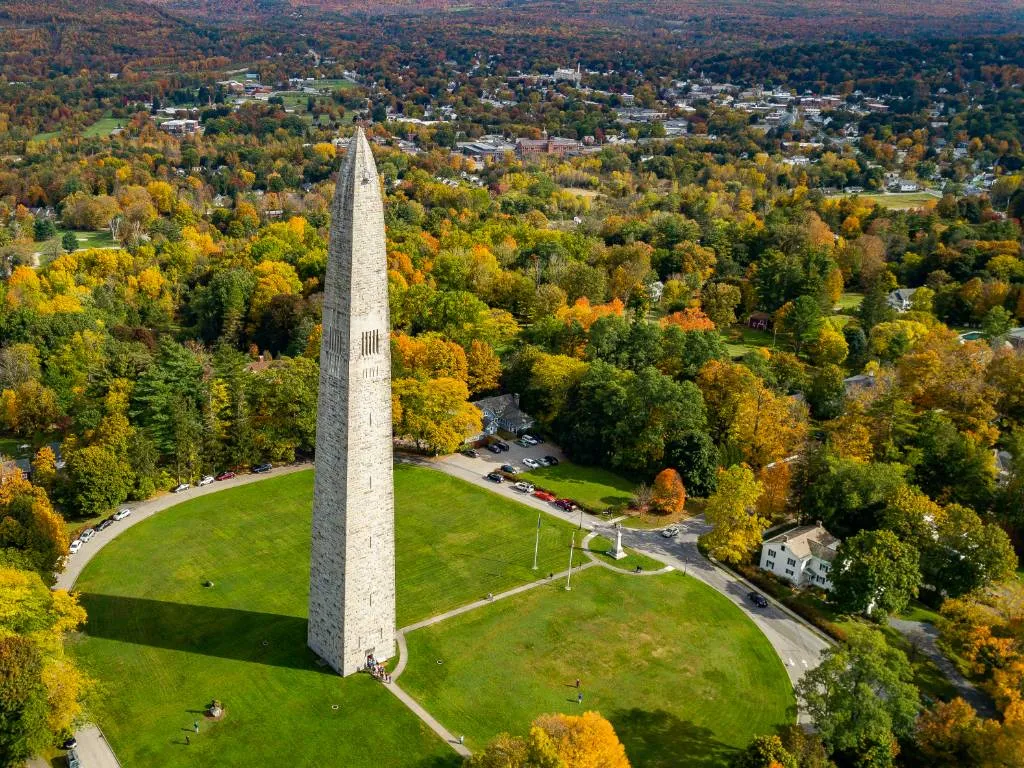 ---
Bennington, Vermont, in southern Vermont, is a great place to live if you're looking for some breathing room in a charming old town.
Bennington is the largest town in southern Vermont, and its three sections, Old Bennington, North Bennington, and Downtown Bennington, each have their unique character and are well worth exploring. There is a thriving craft brewery sector, and many restaurants take pride in serving food made from ingredients found within the community.
Here are eight things to know before moving to Bennington, VT!
MAF Widget
1. Take in nature at the Harmon Hill Trail or The Robert Frost Trailhead
Outdoor enthusiasts will not be short of options in Bennington. The 3.6-mile round-trip hike up the steep granite staircases and switchbacks of the Harmon Hill Trail is well worth the effort for its spectacular views of Bennington.
The Norman and Selma Greenberg Conservation Reserve offers open pathways across its 96 acres of meadows, marshes, and wooded hillside terrain. The Robert Frost Trailhead in North Bennington stretches about two miles to the farm that Robert Frost once owned.
2. Eat at Pangaea or Allegro
Bennington has its fair share of great restaurants catering to different tastes.
Pangaea is the best restaurant in North Bennington. Hardwood floors, crimson walls, and exposed brick create a warm ambiance for enjoying the restaurant's seasonal menu updates of upscale dishes. Allegro on Main Street in Bennington serves traditional Italian food with a modern twist using only the freshest local ingredients.
The Publyk House is a three-story red horse barn on Route 7A that can't be missed. The baked New England fish and slow-cooked prime rib will taste all the better when you relax in front of a fireplace or in front of one of the many barnboard walls. In addition to the entrées, dinner also includes a salad bar and warm, honey-wheat bread with whipped maple butter.
3. A lower-than-average cost of living
The cost of living in Bennington is 15.7% below the national average, at an index of 84.3.
Homeownership is more feasible in Bennington than in many larger cities, as the median household income is roughly $48,000 and the median property price is around $160,000, according to statistics from the U.S. Census Bureau. Utilities like water and electricity are less expensive than in many other cities in New England, and the typical rent for a two-bedroom apartment is roughly $900 a month.
4. It is a relatively safe place to live
The violent crime rate in Bennington, VT, at 17.6, is lower than the national average of 22.7 per 100,000 people, making it a safer place to live. On the other hand, it has a property crime rate of 36.7, which is slightly higher than the national average of 35.4.
Overall, Bennington has a relatively low crime rate and is generally a safe community. If you remain security conscious, your belongings will be safe.
5. It snows a lot in the city
Hot and muggy summers and cold, snowy winters are typical of Bennington's humid continental climate. The average summer temperature falls between the mid-50s and the mid-80s, while the average winter temperature falls between the teens and the 30s. Rainfall is also common, with an average of about 43 inches per year in this region. Due to the lack of major factories in the vicinity, visitors can breathe easily all summer long.
The annual average snowfall in Bennington is 65 inches, while annual snowfall in the United States averages 28 inches.
6. It is mostly home to small businesses
The outlook for Bennington's job market is not promising. The figures show that future employment growth in the area is predicted to be 3.64%, which is much lower than the average of 30.54% growth seen across the United States. In addition, Bennington's unemployment rate is 4.2%, which is slightly higher than the national average of 3.6%. Based on these statistics, job seekers in Bennington should keep in mind that they face a competitive job market.
However, many small businesses call Bennington, Vermont, home, including VT Woodworking, Bennington Marble & Granite, and Bennington Potters. 
MAF Widget
7. Learn about the city's history at The Bennington Battle Monument or The Bennington Museum
The Bennington Battle Monument stands as Vermont's tallest man-made building and is located in the town of Bennington. Its 306-foot height is a fitting tribute to the triumph over the British at the Battle of Bennington in 1777, which was won by militia from Vermont, New Hampshire, and Massachusetts.
The Bennington Museum, which displays historic American art and has miles of pathways winding through its expansive grounds, is located here.
8. Check out The Four Corners
Be sure to check out the spot known as The Four Corners, which most consider the center of Bennington. In the center of the intersection is a North Star Compass surrounded by piano keys painted into the pavement.
Polly van der Linde planned the design, wanting to create happiness with a focus on the thriving art scene in Bennington. Between the bustling little intersection, a historic town clock, and the street art, it's easy to see Bennington's community spirit!
To Sum it All Up
Bennington offers an affordable cost of living, great places to eat, a rich history, and a natural environment. However, if you're looking to live in a place with a diverse economy, this city might not be for you.