10 Pros and Cons of Living in Auburn, AL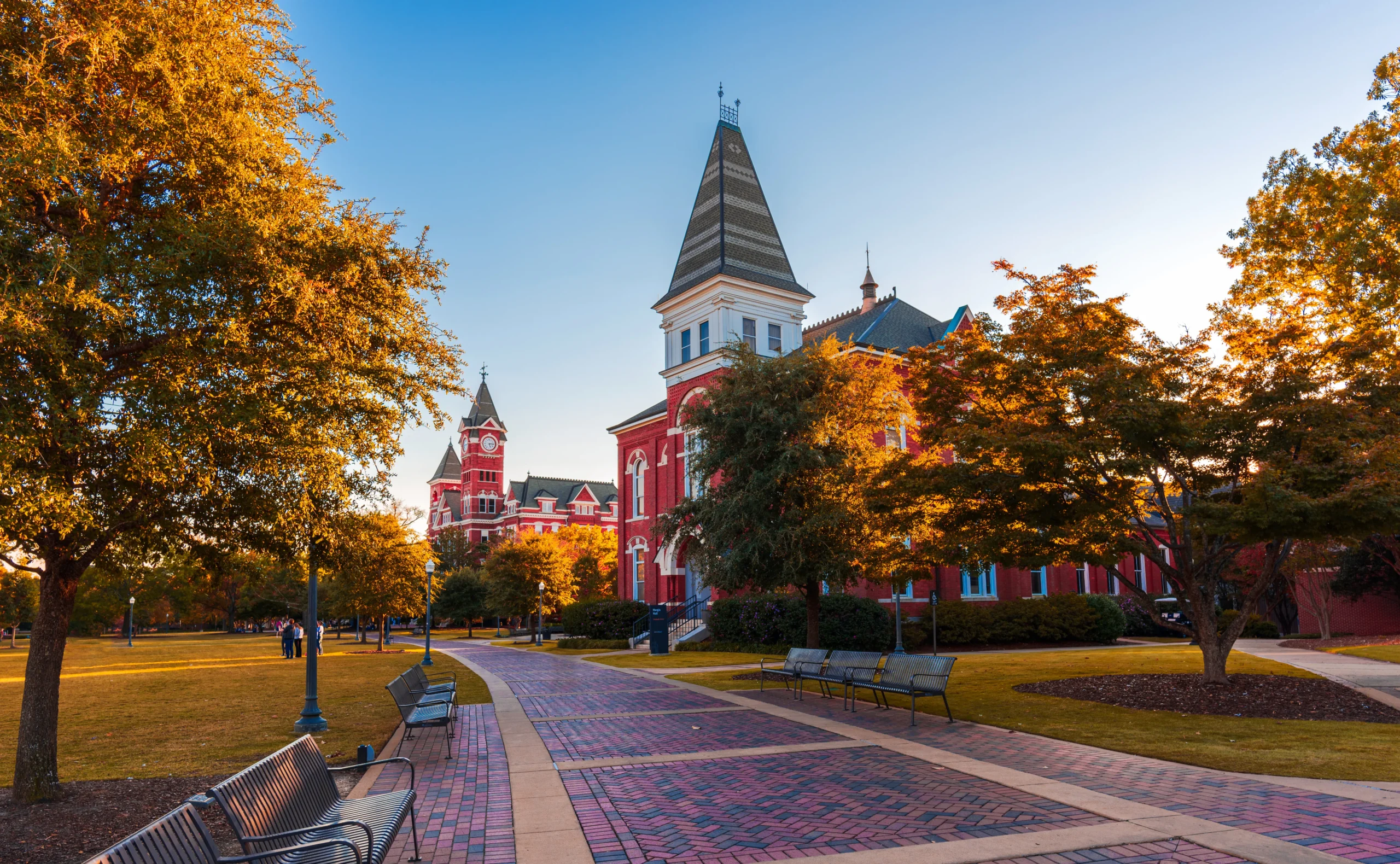 ---
Auburn, Alabama, is home to Auburn University and roughly 78,564 people. Located in Lee County, this city is one of the most important economic centers in all of eastern Alabama. The metro region of Auburn, Alabama, is the nineteenth-fastest-growing in the United States.
Auburn is often referred to as "The Loveliest Village on the Plains." The city attracts many visitors, from young adults to retirees. Because it is home to Auburn University, the median age is relatively young, at 24. Auburn is a wonderful area to live and visit, and it is widely regarded as one of the best places to live in Alabama.
Thinking of moving to Auburn? Here are ten pros and cons of living in Auburn, AL!
Pros of Living in Auburn
1. Education is a big deal
In many ways, Auburn's educational system serves as the city's primary economic engine. Auburn University is located here, offering important degrees in business, engineering, agriculture, and veterinary care as a land-grant and sea-and-space-grant university.
There are eight primary schools, two middle schools, one junior high school, and one high school in the Auburn public school system. The public schools in this city are consistently rated as some of the best in the country.
2. Get a job at the university or Auburn Research Park
More than 4,300 people are employed by Auburn University, with another 2,400 working in state and federal government positions that directly assist the university.
There are roughly 8,500 service industry jobs and another 5,000 manufacturing jobs. Auburn's 156-acre Auburn Research Park is home to cutting-edge factories and labs working on projects related to vehicle armor, fuel cells, plastic injection, and compact internal combustion engines.
3. Be a part of an inclusive society
The people of Auburn are very welcoming and active. There is something for everyone in the family to enjoy at the town's various events.
Camp iCare is only one of many inclusive programs available. The goal of this curriculum is to instill in young people a love of helping others and a practical understanding of how to manage their own resources effectively. Participants are challenged to make a difference in the world after camp ends. There's also the nearby Storybook Farm, which is beloved by the community because it provides horse therapy for kids using rescued horses.
4. Visit the Jule Collins Smith Museum of Fine Art or Donald-E. Davis Arboretum
You can count on always finding an entertaining activity to partake in while in Auburn. The renowned Robert Trent Jones Grand National, a course designed by the legendary golf architect, is just one of six golf courses in the area. Picasso and Renoir are just two of the greats whose works can be seen in the permanent collection of the Jule Collins Smith Museum of Fine Art. Many people enjoy going to concerts, plays, and other shows that showcase dance, theater, and music.
There are over 16 parks in the area, including the Donald-E. Davis Arboretum in the city center, which is a great place to take a stroll during lunch. There is the 696-acre Chewacla State Park, which features 30 miles of bicycling and hiking paths.
5. A lower-than-average cost of living
Overall, Auburn's costs are 4% cheaper than the U.S. average. Utilities are 1% higher than the national average, while transportation costs, including bus fares and gas prices, are 3% lower.
The typical resident of Auburn can expect to spend around $1372 per month on basic necessities. A single person in Auburn can expect to spend around $35,426 per year on basic needs like housing, food, child care, transportation, health care, taxes, and other miscellaneous expenses.
6. Spend your nights at Sky Bar or Avondale Bar and Tap Room
Auburn is home to a wide variety of exciting venues that make the city's nightlife an attraction in and of itself. These are some of the top local watering holes and eateries to visit if you're looking for a good time, whether you're looking to get your groove on or just hang out with pals.
A great place to grab a drink with pals and watch the game or a show on the bar's several screens, Sky Bar is a must-visit. The Avondale Bar and Tap Room is a classy bar and tap room with a dim, intimate atmosphere, perfect for a night out with friends or a first date. The 3:23 Cigar Bar is a great spot to unwind with a fine cigar in a sophisticated setting. In the company of good people, you can relax with a drink and a cigar straight from the roller.
7. Skate at Auburn/Opelika Skate Park or have a picnic at Felton Small Park
Auburn is home to over 33 parks and boasts over 26 miles of trails and 387 acres of open space. If you want to take a break from your busy schedule and spend a day outdoors with your loved ones, Auburn is a great choice. There is a wide variety of parks from which to pick, and they all offer something unique.
The Dinius family generously gave the land that is now Dinius Park in honor of the community of Auburn. You can find a few softball and baseball fields, concession booths, batting cages, a picnic area with grills and tables, and restrooms at Felton Small Park. There is a huge pavilion for events, a playground, a basketball goal, and an open field, all enclosed by a fence in Martin Luther King Park. The new Auburn/Opelika Skate Park is open from dawn until dusk, so you can always go there and have fun with your pals!
8. Enjoy a nice meal at Baumhower's Victory Grille or The Hound
There are more than enough places to eat to your heart's content at Auburn. Alabama locals have been eating at Baumhower's Victory Grille, a sports-themed restaurant, for over 40 years. It is a long-running restaurant franchise where you can eat American pub fare, steaks, and other meals while watching your favorite sporting events on the many flat screens.
The charming Amsterdam Cafe features the artwork of Van Gouge and features southern-style seafood and live music. Starting out as a small cafe in 1991, this Auburn enterprise swiftly rose to prominence.
THE HOUND is a family-run American eatery and bar with a nice New American menu, a wide variety of bourbons, and a great range of craft beers.
Cons of Living in Auburn
9. The average income is lower than the national average
Auburn has a cheap cost of living, yet residents tend to make less money than people in more expensive cities. The national average pay is $54,132, but the average salary in the city is $37,576.
It might be tough to make ends meet in Auburn, especially if you have a lot of debt from school because the jobs that are available do not pay as well as they do in larger cities.
10. There's the problem of seasonal humidity
In Auburn, the humidity tends to climb in the fall and spring. It may take some time to adjust to the humidity if you're not used to dry air. When the humidity levels rise, it can make an already uncomfortable situation even worse. Therefore it's important to take frequent breaks to cool down.
Humidity levels peak in the fall and spring, whereas summers and winters are quite dry. Taking a vacation from the damp air may seem like a big deal, but it can be difficult for your body to readjust.
Final Thoughts
While Auburn has some great pros, such as the affordable living, fun things to do, great opportunities for education, and an inclusive society, there are also cons to consider, like the humidity and the low average income.