The Top 10 Reasons to Move to San Antonio, TX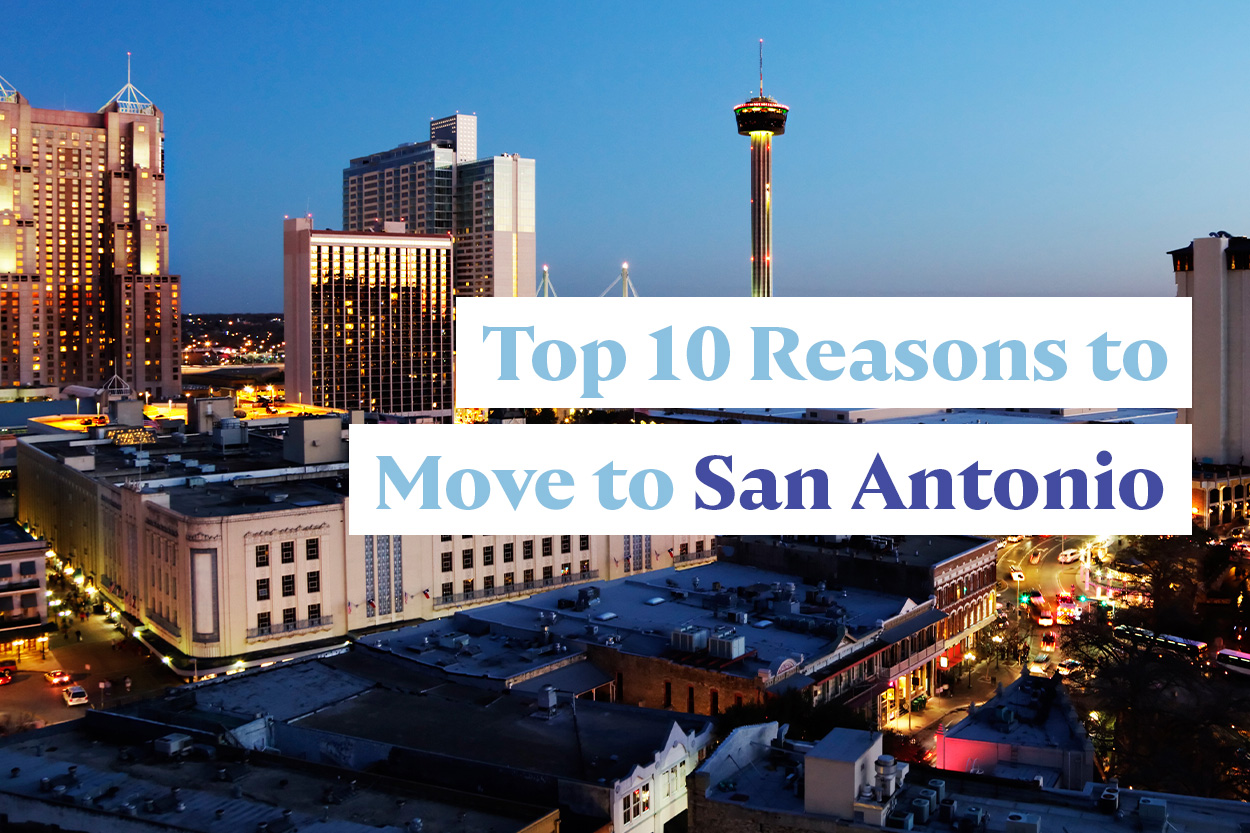 ---
Well hello there everyone! Apologies, I was chowing down on one of those glorious breakfast burritos you can only find in San Antonio.
And speaking of which, it looks like that city is the topic for today's article.
So if you're curious about if moving to San Antonio is worth it, have a seat, relax, and stop eyeing my burrito while I tell you the top 10 reasons why you should move to San Antonio Texas.
MAF Widget
Reason 10, Low cost of living
We're starting this list off right by talking about the one thing that makes everyone pay attention.
Money.
And in San Antonio, I'm quite certain you'll have more of it.
The cost of living in this amazing city is 14% lower than the national average. And is significantly cheaper than living in other Texas cities such as Dallas or Austin.
The price of homes here are even 29% lower than the national average, and when you consider this next reason I'm about to share, I wouldn't be surprised if you packed your bags now.
Reason 9, No state income tax
Oh the savings just don't stop!
I don't know if you've heard, but Texas is one of the few states that doesn't require residents to pay income tax.
And you know what that means. More money in your pocket!
But before you drop money on a new range rover, be aware that Texas does have higher taxes that kind of make up for this.
Don't shoot me, I'm just the messenger.
Reason 8, Bearable traffic
I absolutely despise traffic.
You see, I'm one of those people who have intense road rage.
Don't worry, it's something I've been working on in court-mandated anger management classes.
But still, traffic sucks. And if you feel the same, then you definitely should consider moving to San Antonio, because the traffic here isn't so bad.
Especially if you compare it to the traffic in cities like Houston or Dallas.
Trust me, these anger management classes are annoying so just move to San Antonio already.
Reason 7, Amazing food
One of my favorite things about San Antonio is easily the food.
And if you love to eat, the city will carve out a special place in your heart as well–you know, because of the clogging arteries.
Anyway, you'd be a silly individual not to try San Antonio's breakfast burritos. These things will have you developing a deeper appreciation for the most important meal of the day.
And don't get me started on the Barbecue. Man on man. This barbecue is the stuff of legends.
If you decide to visit, make sure to check out Two Bros BBQ and B&D Icehouse if you want your world to be rocked.
Reasons 6, Rich history
All of you history buffs out there, lend me your ears.
Because San Antonio is a place made just for you.
This city has a rich history and you'd be doing yourself a disservice to not visit some of the awe-inspiring landmarks.
You'll get the chills when visiting The Alamo, The Guadalupe Cultural Arts Center, and The San Fernando Cathedral.
And if you're not into history, just grab another breakfast burrito and stop complaining.
Reason 5, Sports
If sports are your thing, then San Antonio has you covered there as well.
San Antonio is home to a few professional sports teams that will give you something to cheer about.
They have the San Antonio Spurs, San Antonio Missions, and the San Antonio Stock Show and Rodeo.
And if you really get down with sports, you should know that San Antonio takes high school football very seriously. Like, VERY seriously.
So if having fistfights over the actions of 15-year-olds is your thing, you'll find good company here.
Reason 4, New people
Any self-described "people person" will find themselves at home in San Antonio.
Not only does this city have that down south charm, but with the steadily growing population, you'll always find someone new to create a friendship with.
However, if you're an introvert, make sure to keep those headphones handy because people will talk to you in this city.
I know, I know– the horror.
Reason 3, Great place to retire
A little-known fact about San Antonio is that it has a robust retirement community–especially for those in the military.
You'll experience low taxes, good healthcare options, and did I mention sunny weather?
Basically everything you need to make you forget that your grandkids don't call enough.
Reason 2, Plenty of things to do
San Antonio is a place where you couldn't get bored even if you tried.
Looking for a thrill? You'll be happy to know that the city has theme parks such as Sea World and Six Flags.
Want to relax? Enjoy the Riverwalk or Eisenhower Park.
Or maybe you're looking for an experience to show off to your Instagram followers? Well, the Diwali festival is perfect for that. This annual Hindu festival of lights is sure to delight and amaze.
MAF Widget
Alright, it won't be long now.

I'm about to share with you the number 1 reason why people move to San Antonio.
But first, I have some important news to share.
Here at Home and Money, we make the whole process of getting a home easier (even if you're a first-time home buyer).
We have a whole team that will connect you to the perfect agent so you can finally get that dream home. Plus, we'll equip you with your very own personal concierge if you're a first time home buyer–Which, if you've ever purchased a home, you know is a HUGE help considering how complicated the process can be
Best of all, this service is absolutely free!
Ok, now where were we.
Reason 1, Best of both worlds
The number one reason why you should move to San Antonio is that you'll truly experience the best of both worlds.
You see, San Antonio scratches the itch of both city lovers and country folk. And offers housing options that match any temperament.
The main reason for this is due to the large amount of cheap land, which has allowed the city to expand outwards instead of upwards.
So instead of experiencing the crowded feeling one might experience in New York or other major cities, San Antonio offers the unique experience of city life that also leaves a lot of room for rural living.
Which makes it the perfect place if you frequently change your mind like me.
And there you have it! The top 10 reasons to move to San Antonio Texas.
Now get outta here, I have a breakfast burrito to finish.
Until next time!