Top 10 Reasons to Move to Raleigh, NC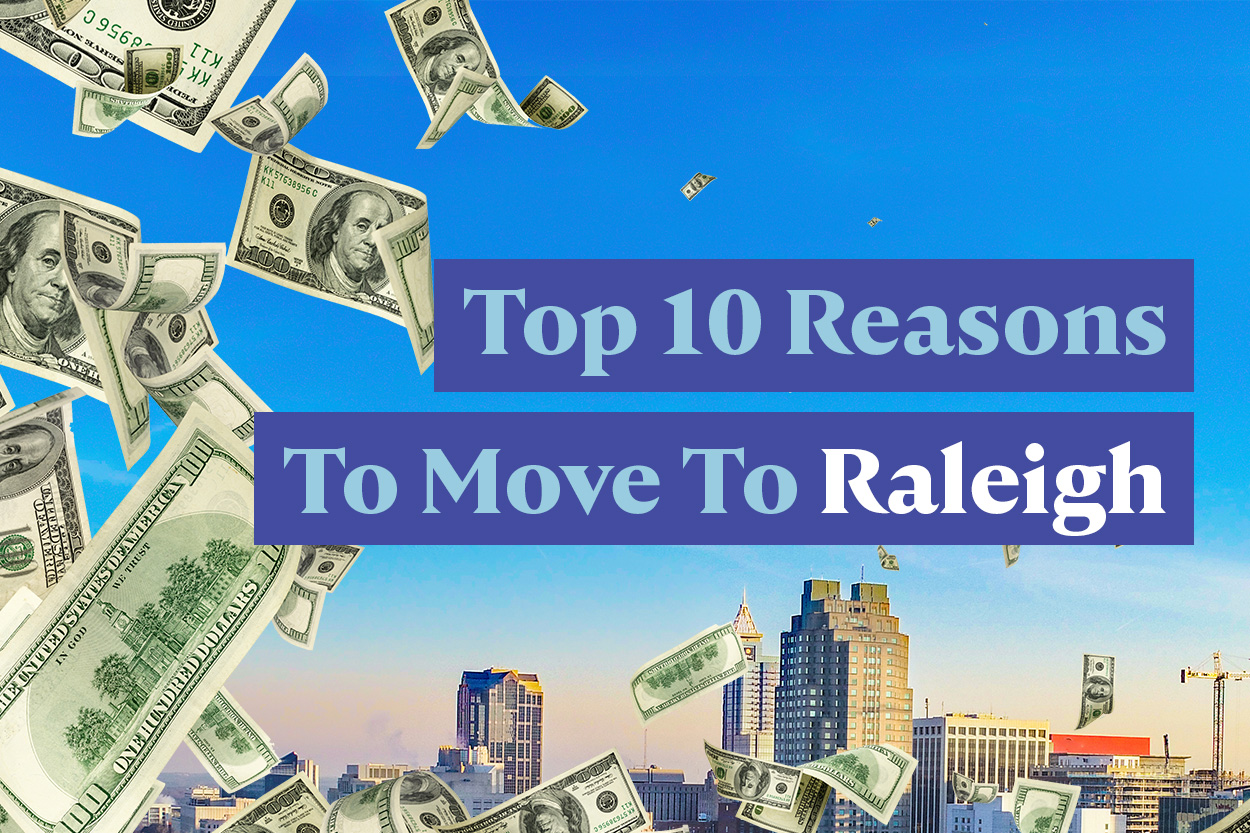 ---
So, you're thinking of moving to Raleigh North Carolina, eh?
You've heard through the grapevine that this beautiful capital city of North Carolina is one of the best places to relocate yourself or your family.
But for whatever reason, you're not sold.
You're still teetering on the edge of whether or not you should move to this part of the triangle–btw Raleigh is part of a trifecta of cities that form a triangle when put together. So no, it has nothing to do with the Illuminati…or does it?
To make such an important decision, you need more info.
Let me save you some time with this irrefutable fact about Raleigh–It's the perfect place for stress-free living. That's really all you need to know about it.
But if you insist on learning more about what makes this city truly great, then have a seat, and grab a snack while I go over the top 10 reasons why you should move to Raleigh NC. 
#10 The Melting Pot
If there's one thing the locals love about Raleigh, it's the amount of diversity you can find here.
Every day more and more people are moving from out of state to Raleigh due to its quality of life and affordability.
More on that in a bit.
And with a population of 474,069 people, you'll be sure to find all of the colors of the rainbow in this lively city.
But before you assume that Raleigh is just like any other city that has a ton of unique people, think again. Because there's one thing about Raleigh that makes it different from all the rest…
And that is southern hospitality.
Not only will living in Raleigh give you that city feel, but you'll also get a dose of kindness to make the experience even sweeter.
But if you prefer someone flipping you the bird instead of saying "good morning", consider moving elsewhere.
#9 Shared Living Arrangements
Finding a roommate can be pretty tricky.
You either have to decide which friendship you want to ruin or take your chances with the serial killers from craigslist.
Fortunately, Raleigh makes this process much easier…and safer.
With the amount of people moving to this city every year, you'll be sure to find a roommate that you totally vibe with.
That's probably why it has been dubbed the roommate capital of the country by Storagecafe.
So if you're looking to have your very own "Three's Company" experience, look no further.
#8 Seasonal Living
Now I don't know if you're one of those people who likes to have the same temperature year-round. But if you are, stay far, far from Raleigh.
This place is known for having very distinct seasons.
And one of the awesome things about this is you'll finally get to wear every garment in your wardrobe.
I'm talking hefty coats in the winter, shorts and flip flops in the summer, walks in the park during spring, and an absolute necessity for boots and pumpkin spice flavored Starbucks in the fall.
What's not to love?
#7 Cost of Living
If you've been out of your parent's house for at least 5 years, this is something you quickly find out…
Being alive is expensive.
In many popular cities, the cost of living is simply outrageous.
Take cities such as New York or San Diego for example. To live in these types of places, making 6-figures only puts you slightly above middle class.
But before you volunteer for the Squid Games, check out what one of the top real estate agents in the Raleigh area has to say about city living.
See, living in Raleigh will make you and your wallet happy. Heck, you may even start liking capitalism again.
#6 Museums
If any of you gentlemen are looking for cheap date ideas, listen up.
Because Raleigh is the home of 3 major state museums–the museum of art, history, and science.
And check this.
All of these museums are absolutely free to experience!
So if you're looking to appear cultured to that special someone, all while not breaking the bank, methinks you should take advantage.
Oh, and did I mention that they have a museum for kids too? It's called the marbles museum. But fair warning, they do not allow you to drop off your kids unsupervised.
I had to learn that the hard way.
#5 Amazing Food
This might be the most important part of the list.
I know, I've joked a lot on this top 10 list. We've had our fun.
But food is something I'm dead serious about. And when it comes to cuisine, not many places do it better than Raleigh.
Literally, any type of food you can think of, no matter how exotic, chances are if it's not in Raleigh now, it's currently being built.
That's because the food scene in this city continues to grow year after year.
So much so that it's attracted the attention of numerous celebrity chefs such as Ashley Christensen and Kenny Gilbert.
Let's go ahead and see what's next on the list because I'm starting to get hungry.
#4 Recreational Activities
As we discussed on the last point, there's a ton of food to be eaten in Raleigh.
And as such, you'll likely experience the occasional stretching of the waistband if you're not careful.
The best way to prevent this problem is to get active. And once again, Raleigh proves to be the perfect spot.
With over 9,000 acres of parkland, you'll have tons of options to choose from to stay active.
Anything from biking, hiking, playing a game of kickball, or just taking sparky out for a game of frisbee, Raleigh is one of the greenest cities in the US and one that you should take advantage of.
#3 Shopping
So, we've talked about how you'll save a pretty penny with the lower cost of living in Raleigh.
And you may be thinking to yourself what you should do with all that saved cheddar.
Well, I have just the thing…
Get in, cuz we're going shopping.
Raleigh is home to many large shopping centers such as Briar Creek, Crabtree valley mall, Triangle town center, and the list just continues to grow.
That's because the people here love to have a little retail therapy, and it's a love that grows year after year.
Making it the perfect place for shoppers.
Just try not to get too carried away.
#2 Beer
Put the kids away, because it's time for some grown-up talk.
If you consider yourself a beer connoisseur and you've never been to Raleigh, I want you to go ahead and smack yourself.
Where else can you find over 30 craft breweries and a literal beer garden that has over 350 beers on tap?
Nowhere but Raleigh.
#1 A Boomin' Economy
Here's a sentence that no one in history has ever uttered:
Boy, I just love looking for a job.
Well, in Raleigh, you most likely won't have that problem. That's because this city has almost too many opportunities for employment.
So much so that it was voted one of the best cities to start a career in by Wallethub.
And if you're one of those incredibly smart people who are into STEM careers, here's a fact that'll make your calculator feel all warm and bubbly inside.
Raleigh has also been voted to be the 7th best city for STEM workers. So if you fancy yourself a mad scientist, you might want to consider the move.
There you have it. 10 reasons to move to Raleigh North Carolina.
Until next time!