Top 10 Reasons to Move to Houston, TX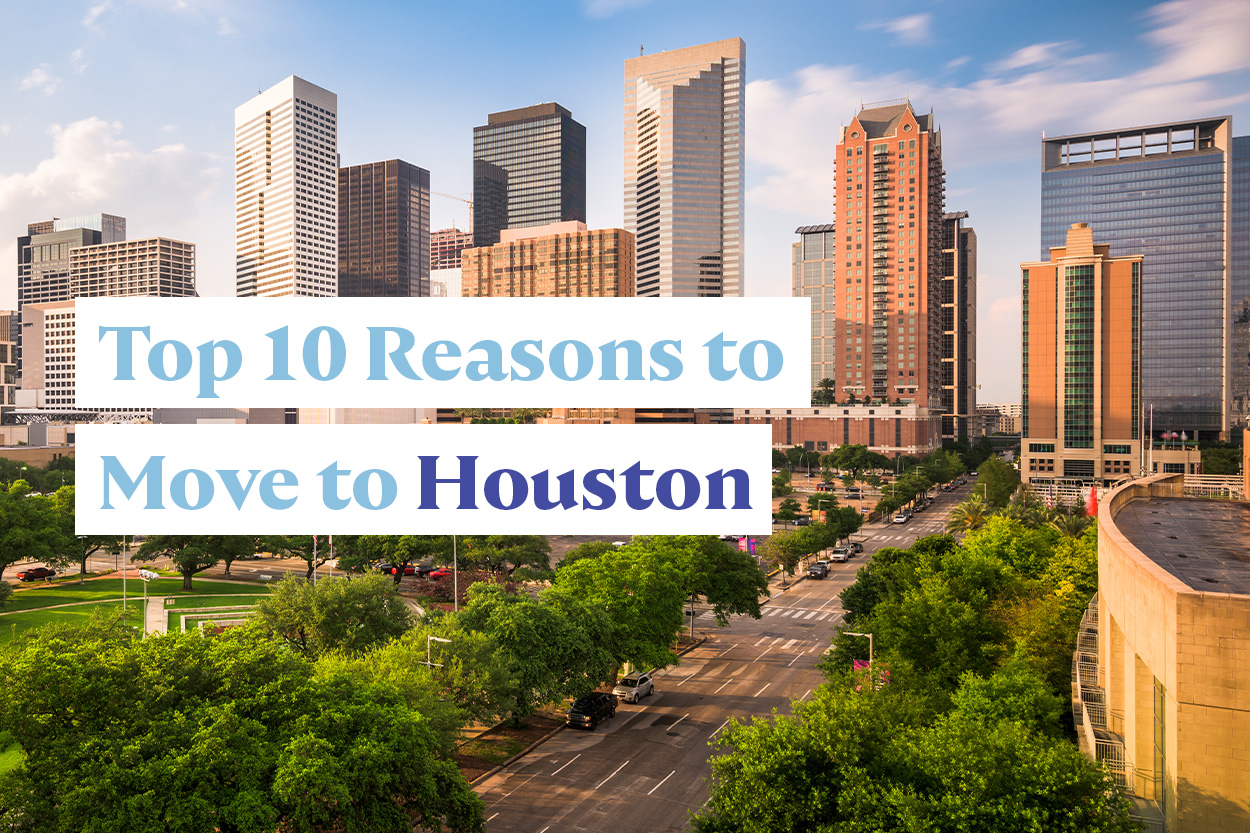 ---
Do my eyes deceive me, or do I spy someone interested in moving to Houston Texas?
Well, if you want to know whether or not the rumors are true about this city, then stick around and read this article.
Because in it, I'll cover all the reasons why you should consider the move to this wonderful city.
So sit back, relax, and start sippin on some sizzurp while I go over the top 10 reasons why you should move to Houston.
The sizzurp is optional by the way. 
Reason 10, Affordability
We're starting things off with something that could be the number one reason why people are moving to Houston.

It's just so dang affordable here.
A study by "The Zebra"– btw that's a publication, not a character from "Madagascar"–the study suggests that in Houston you'll get the most house for your dollar.
Which makes sense considering Houston is 19% cheaper than Austin and 5% cheaper than Dallas.
And when you combine that with Houston not having a state income tax, it makes sense why so many people are moving here.
Reason 9, Job market
The affordability in Houston will certainly make your wallet happy, but its job market will help keep your bank account full.
Because these jobs pay serious cash–especially for engineers, scientists, and medical professionals.
Houston has more Fortune 500 companies than anywhere else in the US, except New York.
So if you decide to make the move, chances are you will have more work options than you know what to do with.
And if you do decide to move, make sure you send me a finders fee. Y'know, because I made this convincing video and all.
Reason 8, Self-care
While you're taking care of your finances, it's important to not forget to take care of your body.
Fortunately, Houston is big on self-care, so you'll be in good hands (literally, the masseuses in this area are magicians).
The warm weather and open space make Houston a perfect place to get in an outdoor workout.
You'll be able to engage in pilates, yoga, Crossfit, soul cycle, or even attend the annual Ironman event held in Texas.
I however will be a spectator, because running miles outside does not sound like a good time to me.

Reason 7, Weather
This can be a pro or a con depending on your preference.
But if you're partial to warmer climates, then you'll love Houston.
It's pretty much warm here year-round. And can get pretty hot in the summer.
But if you're like me and you consider snow to be your mortal enemy, you'll probably never want to leave.
Reason 6, Good schools
If you have little ones at home, then you'll want to pay attention to this.
Because Houston schools have a strong reputation for educating little ones.
The public schools offer a number of AP courses, but they truly shine when it comes to their endless resources–meaning funding is provided to empower students to learn whatever they want.
And if public schools aren't really your thing, no worries. Houston has enough private schools for your child to go to a different one every day. So your child is covered no matter what path you take.
Reason 5, No zoning laws
This might not seem like a big deal, but Houston's lack of zoning laws helps make this an ideal place.
That's because it makes for some really cool neighborhoods.
No matter what type of living arrangement you're looking for, Houston has you covered. You'll be able to choose from trendy areas, family-friendly areas, outdoorsy vibes, or whatever it is you're looking for.
Word on the street is they're even making a neighborhood for nudists, but you didn't hear that from me.
Reason 4, Open space
Even though Houston is a major metropolitan area, it is still a very green city.
In fact, it's known by many as "The greenest city in the south".
Don't believe me? Check this out.
Houston has over 50,000 acres devoted to parks alone. And these spaces make for the perfect family outing. Especially parks such as Hermann Park and Tranquility Park.
So all of you vegans out there will definitely enjoy all of this food at your disposal.
….what's that? Vegans don't eat grass? Ok, let's edit that out in post.
Reason 3, Diversity
Like most major cities in the US, Houston is home to many different types of people.
You'll find many transplanted residents here, often from other larger cities like New York or Dallas.
And while the diversity in Houston creates an environment of acceptance, the true benefit of this diversity can be found in the next point.
Reason 2, Food
Oh yea.
You know we couldn't keep food off of this list. And let me just say this, for food lovers, Houston does not disappoint.
With over 11,000 restaurants to choose from, Houston is a place people usually stay for good.
You'll be able to enjoy Tex-Mex and Houston's famous BBQ. But that's not all.
Because the diversity in this area will constantly leave you amazed.
It's the reason why Anthony Bourdain called Houston, "a Wonderland of Strange and Diverse."
Here you'll find James Beard award-winning chefs and ethnic cuisine from all over the world.
It's safe to say you'll definitely give your digestive system a workout out if you move to this area.
Alright, it won't be long now.

I'm about to share with you the number 1 reason why people move to Houston Texas.
But first, I have some important news to share.
Here at Home and Money, we make the whole process of getting a home easier (even if you're a first-time home buyer).
We have a whole team that will connect you to the perfect agent so you can finally get that dream home. Plus, we'll equip you with your very own personal concierge if you're a first time home buyer–Which, if you've ever purchased a home, you know is a HUGE help considering how complicated the process can be
Best of all, this service is absolutely free!
Ok, now where were we.
Reason 1, Things to do
Houston has a ton of different experiences to offer, no matter what you're interested in.
Sports lovers can enjoy the many professional teams in the area, such as the Houston Rockets and Houston Texans.
And if you're the artistic type, you'll be able to enjoy top-notch artistic productions at any time.
That's because Houston has nine performing arts organizations that will keep your love for musicals alive and well.
Ok folks.
Those are the top 10 reasons why you should move to Houston Texas.
Until next time!