Top 10 Reasons to Move to Dallas, TX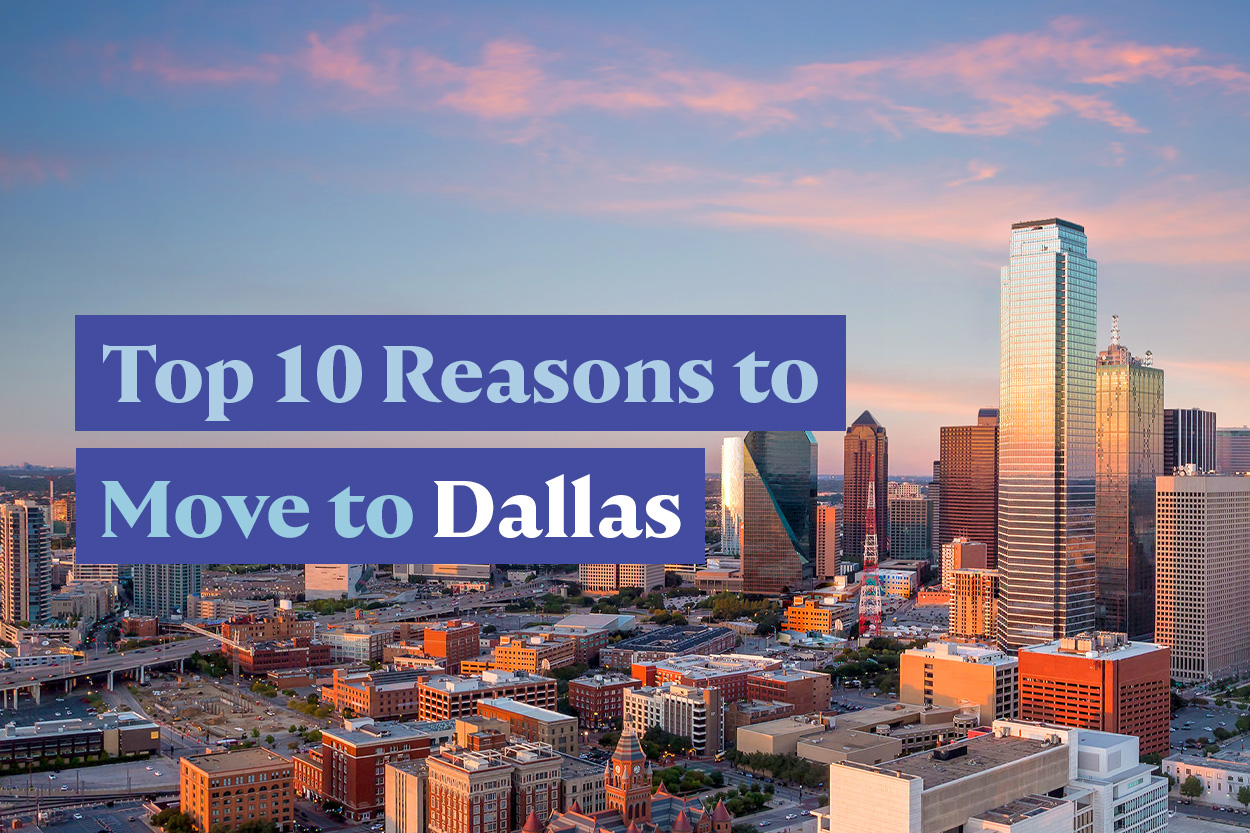 ---
Well howdy,
If you've made it to this article, it could only mean one thing. That you've been thinking about moving to good ol' Dallas Texas.
It's no secret that Dallas is one of the coolest places to live in the US.
And you know what they say–everything is bigger in Texas. That's why I put together this big list of 10 reasons why you should move to Dallas.
Let's get started. 
#10 Cost of Living
Looking to have your money stretch like Mr. Fantastic?
Then there's no better place than Dallas.
Seriously, the cost of living in this city will make you feel like you're living in the 70's when 20 dollars could feed a family of four.
Ok, maybe I'm exaggerating a bit.
But still, the cost of living is lower than that national average. And even the homes are affordable.
At the time of this recording, 64.7% of the good people of Dallas own a home, which of course is higher than the national average.
#9 Schools
A little known fact about Dallas is it's a pretty good place to get an education.
The school districts here are amazing. And parents have many different options to choose from depending on their preferences.
Dallas has some of the best school districts in all of Texas. A few of those are Grapevine-Colleyville, Plano, and Frisco.
And if you have a child that's highschool aged, you'll be pleased to know that 69 of Dallas's highschools are recognized on U.S. News & World Report's Best High Schools rankings.
But please note, sending your child to these highschools won't make them actually talk to you. Because no teacher is that good.
#8 Job Opportunities
You can think of Dallas as on big LinkedIn page because almost everyone here has a jobs.
The economy is booming in this city and opportunity is literally everywhere.
Dallas boasts a low unemployment rate, superb job diversity, and has been voted the 2nd best place for new college graduates to find employment.
So if you're looking to pay off those student loans before your 60's, you might want to make the move.
#7 Transportation
Getting from point A to point B is something anyone should consider before moving to a city.
Fortunately, this is another area where Dallas delivers.
While you may not be able to ditch your car 100% like you can in places like New York, you certainly won't need to use it all of the time.
Dallas conveniently provides over 64 rail stations, 10 railway expresses, and 14 bus transfer facility.s
And if biking is more of your thing, you'll be pleased to know that over 100 miles of bike and hike trails exist within the city of Dallas.
Just please don't ride those things on the road because I will run you over.
#6 Sports; Pro Sports in Every League
For the passionate sports fans among us, there almost exists no greater city than Dallas.
There's a professional sports team in just about every league in Dallas. So you can enjoy sports year 'round instead of planning date night with your wife.
I'm sure she'll understand.
Dallas is truly a sports fans paradise and, fair warning, the city takes their sports very seriously.
I have a black eye to prove it.
#5 Restaurants
I hope you've already eaten because what I'm about to say will make you want to take lunch break.
But Dallas has some amazing restaurants.
I'm talking, you can smell the cooking from 10 miles a way type of restaurants.
Dallas has some truly iconic restaurants to choose from. You can enjoy delicious blue corn pancakes at Encina.
Life changind salmon and fish and chips at BarNone.
And Barbecue Brisket that'll make you want to slap yo mama at Sonny Bryans.
But please, don't actually slap your mother. We don't need another one of those lawsuits.
#4 No State Income Tax
We talked about how Dallas is a city that'll make your money stretch, but the money savings don't start there.
Dallas is also in one of the few states that doesn't charge state income tax.
Effectively putting more money back into your pocket every year. Which, if you're smart, you'll spend the difference on some delicious Texas barbecue.
#3 Things to Do
One of the biggest perks to living in Dallas is you'll never run out of things to do.
No matter what you're into, you'll definitely be able to get your fix in this lively city.
From watching your favorite sports team, to catching a performance at the AT&T Performing Arts Center, Dallas is sure to prevent boredom.
But if you're like me, eating food is all the entertainment you need…I'm definitely getting barbecue today.
#2 State Fair of Texas
Technically this should've been covered in the last reason, but the state fair of texas is so big, that it deserves it's own spot on the list.
Listen, this fair isn't anything like the state fairs of other states. Here in Texas, they take their state fairs seriously.
So much so that many employers give their workers a half day off to enjoy the fun. And many schools have a "fair day" scheduled to ensure the students have a good time.
At this fair you'll experience every fried food you can imagine, amazing live performances, and a large variety of beer and wine.
Oh and did I mention thrilling rides that make bringing an extra pair of underwear a good idea. Ok, that last part was just for me. I have a weak bladder.
Anyway, attending this fair alone could make you never want to leave Dallas.
Ok, you're about to learn the number one reason why you should move to Dallas.
But before I get to that, there's something you must know.
Here at Home and Money, we make the whole process of getting a home easier (even if you're a first-time home buyer).
We have a whole team that will connect you to the perfect agent so you can finally get that dream home. Plus, we'll equip you with your very own personal concierge if you're a first time home buyer–Which, if you've ever purchased a home, you know is a HUGE help considering how complicated the process can be
Best of all, this service is absolutely free!
#1 Southern Hospitality
We've learned many reasons why Dallas is an amazing place today, but I would be remiss not to talk about the people.
The people in Dallas are some of the friendliest people you'll ever meet.
They're the type of people who will bake you a fresh apple pie just to welcome you into the neighborhood.
Yea, that doesn't just happen in movies, it also happens in Dallas.
With people like this surrounding you, it'll be only a matter of time before you start looking at Dallas as home.
And there you have it! The top 10 reasons to move to Dallas.