Pros and Cons of Moving to Eugene, OR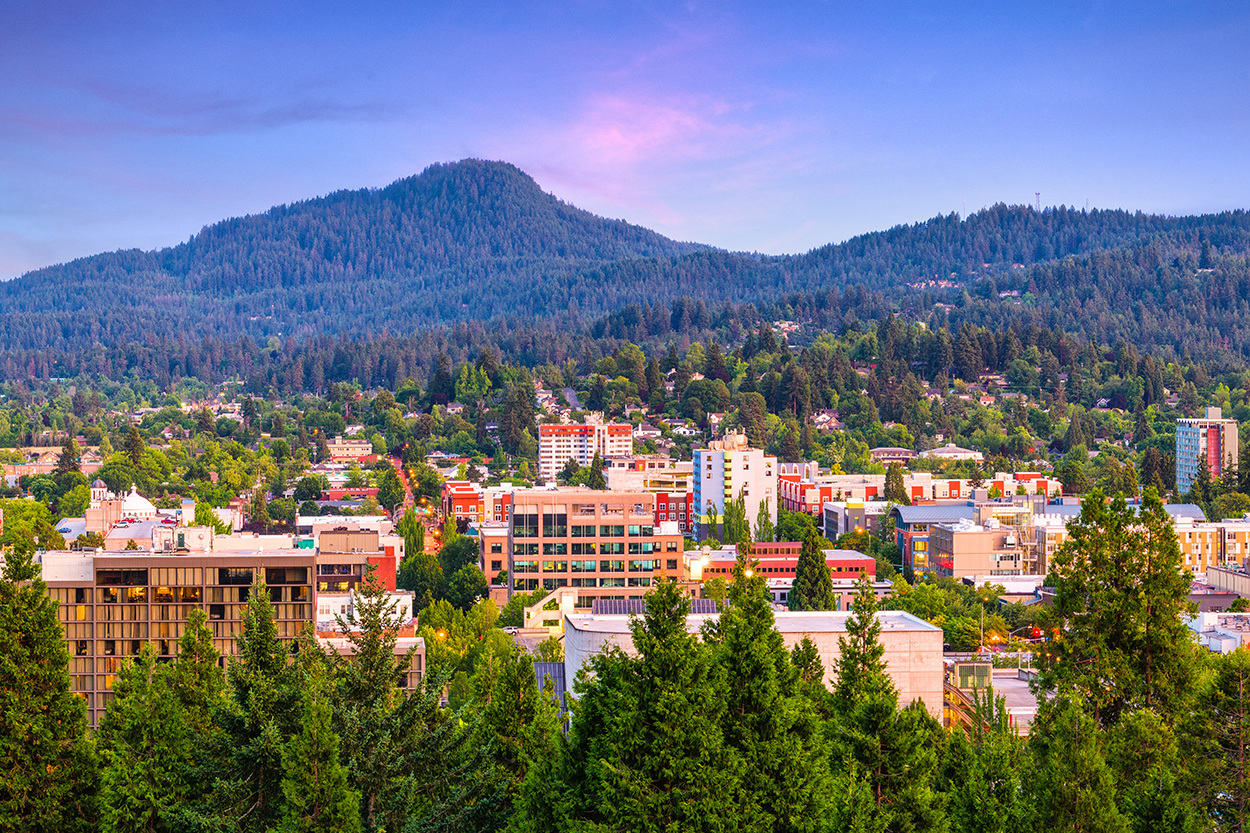 ---
Welcome to Eugene Oregon.
This beautiful city is known for its outdoor recreation and commitment to the arts, and one visit will make it easy to see why it's beloved by its residents.
But that begs the question–would you also love this city if you decide to move there?
I mean, I don't know about you. But I don't want to live in a city that shares a name with the kid I used to bully in middle school.
Don't judge me. With a name like Eugene, he was basically asking for it.
Anyway, answering that question is the reason why I'm making this video on the pros and cons of living in Eugene Oregon.
So you can know once and for all if it would be a good decision to make it your new home.
Let's get started. 
Con #4, Unemployment
There's one word to sum up the job market in Eugene…
Competitive.
And if you're not prepared to fight for a job like Mike Tyson in his prime, then you might want to reconsider the move.
You can blame this unfortunate situation on the one thing that's been a thorn in this country's side for decades.
College.
You see, when many of the students graduate from the University of Oregon, they begin snagging all of the career-level jobs in the area.
Which makes it almost impossible for people who don't have that fancy piece of paper to find a good job in the city.
I guess the moral of the story is we should completely eradicate college.
Con #3, Cost of living
As if the unemployment issues weren't enough, prepare to be hit over the head with a high cost of living.
The cost of living in Eugene is 15% higher than the national average. And one of the main contributors to this is its high housing costs. Housing costs are around 30% higher than the national average.
Which puts the average price of a home around $400,000.
But homes aren't the only things that are expensive in Eugene.
When you consider that the price of goods is roughly 33% higher than the national average, even if you wanted to move to Eugene, you may not be able to afford it.
Again, I blame college.
Con #2, Allergy season
This next con of living in Eugene may blow you away.
Because if you're someone who suffers from severe allergies, living in this city might put you on life support.
The reason why Eugene is so rough on allergies is due to it being located in the Willamette valley. Which is the grass seed mecca of the world.
So if you don't want your nose to precipitate, it might be best to move to a place with less greenery.
And speaking of precipitation.
Con #1, Rain
If you don't know how to swim, then just forget about moving to Eugene.
Because it rains so much in this city that you'll likely run into The Little Mermaid during your commute to work.
How much rain does Eugene get? Good question. On average, the city gets around 45 inches of rain per year.
Which kind of presents an interesting problem, since most of the benefits of living in Eugene come from being outdoors.
The reality is, if you want to live in this city, it's just one of those things you'll have to embrace.
But on the bright side, all of this moisture is a key reason why Eugene has such lush greenery. So there's a little bit of good that comes with the bad.
Speaking of bad, if you want to avoid having a bad home buying experience, you must check out homeandmoney.com.
These amazing people know how to make buying a house an easy and stress-free experience.
And they do this by hooking you up with your very own personal assistant. This assistant is a lifesaver because they'll quickly match you to your dream agent, find you the best grants and programs to help you save money, and literally do all the heavy lifting for you
Best of all, their service is 100% free!
Just fill out the quick form below to get started.
Ok, now let's check out some pros of living in Eugene.
Pro #4, Plenty of space
While living in Eugene and backstroking through the pools of rain, you'll likely come to a certain realization…
The city has a ton of space!
It has around 44 square miles but only 160,000 people call the city home. That means, when living here, you'll never feel crowded as you would in more populated cities.
The only way this would be a bad thing is if you were agoraphobic. And if that's the case, Eugene might make you have a psychotic break.
Pro #3, Beer
If you love beer and consider Peter Griffin your spirit animal, then this next pro might make you emotional.
Because Eugene has been nicknamed "beer town".
A vast number of craft beers come from this city. And this fascination with alcohol is limited to beer, but a good amount of high-quality wine also is made in the area.
The reason for this is due to the clean water and continental climate that's found in the Willamette Valley.
This area has the perfect conditions for growing hops, which naturally leads to an excess of microbreweries in the city.
If you decide to move here, you might even become one of the locals who plant their own vines and make beer at home.
And I wasn't supposed to tell you this, but the secret ingredient that makes the beer in Eugene taste so good is. Drumroll please…Pollen. Yep, all the pollen in the area has to be good for something.
Pro #2, Location
This is one of the best parts of living in Eugene.
Because no matter what kind of activity you're into, you'll be a day trip away from having the time of your life.
Eugene is only about a 2-hour drive away from Portland. Which is perfect for those wanting to get away and enjoy the perks of being in a bigger city.
You can also get to a nearby dessert in about a 90-minute drive. And if you want to visit the coast, it's also only a 90-minute drive away.
And when you consider just how adventurous living in a place like this can be, it almost makes up for all the rain and sneezing.
Pro #1, Natural beauty
Eugene may be called "beer city" by all the drunkards, but to the population at large, it's known as the Emerald City–which is a name it shares with Seattle.
The reason for this moniker is due to the emphasis the city places on cleanliness and environmentalism.
But these behaviors only serve to enhance the natural beauty that can be found in Eugene.
The city has plenty of forests, mountains, and wildlife that its citizens appreciate daily. And one of the best ways to take in the sights is to take a stroll on the popular Ridgeline trails.
This is a 40-square-mile stretch that has many trails, lakes, forestry, and even waterfalls.
It's safe to say, if you decide to move to Eugene, you may quickly discover that you'll never want to leave.