Top 10 Things to Know Before Moving to Yuma, AZ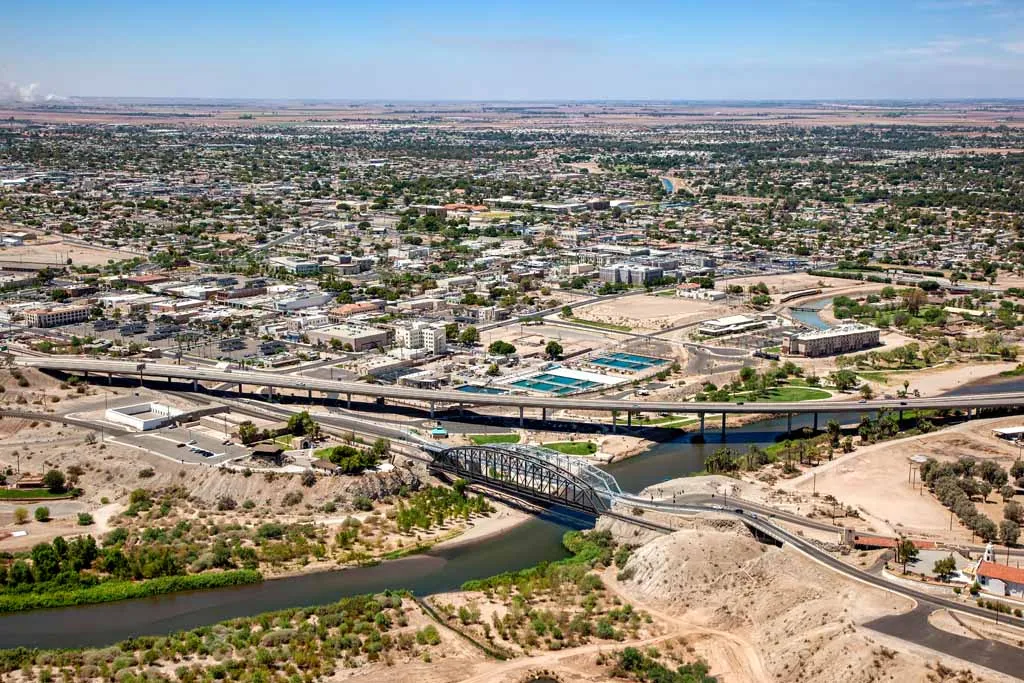 ---
Yuma, Arizona, is located in the Sonoran Desert in the southwestern United States. It is situated right on the border with Mexico along the banks of the Colorado River. There are more than 90,000 people living in this city.
In more ways than one, Yuma serves as a hub for the surrounding areas. It is located at one of the lowest spots in the state, which is below sea level. Yet, the city has the widest range of temperatures, with 117 degrees being the highest ever recorded. While its land area of 5 miles is smaller than that of some cities, locals insist that the city's width of 5 miles more than makes up for this fact.
What is life like in this city? Let's talk about 10 things to know before moving to Yuma, AZ! 
1. Yuma is a sunny city
Yuma has been named the "Sunniest City on Earth" by the Guinness Book of World Records. The city enjoys an average of 4000 hours of sunshine each year.
While the year-round heat may be unpleasant for some, many who are escaping less temperate climates will find it to be paradise on earth. Low humidity under the sun's heat helps keep the skin dry and comfortable even when the temperature rises.
But don't think that Yuma is burning under the scorching sun's heat all year long. Contrary to popular belief, Yuma does experience seasons with colder temperatures, such as fall and winter, so be sure to bring appropriate clothing.
2. A standard healthcare system
One of the things that makes a location desirable to live in is a reliable healthcare system. In the days past, people with lung diseases moved to Yuma for the hot dry weather. Today, healthcare is still a strong selling point for Yuma.
If you need medical care, Yuma Regional Medical Center is your best bet. Some of the world's finest medical professionals work there. The medical institution also has a robust 'Patients Come First' motto that serves the community's requirements by offering a wide range of medical insurance options.
3. There are many job opportunities
From farming to wind farming, as Yuma continues to expand, more and more new jobs are being made available in the city every day.
Yuma's agribusiness sector is vital to the city's economy, as it provides vegetables to a vast portion of the United States year-round but especially so in the colder months when the weather is not so yielding up north. Plus, nearly forty thousand people find work on farms like lettuce farms.
High-quality jobs have also been generated by the renewable energy sector in the area. More capital flows into Yuma thanks to this industry, which means more business and employment prospects for Yuma residents.
Furthermore, Yuma's pleasant year-round climate makes it a popular tourist destination.
4. A low cost of living
Yuma's cost of living is about 11% lower than the U.S. average.
Additionally, low housing costs have contributed to the overall cheap cost of living. You and your family can have a nice place to live in Yuma for as little as $250,000, and you can get an apartment for as little as $700 each month.
The price of utilities is also significantly less than in other American cities. Consequently, the cost of living is lower than in other places, which is good news for folks on a limited budget who are considering a move.
5. Getting around is convenient
Situated between San Diego and Phoenix, Yuma is located on a number of major thoroughfares, including State Route 95 in Arizona and Interstate 8 which connects it to San Diego, Tucson, and Pheonix.
It's no secret that driving is the most common form of transportation, as it's the most accessible and best suited for both long-distance travel and daily commutes. Most likely, you will need a car in Yuma. And it will get you places.
Beyond the motorway system, there is also an international airport for longer journeys which has direct flights to Pheonix and Dallas. The Yuma Marine Corps Air Station operates out of this airport and is financially integral to the city's economy.
6. The city is affected by drought
Yuma experiences drought all year round because it is one of the hottest spots on Earth.
Most of Yuma's agricultural water comes from the Colorado River and the Imperial Dam, both of which are critical components of the city's water infrastructure. Long stretches of time without rain are not uncommon in Yuma County. In fact, Yuma is the driest city in the US with less than 3 inches of rain every year. On average, only about 2.65 inches of rainfall is recorded per year.
As a result, farmers file irrigation orders to guarantee adequate water for their crops. It takes two or three days before they get access to draw water from the canal.
Due to the drought, the county's water utility bill is the only one that's unusually high.
7. There's a high rate of crime
Compared to the rest of the country, Yuma has had the most significant increase in violent crime over the past few years. The rate of growth in this city is three times the national average.
Yuma has a yearly crime rate of 59.04 per 1,000 people, and in comparison to the national average of 22.7, Yuma's crime rate is 32.
It's crucial to conduct research on safe neighborhoods before moving to the city.
8. The city's income rate is low
In 2022, the median income in Yuma is $50k, compared to the median income in the United States of $71k. This shows that Yuma has a lower per capita income than the national average.
The lower incomes are balanced somehow by the affordability of living in the city. This could make sense for retirees aiming to maximize their savings, but it's not ideal for young professionals who are just starting out.
9. The city's growth is constant
It's undeniable that this city's economy is strengthening and expanding daily. The agro sector, which is the backbone of Yuma's economy, is worth $3.2 billion.
It has also facilitated the development of new business prospects, such as the production of renewable energy.
Although Yuma's population is also growing, the city is not yet experiencing the same congestion as some of the country's larger metropolitan areas.
10. There are fun things to do in Yuma
Yuma is an excellent option if you're looking to live in a city where you can occasionally kick back and have a good time. Lettuce Days, honoring Yuma's most important crop, is only one of many fun annual celebrations the city hosts.
Yuma is also surrounded by beautiful natural scenery. Experience what it's like to be a Yuman while whitewater rafting or fishing on the Colorado River, or learn more about the culture by exploring the desert.
Yuma Territorial Prison State Historical Park, Gateway Park, Sanguinetti House Museum and Gardens, Yuma Conservation Garden, Z Fun Factory, Waylon's Water World, and Yuma Art Center are just a few of the exciting places you can visit here.
Final Thoughts
With plenty of sunshine, low living costs, constant growth, and job opportunities, many things make Yuma an attractive city to live in. However, the low income rate and high rate of crime in the city are some major drawbacks to also consider before making the move to this city.
Learn more about living in Yuma, AZ