10 Things to Know Before Moving to St. Petersburg, FL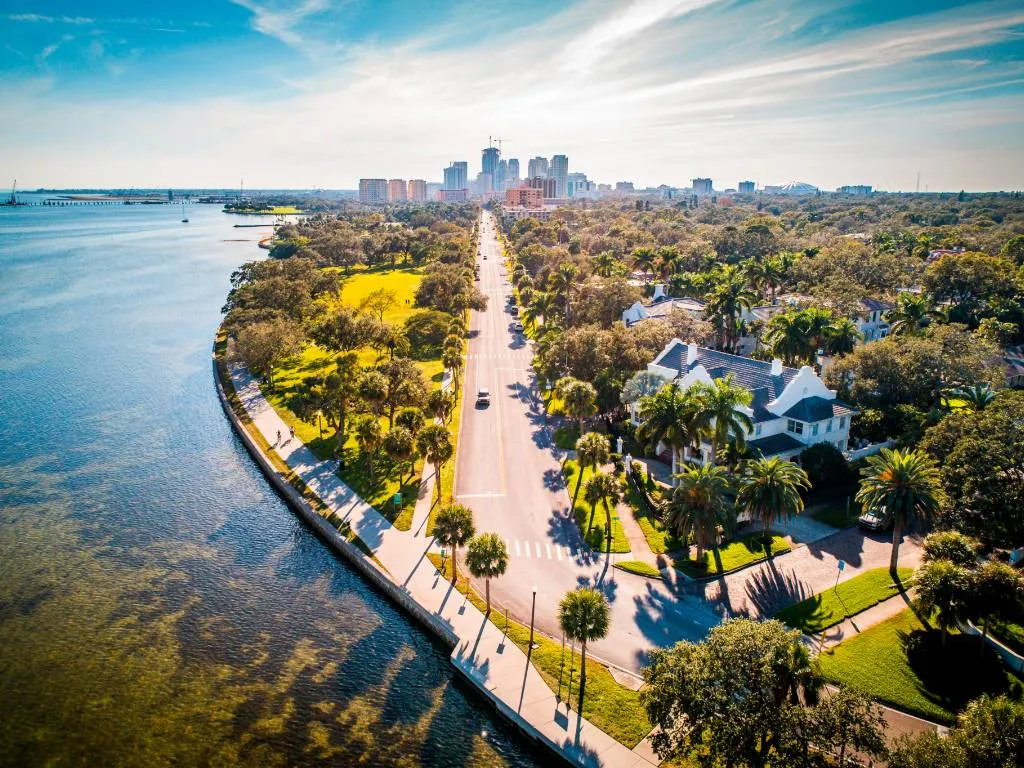 ---
Located in west central Florida on the Gulf of Mexico, Tampa Bay is home to three major cities, one of which is St. Petersburg.
If you're looking for a coastal city with a thriving arts scene, exciting nightlife, beautiful beaches, and a convenient downtown location, go no further than St. Petersburg, Florida. Despite its nickname, Sunshine City is not only a popular retirement destination on the Gulf Coast but also a vibrant and diverse cultural hub.
Here are ten things to know before moving to St. Petersburg, FL!
1. Bask in the sun at Caladesi Island, Clearwater Beach, or St. Pete Beach
The 35 miles of pristine beaches that stretch between St. Petersburg and Clearwater are often regarded as some of the best in the United States. Caladesi Island, Clearwater Beach, and St. Pete Beach are just a few of the country's best beaches, all of which can be found here.
St. Petersburg is at the tip of a peninsula that extends into the Gulf of Mexico on the west and Tampa Bay on the east. A beach is never far, but if you're searching for a peaceful weekend getaway right on the sand, any of the cozy B&Bs or motels along the shore will do just fine.
2. There's the threat of natural disasters
The climate in St. Petersburg is quite diverse. Winters are relatively temperate, with average temperatures ranging from the mid-50s to low 70s. In contrast, summers are characterized by hot and muggy weather, with temperatures often reaching the 90s. St. Petersburg isn't a place you'd want to settle down if you're not fond of hot weather.
Additionally, there is a potential threat of tropical storms and hurricanes during the Atlantic hurricane season, which spans from June to November annually.
3. Work in a Fortune 500 company
In 2022, St. Petersburg was recognized as a top city for job seekers, alongside Tampa. The city is one of the most sought-after locations for new employees because of the concentration of Fortune 500 firms like Raymond James, HSN, and Jabil, as well as a growing number of innovative startups.
Both the University of South Florida and Eckerd College are located in Tampa, creating a wealth of academic employment possibilities as well as post-graduate work possibilities. St. Anthony's Hospital and Johns Hopkins All Children's Hospital provide pathways for anyone interested in healthcare to enter the workforce.
4. It's best to own a car
St. Petersburg is best explored with a car, but patient pedestrians can get by. The PSTA operates buses all around the city, and the Downtown Looper Trolley is the most convenient way to travel within the central business district. The city's new SunRunner BRT service makes it a breeze to travel between the city's beaches and the rest of the city.
However, if you don't reside in or near the downtown area, you'll need a car to get around. In most areas of the city, you can park for a low price and with little trouble. The roadways are laid out in a grid pattern, and there are two main freeways (I-75 and I-275) that connect the area.
5. Watch the Tampa Bay Rowdies or The Tampa Bay Rays play
St. Petersburg has a fantastic atmosphere for sports fans. The Tampa Bay Rays play their home games at Tropicana Field, while the Tampa Bay Rowdies play at Al Lang Stadium. Raymond James Stadium, home of the Tampa Bay Buccaneers, and Amalie Arena, home of the Tampa Bay Lightning, are both within walking distance across the causeway.
You can watch the games at any number of local taverns and restaurants if you are unable to attend a game in person. Two of the best are Ferg's and Engine No. 9.
6. Enjoy the proximity to Tampa and Clearwater
St. Petersburg is like a three-in-one offer; you get not one but three great cities for the price of one!
Located on the coast of the Gulf of Mexico, St. Petersburg is one of the three major cities that make up Tampa Bay. Hillsborough County, home to Tampa, and Pinellas County, home to Clearwater and St. Petersburg, form its borders. Together, they make up a population of more than 3 million people.
What's more, there is less than an hour between each sister city. Residents of St. Petersburg have two options for spontaneous day trips or exciting evenings out.
If you cross the Howard Franklin Bridge over the bay, you'll end up in the heart of downtown Tampa. To spend a beautiful afternoon, you can choose from a wide variety of attractions in this nearby city, which is slightly bigger and livelier than St. Petersburg.
You can find Clearwater, a more tranquil sister city to St. Petersburg, complete with gorgeous beaches, just to the north.
7. Tourists could be an inconvenience
St. Petersburg, like other Florida communities, is a magnet for visitors. The sunny skies, sandy shores, and buzzing cultural scene make this a desirable vacation spot. However, the throngs of people at the beach and in the restaurants may be an inconvenience for some locals.
Fortunately, the peak season for visitors lasts from roughly December to May. In addition, many residents rely on tourism-related revenue to sustain their businesses.
8. A cost of living index of 102
It stands to reason that living in Florida's best-run city would cost a pretty penny. After all, St. Petersburg is known for its stunning parks and first-rate facilities. However, St. Petersburg's cost of living is only 2% higher than the national average, delivering stunning beachfront at a cost of living lower than the average in Florida.
St. Petersburg real estate is a major element because of the city's cheaper home costs compared to the rest of the country (a median home price of $374,789). In addition, there is no state income tax in Florida, so residents can keep more of their hard-earned cash.
9. School at Eckerd College, Galen College of Nursing, or St. Petersburg College
St. Petersburg is home to many excellent educational institutions if you're thinking of relocating there to further your education. Eckerd College is one of the best schools in the country for short-term study abroad programs and is consistently listed as one of the top schools that sends volunteers to the Peace Corps.
St. Petersburg College offers more than 110 degree and certificate programs as well as shorter educational programs for professional development and certification in a variety of fields. At Galen College of Nursing, you can obtain a Bachelor of Science in Nursing while benefiting from cutting-edge clinical education technology. You can also attend the University of South Florida's St. Petersburg Campus and take classes in biology, finance, education, the arts, and more.
10. Take in the art and culture at the Imagine Museum, The Salvador Dali Museum, or the African American Heritage Trail
St. Petersburg is home to numerous museums and theaters where creatives can exhibit their work. The Salvador Dali Museum houses approximately 2,400 of Dali's fantastical and magnificent creations. Visit the Chihuly Collection at the Morean Art Center, the Duncan McLellan Gallery, and the Imagine Museum to admire complex glass sculptures and dazzling Contemporary displays.
Explore the innovative and entertaining displays of art and technology at Fairgrounds. The freeFall Theatre Company puts on various entertaining plays and performances. Visit the African American Heritage Trail and the Dr. Carter G. Woodson African American Museum to learn more about the impact of African Americans on St. Petersburg's history and culture.
In Summary
St. Petersburg offers beautiful beaches, a diverse job market with Fortune 500 companies, proximity to Tampa and Clearwater, and a reasonable cost of living.
On the other hand, the city also experiences hot weather and the threat of tropical storms. Having a car is advisable for convenient travel, and keep in mind that tourism can be high, particularly from December to May.