Pros and Cons of Living in Gatlinburg, TN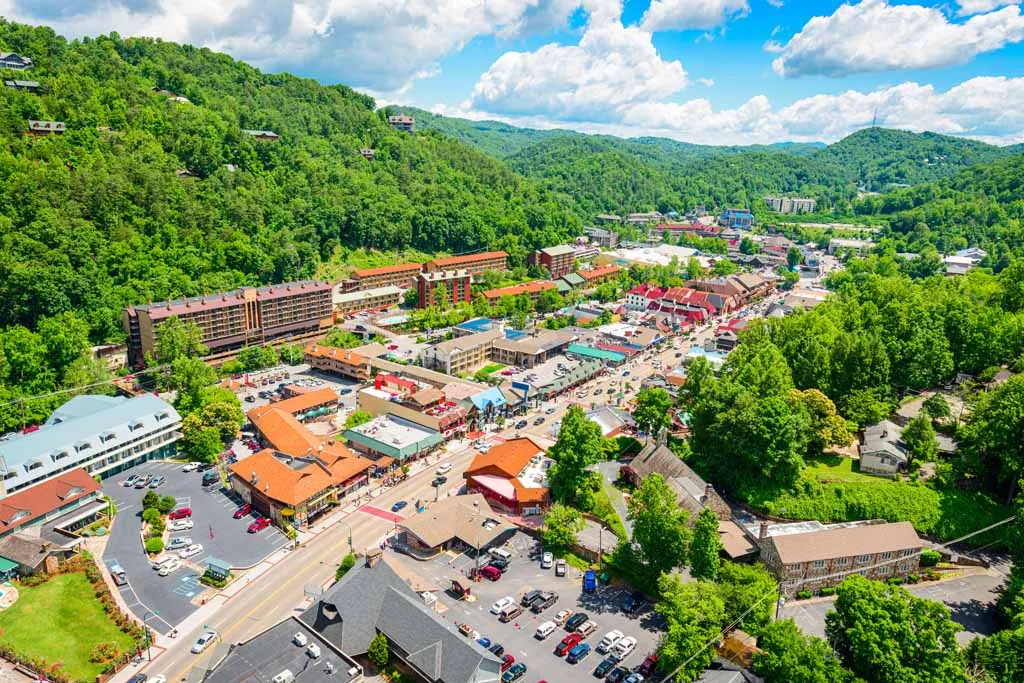 ---
Gatlinburg is a bustling tourist destination located next to the Great Smoky Mountains National Park in beautiful East Tennessee, and it offers visitors an almost endless variety of exciting activities.
The city was founded in the early 1800s as a sleepy town and is now a bustling resort that welcomes tens of thousands of visitors every summer and fall.
Visitors flock to Gatlinburg not only for the city's abundance of outdoor activities like fishing, rafting, biking, camping, and hiking, but also for the town's many unique stores, galleries, museums, and eateries. However, this city is not without its drawbacks, just like every other city. Here are 10 pros and cons of living in Gatlinburg TN!
Pros of Living in Gatlinburg
1. The city is going green
The people and businesses of Gatlinburg recognize their role as custodians of the Great Smoky Mountains National Park and strive to be ecologically responsible in all that they do. The people are committed to doing everything they can to preserve the natural surroundings since it belongs to the Smoky Mountains.
Gatlinburg's LED holiday lights, Sevier County's alternative fuel trolleys, and sustainable parade floats are only the beginning. If you like to keep tabs on your carbon output, this is the place to be.
2. You get to enjoy small-town life
There were only 3000 people living in Gatlinburg as of the 2000 Census. As of 2021, the population is only 3,726, so the town is still relatively small compared to the rest of the country. As a result of the low population density, the town offers all the benefits associated with living in a smaller community, such as less traffic, a more relaxed pace, and more open spaces.
3. There's no state income tax
In case you didn't know, Tennessee does not levy an individual income tax. You get to keep more of your income. This is particularly appealing if you work from home. You can be making big city income, yet enjoying the quality of life that Gatlinburg offers.
However, dividend and interest income are subject to taxation, thus this benefit is not without its drawbacks. You should expect to pay a little more in taxes if your savings and investments are your main source of income.
4. The Great Smoky Mountains are just nearby
The Great Smoky Mountains National Park is a major source of pride for Gatlinburg locals. The place is perfect for outdoor activities. There are beautiful flowers and wildlife, and you can take a stroll through the park. The scenery in the Great Smoky Mountains is magnificent.
The mountain range never ceases to be stunning, no matter the time of year. The winter snow makes the mountain peaks look extra beautiful, and the new, vibrant green of spring is absolutely breathtaking. In addition, the autumn foliage is so beautiful that it seems unreal. It's no wonder that the mountains receive millions of visitors yearly.
5. Lots of fun things to do
From roller coasters to mini-golf to fishing to shopping to dining, there is always something exciting to do in this city. If you're a resident of Sevier County, you can save big at numerous area attractions by showing your county ID. That means that the activities are typically very cheap, if not entirely free.
In exchange for canned goods donated to the local food bank, locals can get into all of Ripley's attractions for free for a certain week each year. Check out places like Anakeesta Theme Park, Ober Gatlinburg, Ripley's Aquarium of the Smokies, Anna Porter Library, and lots more.
Cons of Living in Gatlinburg
1. Summers can be scorching hot
Gatlinburg is not the place to call home if you're used to summers that feel like you're spending the day at the beach. The months of July and August can be extremely hot and muggy. The usual high during this time of year is well above 90 degrees, and the humidity makes it feel even hotter. Always remember to have lots of water or other fluids with you when you leave the house.
2. It might be difficult to make friends
When you first move to Gatlinburg, you might be encouraged by the general sense of friendliness you encounter across the city. However, you'll eventually realize that it's tough to meet people and form friendships in the early stages of your move.
People tend to stick to their old pals and everyone knows everyone. This setting may feel hostile if you're more used to a big city where you can easily meet new friends, and there may not be much you can do to change that.
3. Not just the heat, but the tornados too
Although Tennessee is not in the center of Tornado Alley, it is located in the area of the United States where cold fronts collide with warm air, resulting in violent thunderstorms.
Tornadoes are possible at any time of year, but they are more common from late spring to early fall, and since Gatlinburg is extremely close to the mountains, the city is at a higher risk. Every once in a while, a storm will roll through with heavy lightning and hail.
4. Crime is a problem
The crime rate in Gatlinburg is something to worry about. The city's violent crime is 46.9, higher than the US average of 22.7. Property crime is 95.0, way higher than the US average of 35.4. Gang crime is also a major problem in some parts of Gatlinburg, so anyone who's intending to move there must be aware of this and conduct the necessary research on the safe parts of the city.
5. Housing can be expensive
With a median home price of $699,000, buying a house in Gatlinburg could be a problem especially if you're on a tight budget. It's best to carry out enough research if you plan to purchase a house here or consider cheaper options like condos or rental homes.
In Conclusion
The abundance of fun things to do and the lack of state income tax are attractive perks that come with living in Gatlinburg. However, the expensive housing, high crime rate, and scorching summers are major drawbacks. Regardless, your decision to move would be based on your choices and preferences.