10 Things to Know Before Moving to Clemson, SC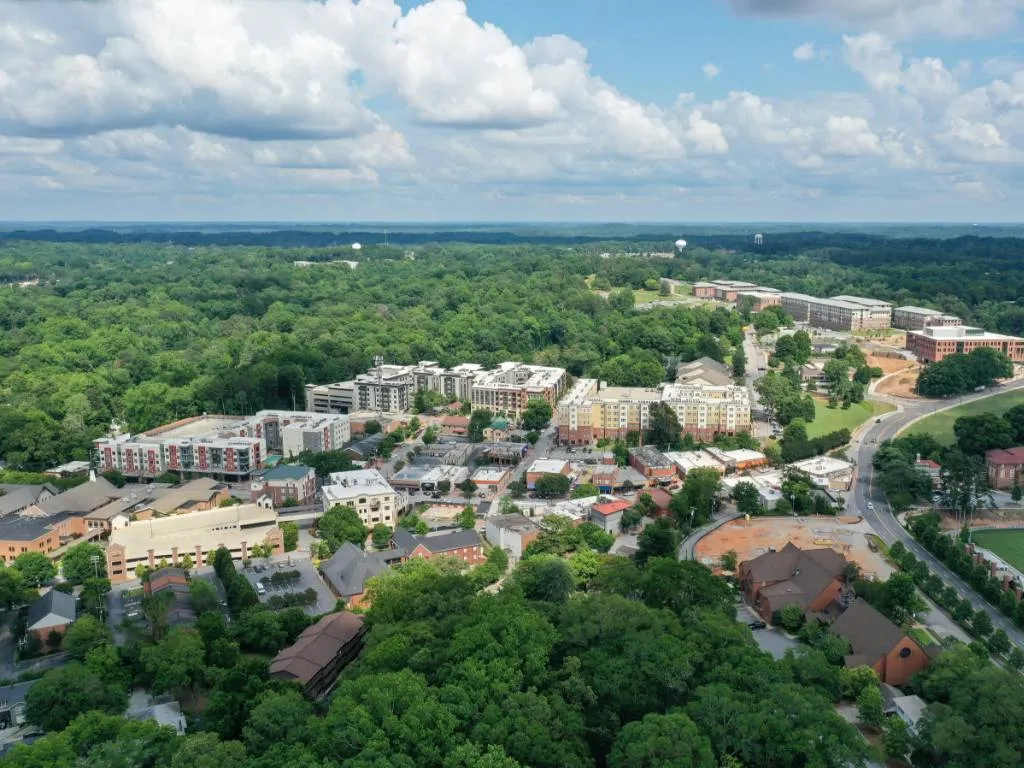 ---
Clemson is a vibrant college town that provides residents and visitors with many opportunities to enjoy life. This city in South Carolina is most famous for its historic Clemson University, located in the middle of town.
Let's check out ten things to know before moving to Clemson, SC.
MAF Widget
1. The cost of living is lower than the national average
There is a 93.5 overall cost of living index in Clemson, South Carolina. This is 6.5 points lower than the national average but 4.4 points higher than South Carolina's index average. This indicates that Clemson is more reasonably priced than the national average but more costly than the state average.
Clemson has an average home value of $363,013. In Clemson, a single person will need $35,065 per year to cover basic living expenses like rent or mortgage, groceries, child care, transportation, medical care, insurance, and taxes.
2. Clemson University is a big part of the city
The University of Clemson has been instrumental in shaping modern-day Clemson. Without the presence of this institution, Clemson would simply have been another sleepy South Carolina village in the middle of nowhere.
The presence of Clemson University, however, brings with it a wealth of cultural opportunities and a highly competitive collegiate athletics scene for locals to enjoy.
3. Watch the Clemson Tigers play
You'll never have to miss a home game if you make your home in Clemson. Being the university's "home turf," Clemson students and residents show their school spirit all year long. College football games are played on Frank Howard Field at Clemson Memorial Stadium, also known as "Death Valley," throughout the fall. Three times, the Clemson Tigers have been crowned champions of NCAA Division I Football.
Clemson basketball is another local favorite. The 2016 renovation of Littlejohn Coliseum is where the Clemson Tigers men's basketball team plays. The Tiger women's basketball team has won the ACC Tournament several times. Their most recent title came in 1999.
4. The unemployment rate is lower than the national average
The employment outlook in Clemson is bright. The job market is growing at a rate of 35.06%, which is considerably faster than the US average of 30.54%. As a result of this increase in available jobs, the unemployment rate has dropped to 3.3%, which is lower than the national average.
Clemson has a thriving job market, which is good news for locals who can take advantage of the numerous career prospects. Dabo Swinney Football Camps, Clemson Outdoor Products, and University Inn are just a few of the local businesses that call this area home.
5. Winters are mild and pleasant
Clemson, situated in Upstate South Carolina, enjoys a mild environment throughout the year, making it a great spot to call home if you like to spend a lot of time outside.
During the warmer months, highs often hover around 86 degrees. Lows throughout the winter months average in the low 30s, with highs in the mid-50s during the day. Clemson occasionally gets snow, but only around two inches. So, if you're looking for a city with pleasant winters, you've found it!
6. Visit The South Carolina Botanical Gardens
The South Carolina Botanical Gardens are located on the Clemson University campus. The 295-acre preserve features regional artworks inspired by nature and displays the area's unique topography. The purpose of these gardens is to educate visitors about the flora, fauna, geology, and culture of the South Carolina Piedmont. The Bob Campbell Geology Museum, which features local gems, minerals, and fossils, can be found within the grounds as well.
Monthly walks and children's educational activities are only two of the many annual events that take place on the grounds. The gardens are free and available to the public daily from morning to night.
7. Catch a show at Brooks Center for the Performing Arts
Clemson University's Brooks Center for the Performing Arts was opened in 1994 and has since become a major venue for professional dance, theater, and music performances. The 87,000-square-foot building features a proscenium auditorium with 979 seats and a black box theater with 100 more seats.
Clemson is a great area to live in if you enjoy going to the theater, as there are performances of all kinds going on all year long (both by professionals and students).
MAF Widget
8. Traffic is always bad on game days
Clemson's traffic and parking issues have become more pressing than ever. And the popular sports events don't make things any easier.
The road congestion caused by football games is a major issue. On days when the Clemson Tigers have a game, more than 100,000 fans flood the area, causing traffic jams that stretch for miles.
9. There is always some construction going on
Over the previous decade, Clemson's resident and student populations have grown substantially. In addition, there is a significant decline in the rural character of the area surrounding the town.
Therefore, the expansion has put a heavy strain on the community's facilities. Everywhere you look, you can see new buildings going up, whether they be hotels, apartments, or shopping centers.
10. A high property crime rate
When compared to the rest of the country, Clemson's violent crime rate is very low. The city has a far lower violent crime rate than the rest of the country, with 12.4 per 1,000 residents.
However, unlike the violent crime rate, the property crime rate is higher than the national average of 35.4 per 1,000 inhabitants, at 43.3. This suggests that residents should be on the lookout and keep their property safe.
Final Thoughts
Clemson provides a one-of-a-kind way of life, with its large American university situated in a small, formerly rural Southern town. The city has a low cost of living, a thriving economy, and a vibrant school culture.
On the other hand, the city's rapid growth comes with its own disadvantages, such as the heavy traffic and strain on facilities.