10 Pros and Cons of Living in Carlsbad, CA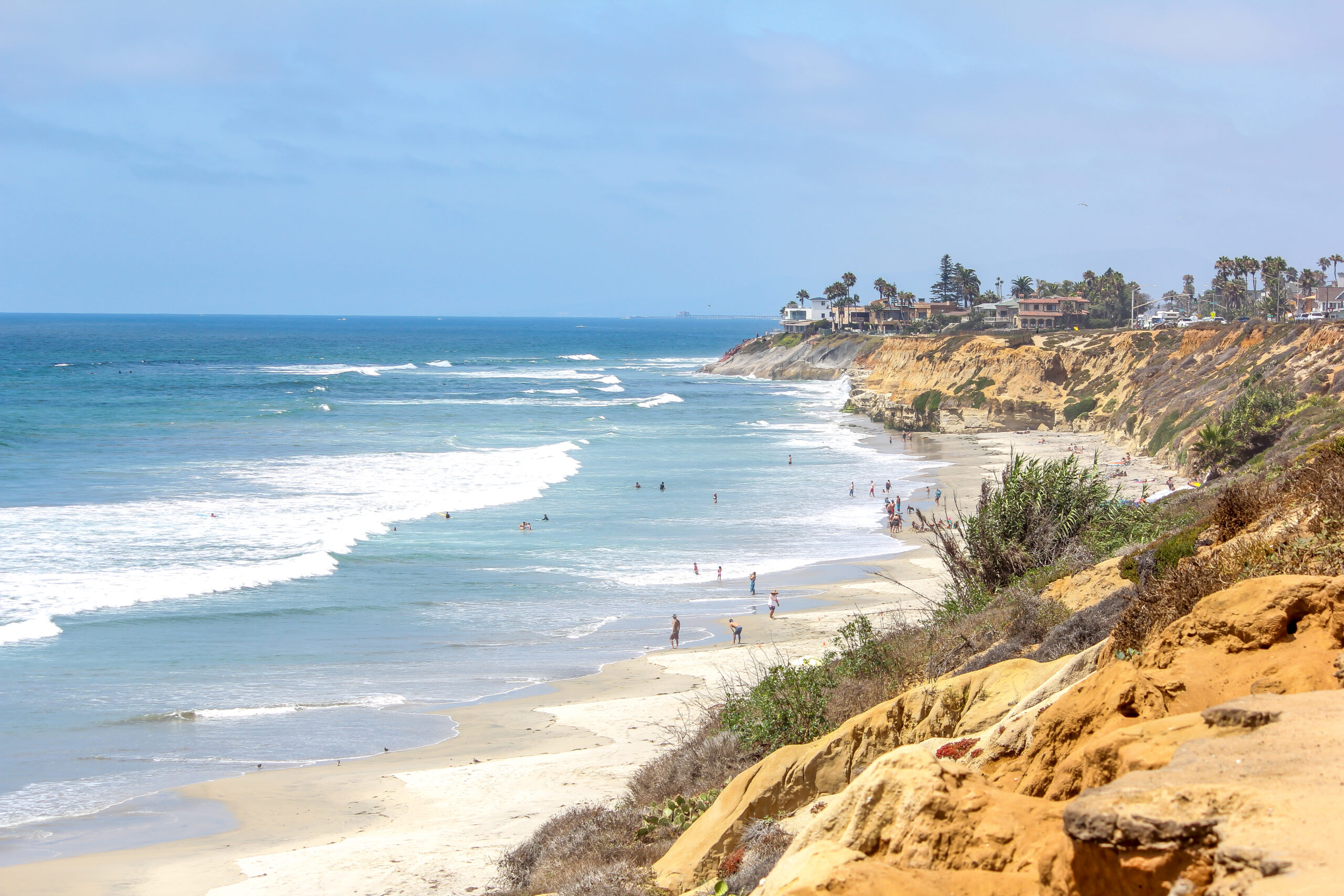 ---
Carlsbad, California, is 87 miles south of LA and 35 miles north of SD. Carlsbad might be located in the middle of these two big metropolitan areas, yet it can compete with any other city or village in Southern California. Located along the Pacific coast, this city of 115,000 boasts a median household income of over $100,000, making it one of the state's wealthiest communities.
The city is bathed in sunshine and ocean views all year round, and together with its trendy downtown area packed with restaurants and bistros, Carlsbad is well-known for its white-sand beaches, beautiful flower fields, and active lifestyle. It's no surprise that individuals enjoy calling this neighborhood home because of how quickly they feel at ease here. Let's discuss ten pros and cons of living in Carlsbad, CA!
Pros of Living in Carlsbad
1. The weather is perfect year-round
When it comes to California's climate, it's hard to find a more welcoming spot. The weather in Carlsbad is excellent year-round. In fact, it's so pleasant that it earned an almost perfect score of 9/10 on the annual "Best Places Comfort Index." It has some of California's best year-round weather, making it one of the state's most welcoming destinations.
The sun shines over 270 days a year, the average temperature is a comfortable 68°F, and it hardly ever snows. Since the climate is always pleasant, many residents spend much of their time outside.
2. You'll feel at home the moment you move in
In many ways, Carlsbad has a small-town charm. In fact, it epitomizes the best of rural America. Locals who are known for their friendliness and extroversion, for example, never fail to greet visitors with a warm welcome and a broad grin.
Many businesses are owned by residents, the pace of life is slow and steady, and neighbors watch out for one another. Even if it's your first week living here, you'll already feel at ease.
3. Head over to LA or San Diego for some fun
In all honesty, Carlsbad is a little city. Not being a major metropolis, it can't compete with the conveniences found in larger urban centers. Los Angeles and San Diego are quite accessible for those who occasionally or frequently want a metropolitan fix.
Around 40 minutes is all it takes to reach San Diego. Even if the distance to Los Angeles is two hours, a day trip is still possible. Carlsbad, California, is an excellent option for people who want to be close to the amenities of a major metropolis but prefer the slower pace of a smaller community.
4. Tourism is not the only thriving industry
Although tourism is vital to Carlsbad's economy, it is not the only industry flourishing there. Employers in Carlsbad come from all over the economy, making the city's workforce quite dynamic.
Some of the city's major employers include Novasyte, SOR Technology, Living Wellness Partners, Vessel FWP, Americus Enterprises, Storage Media Group, and Dempsey Construction, among others. Fun fact: accountants and auditors are the most common occupations in the city.
5. Enjoy the best of coastal living
If coastal living is what you're after, you won't find it better than in Carlsbad. The local beaches are, simply said, breathtaking. White sand beaches that go on forever, perfect weather, and spectacular sunsets.
Everyone can enjoy Carlsbad's natural splendor because the city is dedicated to preserving its natural features.
The Batiquitos Lagoon Foundation Nature Center is one of the few tidal wetlands in southern California and a coastal wetland and nature reserve. Whether you're looking for a safe place to go snorkeling or just stroll along the sand, Carlsbad State Beach is the place to go. More than 200 sea creatures call the SEA LIFE Aquarium home, and the facility is happy to host field trip groups. There's also Tamarack State Beach and Terramar Beach.
6. Visit the Museum of Making Music
Carlsbad locals have a soft spot for the Museum of Making Music due to its interactive exhibitions, concert series, and celebration of music's history from 1900 to the present. Each year, the Carlsbad Music Festival hosts various internationally acclaimed musicians.
As an alternative, Boar 'n Cross is a favorite bar among marines due to its proximity to Camp Pendleton, a good selection of beers, and an exciting dance floor.
7. You can visit the Cannon Art Gallery or have fun at Legoland
The Cannon Art Gallery in Carlsbad is supported by the city and hosts exhibitions of museum caliber with a focus on local and regional artists. See the works of Southern California artists, have fun at a kids' event, and learn something at one of the many talks offered.
A nerd can find some good options here. The Legoland amusement park ranks first. It's a common misconception that only kids enjoy the challenge of building with Legos, but plenty of grownups share that enthusiasm. In Legoland, you get to build, play, and learn.
Several exciting electric bike tours, like the Dalai Lama Tour and the Couples Romantic Picnic Tour, are available at Pedego Carlsbad, a popular destination among the more daring residents and visitors.
The Gemological Institute of America (GIA) is widely regarded as the leading teaching institution and research facility dedicated to the study of diamonds, colored stones, and pearls. You can find them and their headquarters right next to Legoland.
8. The public schools are among the best in the country
We recognize how valuable a quality education is, and Carlsbad schools have continuously been ranked high compared to other communities around America. According to Niche.com, Carlsbad boasts the fourth-best public schools of any city in the United States.
Served by the Carlsbad Unified School District, Carlsbad kids enjoy a top-tier education at any of the local public schools, including Pacific Rim Elementary School, Aviara Oaks Middle School, and Sage Creek High School. Excellent private schools include the Army and Naval Academy, Pacific Ridge School, and St. Patrick School. Carlsbad's high school students are well-prepared for college or the workforce, with a 95% graduation rate.
Cons of Living in Carlsbad
1. You may find the tourists annoying
Living in such a beautiful city as Carlsbad makes it only natural that visitors desire to see it for themselves. At certain seasons of the year, Carlsbad may experience what feels like an overabundance of visitors. The increased traffic may make it more challenging for locals to get to and from work and the grocery store.
Yet, if you're the enterprising sort, all the new faces can be a lot of fun and open up plenty of new doors for you to pursue. Many local establishments depend on visitors for revenue as well, but the additional vehicles and pedestrians can be annoying to some.
2. The cost of living is twice the national average
It's one thing to reside in a location where the cost of living is above the national average. But Carlsbad has a cost of living that is twice that of the rest of the United States, at an index of 200. Housing is even more expensive. At $1,287,929, the median home is almost thrice the national average.
You know what this means; more of your income will be used to pay for necessities like housing, transportation, groceries, medical care, and insurance. Don't misunderstand us; we're not saying Carlsbad isn't nice enough to justify the price tag. We're just saying there can be a few unexpected costs associated with making this place your permanent home.
Conclusion
Living in Carlsbad has a lot of advantages. You get to enjoy an exceptional quality of life, with lots of fun things to do, a diverse economy, a laid-back atmosphere, and easy access to stunning beaches. However, some cons include the high cost of living and the excess number of tourists that flood the area.
Learn More About Living in Carlsbad, CA