Is Fayetteville NC a Good Place to Live? (the honest truth)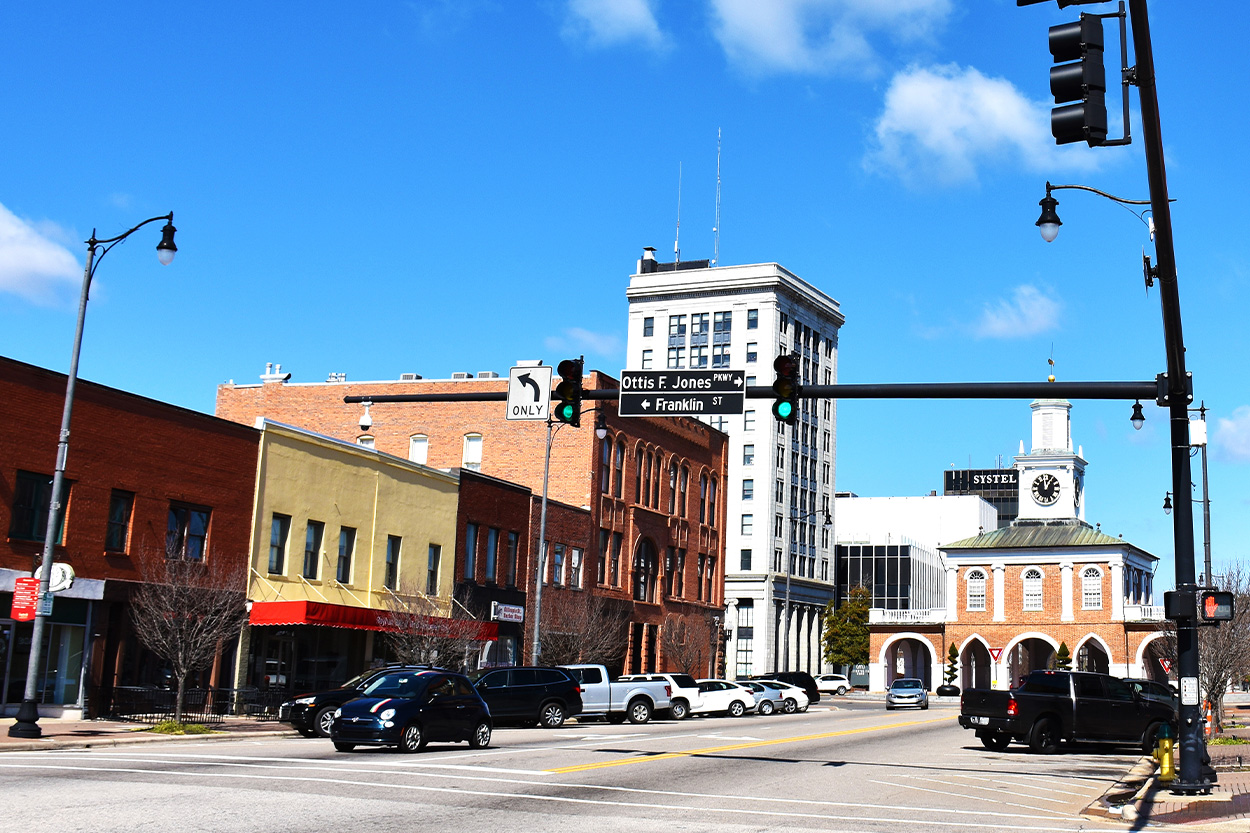 ---
Fayetteville is one of those cities that's almost shrouded in mystery.
You'll often need more than one Google search to learn the ins and outs of what it's like to live there.
But fret not, because in this blog post, you'll learn everything you need to know to determine if Fayetteville is a good place for you to live.
(and if you want to skip ahead, just click on one of the links below):
Surprising pros and cons of living in Fayetteville
If you don't have time to read this whole article, I certainly won't make you (plus my boss won't let me).
That's why I wrote this section to give you a quick overview of what it's like to survive live in Fayetteville.
(and if you want to watch the humorous video version of this section, just click the video below)
First, let's take a look at the cons:
It can get really hot during the summer (especially with all the humidity).
Traffic can get pretty bad due to the poorly designed infrastructure.
Job opportunities are few and far between (unless you're in the military).
The noise from the military base can get annoying quickly.
The crime in the city is out of control.
Now, let's see if the pros outweigh the cons:
Fayetteville is conveniently located to beaches and mountains.
The city is very patriotic…so if that matters to you, you'll love it.
Fayetteville has a fast growing beer scene.
Plenty of high-quality golf courses.
Huge amount of diversity.
If you want a bit more of an elaboration on the above points, make sure to keep reading.
Because in this next section, we'll dive into one of the most alarming aspects of living in Fayetteville…
Is Fayetteville NC safe?
The nickname for Fayetteville is "Fayette-nam".
And this moniker was given to the city for 2 reasons:
It's home to a large military base.
It has a VERY HIGH crime rate.
The crime rate in Fayetteville is a whopping 61% higher than the rest of the cities in North Carolina.
And while the property crime in Fayetteville is slowly decreasing year over year, the opposite effect is happening with its violent crime.
Just take a look at the graph below for numbers.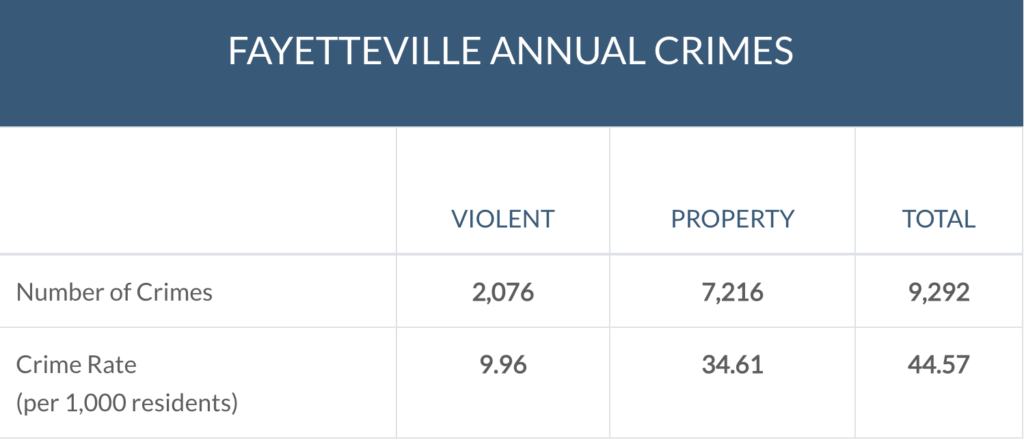 In 2019, violent crime made up 20% of all crime that occurred in the city. And considering that violent crime makes up only a small amount of nationwide crime, this data is very alarming.
Because it means your odds of being a part of a violent crime are higher in Fayetteville than most others.
Of course, that doesn't mean you're destined to duck bullets if you move here. There are things you can do to almost completely avoid high crime.
And one of the best options is to move to one of the safer neighborhoods.
Speaking of which…
Best neighborhoods in Fayetteville (where you'll be safe)
Even the most violent cities have good areas. Fayetteville is no different.
Below you'll find some of the top-rated neighborhoods in Fayetteville that will keep you far away from all of that "the purge" activities.
#1. Arran Hills
Close to shopping centers, grocery stores, and churches.
Affordable ranch-style homes.
Close to Arran Lake (which is a great place to fish).
#2. Arran Lakes West
Smaller neighborhood.
Near the aesthetically pleasing Anderson Creek Club.
Average age of residents is 46 years old.
#3. Hope Mills
Home to many young professionals.
A good amount of homeowners in the area.
Ranked #8 most diverse suburb in NC.
#4. Spring Lake
Homes are very affordable (prices are around $94,300).
Located next to the Fort Bragg Army Base.
Excellent nightlife.
#5. Westover
Located just west of Fort Bragg.
One of the safest neighborhoods in Fayetteville.
Many different living options to choose from.
You pick any of the above neighborhoods, and you won't have to worry about being subjected to any crime. However, safer areas normally are more pricey than run-down neighborhoods.
If you need help moving to one of these neighborhoods, it's best to talk with an agent. We have the best agents in Fayetteville on speed dial. So if you're looking to learn more about the city, just fill out the quick form below and we'll connect you for free.
And just to make sure living in one of the neighborhoods above is within your budget, let's take a look at Fayetteville's cost of living.
Cost of living in Fayetteville
If nothing else in this post has put a smile on your face, this section certainly will.
Because the cost of living in Fayetteville is low enough for even the cheapest citizens.
The cost of living here is around 7% lower than the national average. Which makes it a wildly affordable city to call home.
Average home prices in this city are around $129,700, which is much less than the national average (which is $204,900).
And if you want to see what it would cost a single person every month to live in the city, just take a look at the image below.
But cost of living is only one of the many things you should consider before moving to a new city.
For instance, some cities have a low cost of living but also no job market to speak of.
So before you jump for joy over the low prices in Fayetteville, let's take a peek at what the job market looks like.
Fayetteville's job market is seriously lacking
Let's start things out with an alarming stat…
The unemployment rate in Fayetteville is 5.6%. And considering the national unemployment rate is at 3.7%, this fact is concerning.
But wait, there's more.
According to Wallethub, Fayetteville is the WORST city in the country when it comes to finding a job. However, this doesn't really apply to those in the military.
However, this trend of being a bad place for jobs is slowly starting to change.
Companies like Amazon and Plan C Crypto have recently moved to the area. And this is great news for entry-level workers (considering pay with both companies starts at around $15/hr).
But if working for those companies doesn't appeal to you, there are other jobs in demand in Fayetteville.
Here a list of the most in-demand jobs:
Customer Service Representative.
Registered Nurse.
Shift Supervisor.
Delivery Driver.
Sales Associate.
Of course, you don't have to take my word about what it's like to live in Fayetteville. Because I also scoured the internet to find out what actual residents had to say.
Let's take a look.
What real residents say about living in Fayetteville
Below you'll find a few screenshots of reviews left by actual Tucson residents (just make sure to take them with a grain of salt).
This resident claims the "Fayetteville is crime-ridden" claims are a bit overblown:
This Reddit user claims that being subjected to violence is totally controllable (as long as you live in a good area and mind your business):
Lastly, this Redditor makes a similar claim and even suggests which areas to move to for safety:
Listening to local residents is a great way to get an unbiased view of the city. But if you want to get the most accurate understanding possible, it's best to talk to a real estate agent.
They'll be able to answer all of the important questions (including the ones you didn't even think to ask).
So if you want to be connected with top Fayetteville NC agents (for free), just fill out one of the quick forms that are embedded in this article.