10 Things to Know Before Moving to Suffolk, VA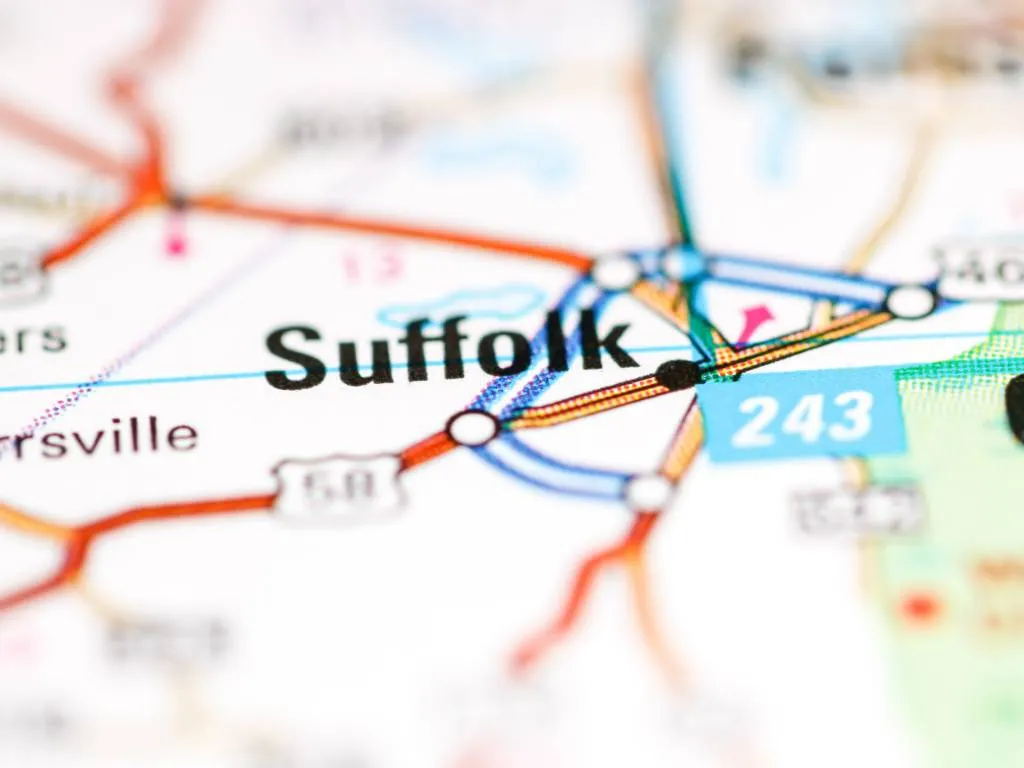 ---
If you're considering moving to a place that offers you a sparse suburban feel while giving you access to urban amenities, then Suffolk, VA, is the place for you.
With a population of 97,682 residents, Suffolk is the 9th most populous city in Virginia and the 14th largest city in the country. From its rich cultural heritage to its thriving economy, Suffolk has a lot to offer.
Let's discuss ten things you need to know before making the move to Suffolk, VA!
1. Immerse yourself in history
Suffolk has a rich history dating back to its colonial roots in the 18th century. It played a significant role during the American Revolution and was occupied by both Confederate and Union forces during the Civil War. Suffolk boasts well-preserved historic architecture closely tied to the Great Dismal Swamp's history.
Today, Suffolk continues to grow while preserving its historical charm, making it a captivating blend of the past and present. Be prepared to immerse yourself in a city that takes pride in maintaining its historical charm.
Riddick's Folly House Museum, St. Luke's Historic Church & Museum, and Suffolk Seaboard Station Railroad Museum are some of the highly-rated museums in this city.
2. Suffolk has a diverse community
Suffolk is a city known for its diverse and inclusive community. This city boasts a rich blend of cultures, backgrounds, and traditions. Its diverse population includes people from various racial, ethnic, and socioeconomic backgrounds, creating a vibrant tapestry of experiences.
This diversity is reflected in the city's cultural events, festivals, and cuisine. Here, you can enjoy a wide range of international foods, music, and art, making Suffolk an exciting place to explore different cultures.
Suffolk's commitment to inclusivity is also evident in its community programs and organizations that promote unity and understanding among its residents, making it a welcoming place for people from all walks of life.
3. There are 25 schools in Suffolk
Suffolk boasts a solid educational system with both public and private school options. There are 25 schools in this city, including 22 public and 3 private schools.
Suffolk's educational system emphasizes student success, innovation, and individualized learning, ensuring that residents have access to a high-quality education throughout their academic journey. Creekside Elementary School, John Yeates Middle School, Northern Shores Elementary School, and Nansemond River High School are some of the top-rated schools in this city.
4. Work in the healthcare, education, or manufacturing sector
With an unemployment rate of 3.0%, which is less than the national average of 3.8%, Suffolk offers a diverse array of employment opportunities. Job growth has been positive in this city, and over the past few years, jobs have increased by 1.3%.
The thriving sectors in Suffolk include healthcare, education, manufacturing, retail, technology, and agriculture. These contribute to a dynamic job market, making Suffolk a place with ample career options for its residents. Major employers include Walmart, Planters Peanut, Lockheed Martin Corporation, and Starbucks.
5. A reasonable commute time
The length of a commute in Suffolk can vary depending on where you live and where you work within the city. Suffolk is a relatively large city with a mix of urban and rural areas. The city's average commute is 25 minutes, but if you live and work in the same neighborhood or are closer to the city center, your commute is likely to be relatively short.
However, if you live in one of the more suburban or rural areas of Suffolk and work in a different part of the city or need to commute to nearby cities like Norfolk or Chesapeake, your commute could be longer.
In general, Suffolk is known for having a more relaxed pace of life compared to larger urban areas, and this translates to shorter commutes for many residents.
6. Enjoy outdoor activities at Lake Meade Park
Suffolk offers an abundance of outdoor activities, and Lake Meade Park is a popular choice among residents.
Nestled amidst a lush plantation and centered around the picturesque Lake Meade, this park provides the perfect backdrop for a day of outdoor fun. If you're a fishing enthusiast, you will find you enjoy hanging out at this park. Whether you prefer casting your line from the shore or taking out a boat, you'll have ample opportunities to reel in a catch.
Other popular activities include fishing, paddleboarding, and hiking amidst beautiful natural surroundings. You can also enjoy picnics with your family, and there's a playground for kids. Lake Meade Park is a perfect place to connect with nature and have a fun-filled day outdoors.
7. The cost of living is 5.1% higher than the national average
Suffolk has a cost of living is 5.1% higher than the national average. According to salary.com, healthcare and transportation expenses are higher than the national average by 10.6% and 17.5%, respectively. Groceries are also higher than the national average by 21.9%. A carton of eggs costs $3.94, 1kg of cheese costs $10.6, and a gallon of milk costs $3.8.
However, the median home price is $349,687, which is less than the national average of $416,000. Living in Suffolk can be quite expensive, so it is important to plan your budget before moving here.
8. Quality healthcare facilities
Suffolk provides comprehensive access to quality healthcare facilities and services. It boasts reputable hospitals, primary care clinics, and urgent care centers, ensuring that residents and visitors can access a wide range of medical care. Community health programs and pharmacies also contribute to the holistic approach to healthcare in the area, promoting the well-being of the population.
Sentara Obici Hospital, Bon Secours Health Center, and Fort Norfolk Medical Plaza are some of the healthcare facilities in the city.
9. Don't miss the Suffolk Peanut Festival and the Suffolk Mystery Authors Festival
Suffolk hosts numerous festivals and events throughout the year, including the Suffolk Peanut Festival and the Suffolk Mystery Authors Festival.
The Suffolk Peanut Festival is an annual celebration that honors the city's agricultural heritage with peanuts. This lively event features peanut-themed treats, entertainment, carnival rides, educational exhibits about farming, a colorful parade, arts and crafts vendors, cooking contests, and a grand fireworks finale.
Another well-attended event in this city is the Suffolk Mystery Authors Festival. It is an annual literary event held in Suffolk dedicated to celebrating the mystery genre. This festival brings together mystery authors, passionate readers, and aspiring writers. Attendees can enjoy author panels, book signings, workshops, and discussions about the creative process in mystery literature.
These festivals not only entertain but enrich Suffolk's cultural landscape by immersing attendees in the captivating world of mysteries. They are also great opportunities to connect with the local community.
10. High property crime rate
Suffolk is a relatively safe place to live, with a violent crime rate of 17.7%, which is less than the national average of 22.7%. However, the property crime rate is 38.9%, higher than the national average of 35.4%. This can be an issue.
However, crime rates vary by neighborhood; hence, it is crucial to research before settling in a community with less crime. Overall, Suffolk maintains a relatively safe environment compared to larger urban areas.
In Conclusion
Moving to Suffolk, VA, is an exciting opportunity to embrace history, enjoy the outdoors, and become part of a diverse and welcoming community. However, the high cost of living and high property crime rates are things you should consider before making the move to Suffolk, VA!