10 Things to Know Before Moving to Dahlonega, GA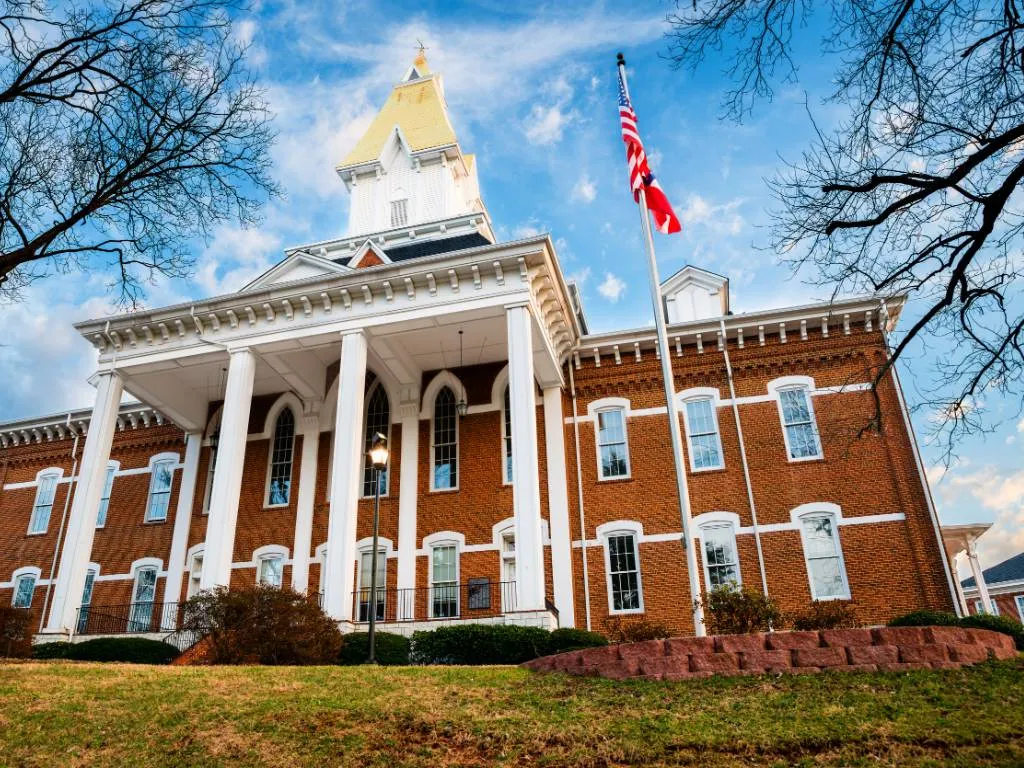 ---
Dahlonega, Georgia, is a beautiful town nestled in the foothills of the Appalachian Mountains in Lumpkin County. This city has a population of 6,745 residents and is known for its unique blend of history, culture, and picturesque landscape.
Let's talk about ten things to know before moving to Dahlonega, GA!
1. Home to the University of North Georgia (UNG)
Dahlonega is a charming college town and is home to the University of North Georgia (UNG). UNG was established in 1873 and has since been an important part of Dahlonega's history and community. UNG's presence in this town has not only contributed to the town's cultural diversity but also boosted its economy.
The university hosts various events and activities that engage both students and residents, fostering a sense of unity. The opportunity for higher education in this town makes it a great place to live and learn.
2. A rich gold mining history
Dahlonega boasts a rich gold mining history that began with the discovery of gold nuggets in 1828, which sparked a significant gold rush. The establishment of a U.S. branch mint here in 1838 highlighted the area's importance in gold production.
Early miners used basic tools, and the town prospered with the influx of gold miners. The Civil War saw the mint's gold used for funding, and after the war, mining declined. Today, Dahlonega preserves its gold rush heritage in a historic district, attracting tourists and keeping the gold mining legacy alive.
The Consolidated Gold Mine, Historic Dahlonega Square, and Dahlonega Gold Museum are notable museums in this town that offer a glimpse into Dahlonega's gold mining history.
3. Enjoy all four seasons
Dahlonega experiences a humid subtropical climate with four distinct seasons. Summers are warm and humid, with temperatures ranging from the upper 80s to the lower 90s°F. July is the hottest month in this town.
Winters, on the other hand, are cool, with the coldest month being January. During this period, the daytime high temperatures range from the mid-40s to the lower 50s Fahrenheit, and the nighttime lows drop to the mid-20s to the low 30s. Be prepared for the occasional snowfall in the winter months.
Spring and fall provide milder and more comfortable weather, with temperatures averaging in the 50s to 80s°F. Dahlonega also sees occasional rainfall and beautiful fall foliage. Overall, the climate here is pleasant and ideal for outdoor activities all year.
4. Vibrant arts and culture scene
Dahlonega is not just a gorgeous mountain town; it is also a vibrant hub of art and culture. With a rich tapestry of art galleries, historic downtown charm, live music, theater, festivals, and cultural diversity, it offers a thriving creative scene.
Workshops, public art installations, and the craftsmanship of local artisans are various ways residents immerse themselves in creative expression. Community engagement also plays a crucial role in Dahlonega's cultural vitality, making it a welcoming destination for anyone seeking to explore and embrace the arts in a picturesque setting.
You can visit the Bleu Gallery, the Holly Theater, and the Historic Downtown Square to immerse yourself in the thriving art and culture scene in Dahlonega.
5. Enjoy delicious cuisine at The Corner Kitchen
If you're a foodie, you will delight in The Corner Kitchen, a local favorite known for its delicious Southern-inspired cuisine. With a farm-to-table ethos that showcases locally sourced ingredients, the restaurant offers a diverse menu, including signature dishes like shrimp and grits.
The cozy environment, impeccable service, and special events held at The Corner Kitchen make it a favorite dining destination in this town. You'd also enjoy stopping by this restaurant for their delectable desserts. Overall, The Corner Kitchen promises a memorable dining experience that celebrates the flavors of North Georgia.
6. Enjoy a fantastic wine experience at Wolf Mountain Vineyards or Montaluce Winery
Dahlonega is not only celebrated for its history and natural beauty but also as a top destination for wine enthusiasts. This town is known as the heart of Georgia's wine country, and it features award-winning wineries and vineyards offering scenic tours, tastings, and unique experiences.
Wolf Mountain Vineyards is one of the top-rated vineyards here, known for offering stunning vineyard views and top-quality wines, while Montaluce Winery, one of the best in the area, combines wine with fine dining, giving visitors a memorable experience. Both are must-visit destinations for you if you're a wine lover.
7. There are 4 public schools in Dahlonega
Dahlonega boasts a strong educational system with excellent schools that cater to the needs of students at various levels. There are four public schools in this town and they include Blackburn Elementary School, Long Branch Elementary School, Lumpkin County Middle School, and Lumpkin County High School. These schools provide quality education and a nurturing environment for young learners.
Additionally, private school options like Dahlonega Christian School offer choices if you're seeking specialized educational experiences for your kids. In Dahlonega, education is not just about academics; it's about holistic development and building a strong sense of community among students.
8. Presence of outstanding sporting facilities
Dahlonega provides an array of superb sporting facilities and outdoor options for sports enthusiasts. The North Georgia Sports Center offers indoor spaces for soccer and basketball, while the local parks feature baseball fields, tennis courts, and scenic walking trails. The University of North Georgia's facilities are open to the community, offering fitness centers and sports fields.
Also, community sports leagues and great golf courses further enhance Dahlonega's appeal for those seeking various sporting experiences.
9. High risks of thunderstorms
Thunderstorms are a common and dynamic aspect of Dahlonega, Georgia's climate. Occurring more frequently during the spring and summer, they are marked by striking lightning displays, echoing thunder, and heavy rainfall. These thunderstorms can sometimes bring strong winds, hail, and even tornadoes, although tornadoes are relatively rare.
To stay safe while living here, ensure you monitor weather forecasts, have preparedness plans in place, and acknowledge the potential risks associated with these weather events.
10. Don't miss the Gold Rush Days Festival
The Gold Rush Days Festival in Dahlonega is a well-attended annual event that celebrates the town's rich history and heritage. Held in the fall, this beautiful festival transports attendees back to the 19th-century gold rush era, featuring costumed reenactors, old-fashioned activities like gold panning, and a lively parade. This vibrant celebration combines history, culture, and entertainment, making it a cherished tradition for residents and visitors to Dahlonega.
Whether you're interested in experiencing the gold rush era, enjoying live music, shopping for unique crafts, or simply savoring delicious food, this festival offers something for everyone in a charming and historically rich setting.
In Conclusion
Dahlonega is a town that has a lot to offer, from its rich history and educational opportunities to its culinary delights and sports facilities. However, like any place, it comes with its own unique set of challenges, such as the high risk of thunderstorms. It's important to weigh both the pros and cons before making the decision to move.