10 Pros and Cons About Living in Boynton Beach, FL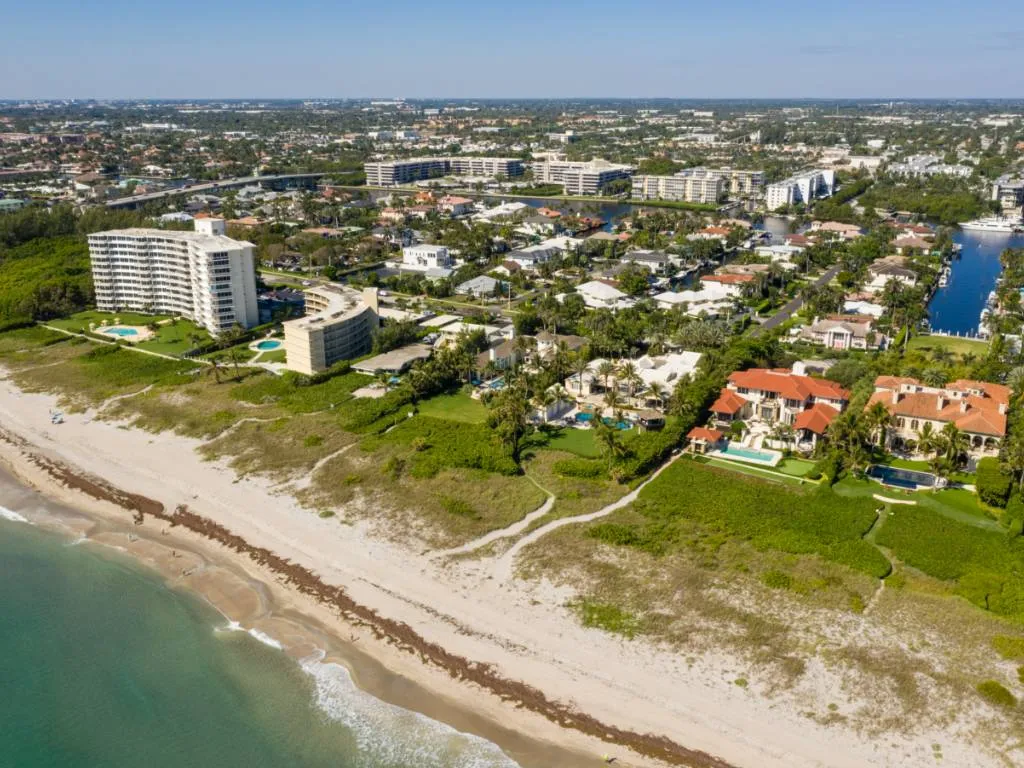 ---
Boynton Beach, located in Palm Beach County, Florida, is popular among a specific group of people because of its attractive atmosphere. Anyone who enjoys the outdoors and wants to live somewhere with balmy temperatures all year round and stunning beaches should definitely consider it.
The suburb has beautiful scenery, safe neighborhoods, plenty of stores, and exciting opportunities for recreation. While Boynton Beach may seem like the perfect place to settle down, you should do your research before making the move, and that includes finding out the good and the bad.
Let's check out ten pros and cons of living in Boynton Beach, FL!
MAF Widget
Pros of Living in Boynton Beach
1. Palm Beach Atlantic University is 14 miles away
About 7,902 students between the ages of 5 and 17 call Boynton Beach home. This accounts for about 11% of the city's total population. Boynton Beach is part of the reputable Palm Beach County School District, so parents may feel confident in their children's education at schools like Sunset Palms Elementary School, Crystal Lakes Elementary School, Christa Mcauliffe Middle School, Somerset Academy Canyons Middle School, South Tech Academy, and Somerset Academy Canyons High School.
Graduates from Boynton Beach's high schools can attend Palm Beach Atlantic University in West Palm Beach, which is only approximately 14 miles away.
2. Eat at Casa Linda or Two Georges Waterfront Grille
Newcomers to Boynton Beach should familiarize themselves with the city's finest dining places. Swordfish, salmon, shrimp, pasta, crab cakes, and many other seafood and pasta dishes are available at Two Georges Waterfront Grille, one of the most popular restaurants on the list. As you dine and relax with a drink in hand, you can watch boats pass by the harbor outside the restaurant's windows.
Do you enjoy listening to mariachi music and sipping margaritas? Tacos, chimichangas, enchiladas, and fish are just some of the options at Casa Linda. This is one of the best restaurants in Boynton Beach for various reasons: the crowds, the drinks, and the excitement.
If you want something a little more exotic, Pho VN, run by a friendly family, serves up delicious traditional Vietnamese cuisine. The restaurant offers a warm and pleasant ambiance, and the food is excellent.
3. The housing market is quite diverse
Many folks have Boynton Beach in their sights, and properties ranging from beachfront condos and townhomes to luxury estates and single-family homes can be found throughout the city. Some of the best homebuilders in the country, such as Toll Brothers and GL Homes, are responsible for brand-new construction. The price of a house can range from $150,000 to over $2.1 million, depending on the size and location of the house within the city.
Regardless of your preferences or financial situation, Boynton Beach has you covered. The ocean, subtropical climate, and conveniences all contribute to the area's popularity among homebuyers. The beach, good restaurants, and fashionable boutiques can all be found within easy reach of many neighborhoods, and there is always something to do outside for those who enjoy it.
4. Play golf at The Links
Golfing is a popular pastime in Florida. There are more than a thousand golf courses in the state, making it a popular destination for seasoned pros, golf enthusiasts, and newcomers to the sport.
There are two expansive courses, suitable for both amateurs and pros, at The Links at Boynton Beach. The signature 18-hole, par-71 championship course is known for its complexity and breathtaking scenery. If you want to play in less than four hours, a nine-hole course is your best bet. Tee times fill up quickly, especially on weekends and holidays, so plan ahead.
5. Check out the Arthur R. Marshall Loxahatchee Wildlife Refuge or Boca Raton Museum of Art
Boynton Beach is home to the Arthur R. Marshall Loxahatchee Wildlife Refuge, where visitors can learn about the area's diverse wildlife and explore the refuge's natural habitats. Experience the Everglades and other wet environments up close by going on a hiking or biking trip, or by going fishing or watching wildlife.
Oceanfront Park is a huge hit with locals of all ages. It's the best area in Boynton Beach to spend the day, with easy access to the beach, a wheelchair-accessible boardwalk, a playground, lounge chairs, and umbrellas.
One of the best places for an art fan to spend the day in Boynton Beach is the Boca Raton Museum of Art, which has one of the state's most spectacular collections of modern art. Both locals and visitors have marveled at the world-famous artworks for over 20 years. The venue plays host to a wide variety of exhibitions and events throughout the year. Museum programs include live music, art seminars, and new exhibitions that benefit the local community.
MAF Widget
Cons of Living in Boynton Beach
1. The humidity is high
Some people may find it difficult to adjust to the climate of Boynton Beach. High temperatures and humidity dampen the otherwise pleasant weather, with the temperature sometimes getting as high as 95°F. These two factors, when combined, can make life unbearable for some people. Some people have difficulty breathing in high humidity.
2. There are not enough opportunities for younger people
Young people, especially, may have difficulty adjusting to life in Boynton Beach due to the city's smaller size and fewer employment prospects compared to larger cities like Miami, Tampa, or Orlando.
Due to its small size, residents often travel to larger cities in the area in search of employment. Retirees, however, can get a good deal by moving to a place like this, with a smaller population and large stretches of beach.
3. The crime rate is higher than the national average
Many people are victims of street robberies, vehicle thefts, and burglaries into their houses. The crime rate in Boynton Beach is on the rise. There are 42 crimes per 1,000 residents. Compared to the rest of the country, that is quite high. This is perhaps the most significant drawback of relocating to Boynton Beach.
Avoid dangerous areas and invest in home security measures such as alarm systems and contents insurance. Avoid going down any alleys or alleyways that you are unfamiliar with, especially if they are dark or tiny.
4. There's the risk of natural disasters
Unpredictable calamities are unfortunately becoming more often due to global warming. Hurricanes are common in Florida, and they have the potential to wipe out entire populations. This is why homeowners worry so much about their properties all the time.
Florida sits in the precise spot on Earth where such a catastrophe could occur, and this beach isn't left out. The cost of insurance is going up, even from insurance companies. They won't even sell you home insurance in some areas. The area is at risk of hurricanes and tornadoes, so it's best to keep that in mind.
5. The cost of living is higher than the state average
At an index of 110, The cost of living in Boynton Beach is higher than the national and state average. Compared to other cities in Florida, housing, transportation, and grocery costs are slightly higher here. Boynton Beach, however, offers cheaper healthcare and utilities than its neighbors.
The annual cost of living for a single person in Boynton Beach is $38,025, which includes accommodation, food, child care, transportation, healthcare, taxes, and other essentials.
To Sum it All Up
Living in Boynton Beach comes with benefits like great schools, a diverse housing market, proximity to the ocean, and a ton of recreational options for locals and tourists alike. However, the city's cons include a high cost of living, high humidity, lack of economic opportunities, and the risk of natural disasters.
Learn More About Living in Boynton, FL